Create surveys in seconds
with the power of AI
Type your survey goal and let AI create your survey. Type specifically what you want to know.
250+ million
Respondents
140,000
App Partners
160+ Countries
Targeted Globally
DIY Market Research
Reinventing Market Research
Pollfish is the only DIY market research provider with an end-to-end solution, focusing on a mobile-first approach and delivering real-time responses from 250 million+ real consumers around the world.
Offering the broadest distribution network and narrow targeting, we find the right audience for any research campaign — at speed and at scale. We also offer multiple options for conducting market research — A/B testing, templates, advanced questionnaire logic and more.
The Pollfish Promise
An Unparalleled Market Research Experience
Agile

Data

Pollfish is an agile solution — and not just due to its top-notch speed. Pollfish provides a platform built for countless iterations, allowing you to complete any research endeavor with timely insights.
Relentless

Quality

Pollfish applies a vast system of quality checks — weeding out survey fraud, bots, gibberish answers and much more — to ensure you're reaping the most quality data. You can rest assured that all responses line up with your targeting criteria.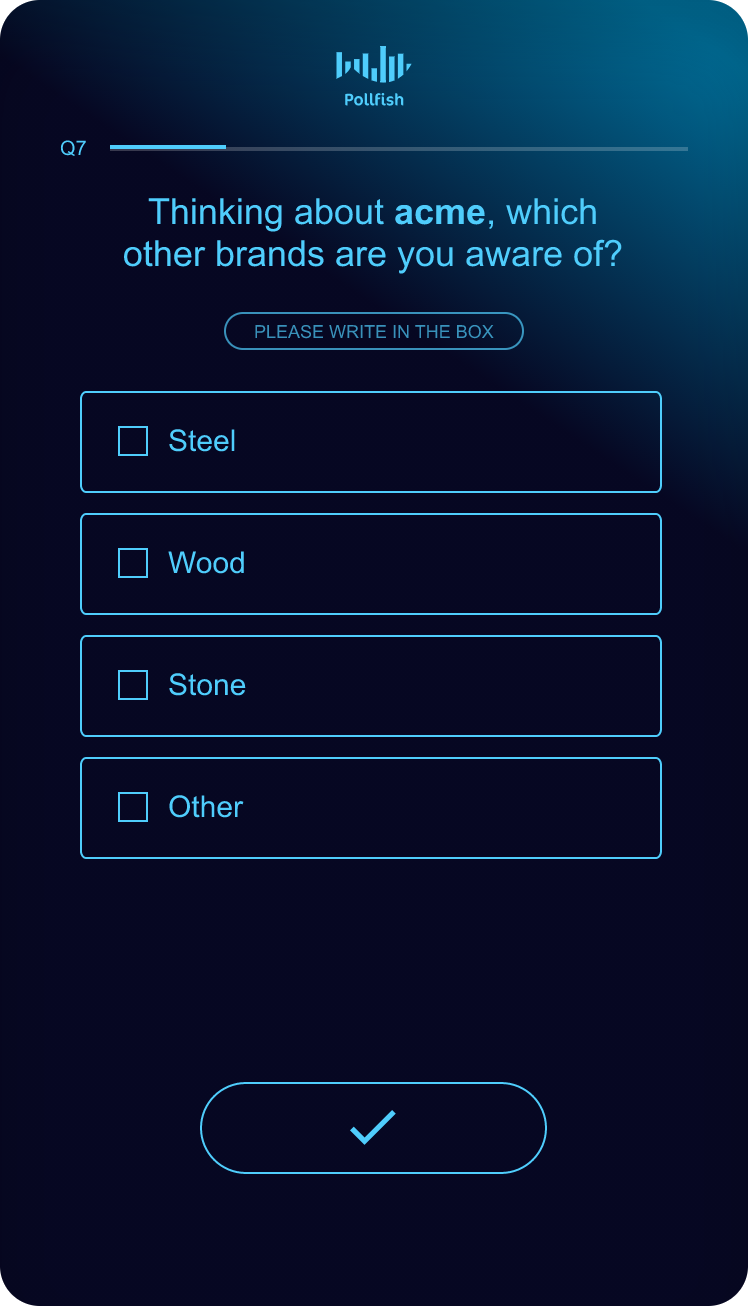 The Pollfish Promise
Global Support
Find global support from both the Pollfish support team and a vast network of global respondents. Not only is Pollfish support here for you 24/7, but we also reach respondents in over 160 markets (countries) through our 140,000+ app/website partners.
We empower you to deploy surveys in all the languages from markets abroad, along with providing open-ended responses translated and stored in US English for a uniform analysis.
51+
Supported Languages
24/7
Customer Support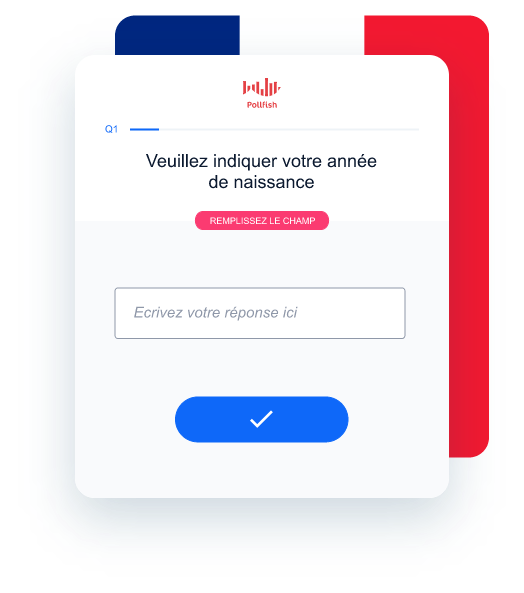 About
See how we're reinventing market research for a new era.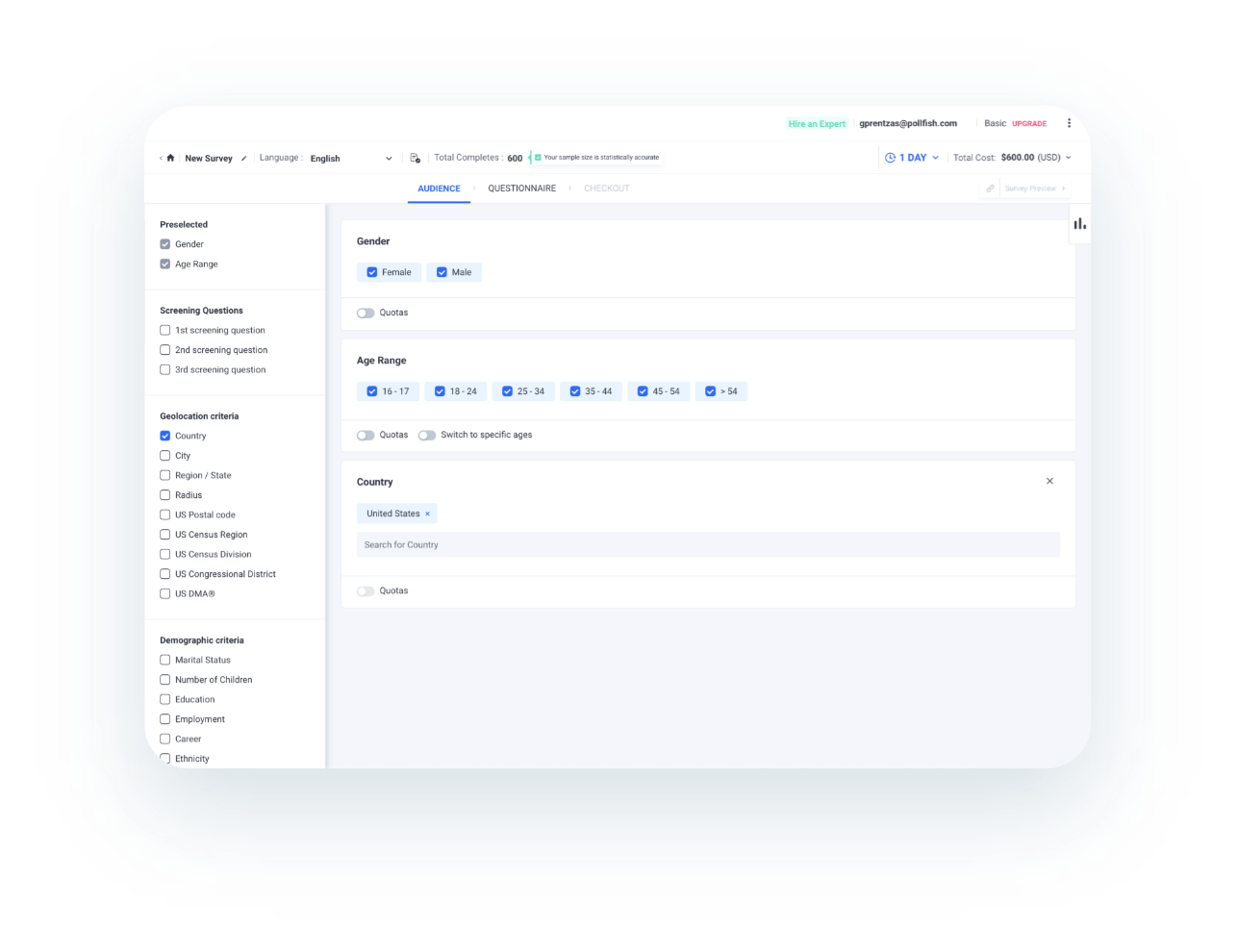 Pollfish Technology
User-friendly cutting edge technology
With market research being a complex endeavor, technology should refine its simplicity. Pollfish focuses on empowering the non-technical members of your team with the insights they need — starting with the most intuitive survey creation and launch platform in the market.
Dynamic sampling and Random Device Engagement
Our unique approach to finding the respondents you're looking for, where and when they're most likely to respond. Using our own innovation RDE approach, our platform reaches digital users organically, opts them in voluntarily and cuts back on the survey bias found in survey panels and other respondent pre-recruiting methods.
Machine learning/AI
We're leading the industry in investing in technology to understand when responses are not thoughtful or accurate.
Not sure where to start? Find the best survey template for all your research needs.