About Fanmaum
Korean popular music, known as K-pop, is a genre of Korean music, which gained worldwide popularity and growth over the last decade. The genre gained fans all over the world with artists such as BTS and Blackpink leading the market growth.

Publisher:
Fanmaum
Fanmaum, a Korean publisher with main focus on connecting K-pop fans all over the world, offers through their app FanPlus, a way for fans to promote their favorite artists and enjoy things such as high quality idol photos or fanfiction while socializing with other fans.

App:
Fan Plus
Fanplus app is being used all over the world (190+ countries) in 6 different languages. 3 Million people have already downloaded the FanPlus app and more than 400k users are active on the app per month.
Objectives
Increase ad revenue
Overcome app stores' strict policies with ad Offerwalls
Challenge
Fanmaum works in the FanPlus app exclusively with ad monetization. There are no IAP since as the company believes, this can damage the community perception. Therefore, users can earn voting tickets by interacting with ads, that they can use later on to vote for their preferred idol.
Fanmaum's main monetization strategy prior partnering with Pollfish, was ad Offerwall. With all the changes in regulations on both AppStore and Google Play over the last year, Fanmaum started exploring alternative solutions to add new revenue streams to the app, aside from the traditional ad offerwalls.
After considering various options, Fanmaum decided to try Rewarded Surveys and add Pollfish to their platform.
One of the main reasons for that decision was that it would be easier for users to get used to Rewarded Surveys through an alternative Offerwall, since they were already familiar with offerwall experiences in general.
When Fanmaum initially chose Pollfish, they expected their users to receive at least 300,000 voting ticket rewards to consider the integration successful. Effectively, more than 1.2Million voting tickets have been given to users only in June 2021.

UnRyong Park
Team Manager
It was quite attractive for us that Pollfish was more flexible than other advertising offerwalls when it comes to app store policies, while users can also complete easily surveys in-app, without leaving the app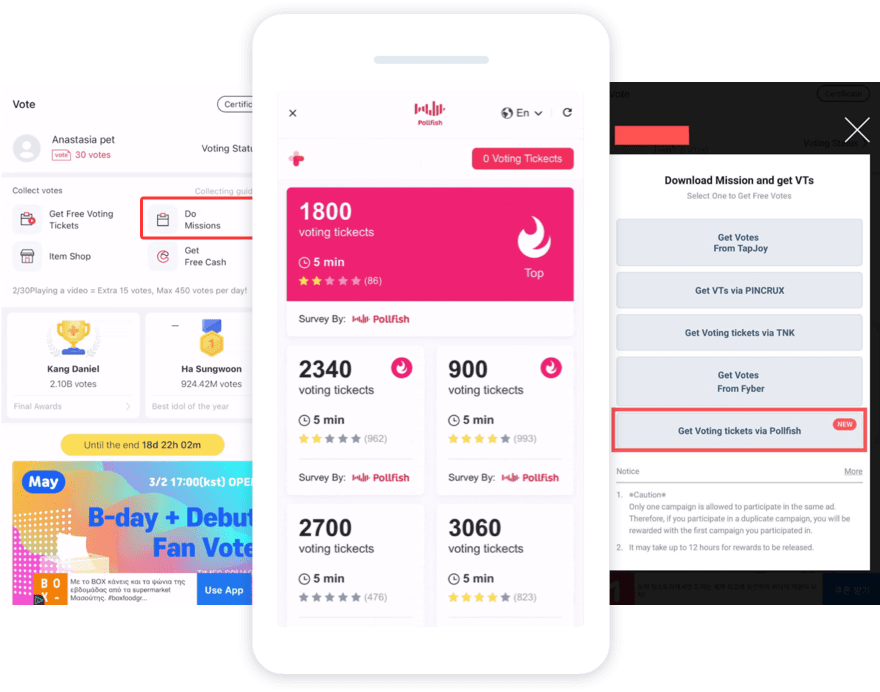 Strategy
Fanmaum incorporated Pollfish Rewarded Surveys (shown in Offerwall style) in the "Do Missions" section in the app as an alternative option to TapJoy, Fyber's and other ad offerwalls.
Results
Pollfish initial results contributed to a stable revenue stream for Fanmaum. Since Pollfish is constantly integrating mode survey partners on the Mediation stack an increase is expected also in revenue in the upcoming months.
When comparing the early days of introducing Pollfish to the app, the number of users taking surveys seems to be steadily increasing.

UnRyong Park
Team Manager
Pollfish eCPM is unmatched by any other advertising service. The average eCPM we see with Pollfish surveys is over $100
Feedback
According to Fanmaum's data, the rewards (voting tickets) distribution through Pollfish is continuously increasing and as inquiries related to Pollfish are coming in, it is believed that users are appropriately aware of Pollfish as a new way to obtain voting tickets (monthly participation is increasing)


UnRyong Park
Team Manager
I would like to thank the Pollfish team for their helpful and prompt support. It was the best support among the Offerwall companies I've worked with so far, and I think we were able to release the introduction quickly thanks to it.