Publisher:
Netboxify
Netboxify is a software development company based in Montenegro, that consists of developers and digital marketing specialists with the know-how and experience in ad-tech. One of their fastest-growing products is Monlix Ad Offerwall network.

Ad Network:
Monlix
Monlix Offerwall is an ad unit providing offers, surveys and tasks in an offerwall style for Android, iOS and Website publishers looking to monetize with rewarding opportunities for their users. Monlix Offerwall is integrated today in more than 100 publishers worldwide and delivered more than 300k completed offers and surveys.
Objectives
Achieve global fill rate
Increase ad revenue
Introduce fun and interactive ad formats
Challenge
Monlix Offerwall was mostly monetizing via offers and surveys from different providers. One of the main issues they were facing was the lack of surveys for all users across different geolocations, as well as the absence of engaging content that is fun and profitable to engage with, for their users.
Integration of the Pollfish Rewarded Surveys introduced better fill rates for Monlix Offerwall, with more rewarding options for users and a better user experience, adding this way more revenue opportunities on a global scale.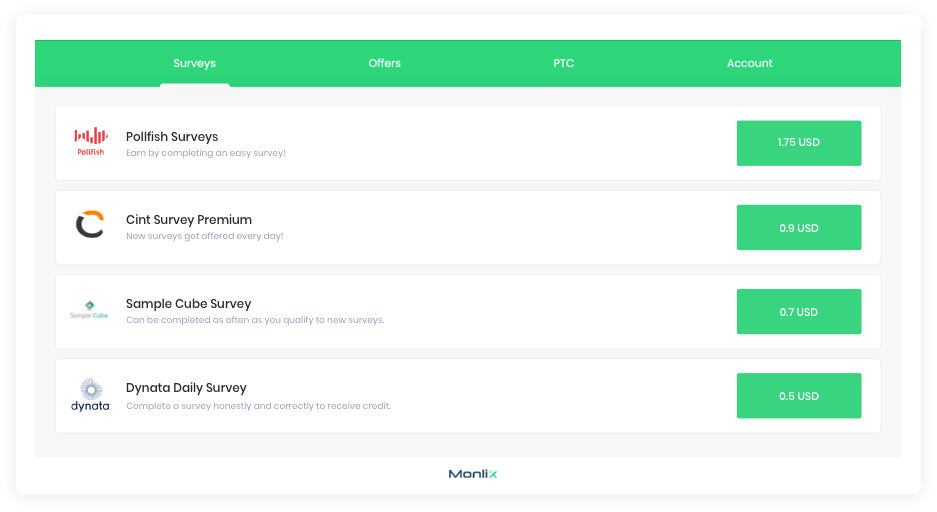 Strategy
Netboxify integrated the Pollfish API on the Monlix Offerwall survey section, introducing Pollfish surveys as an additional survey provider along with other survey providers available there.
Results
The initial performance of Pollfish surveys had an immediate impact on the partners' network with a significant increase in the ARPDAU. By having more quality surveys available in the Offerwall, across most geolocations and with bigger payouts, there was a significant increase in the user engagement and an immediate benefit for the offerwall partners.
With the introduction of Pollfish Rewarded Surveys of Monlix Offerwall there was an increase in user engagement. Pollfish surveys take much less time to complete and yield much more revenue compared to other partners on the wall. Users get great compensation for their time, and they can keep playing their favorite games, or use their favorite apps on a premium tier, while on the other hand, publishers get a great revenue boost even with fewer daily active users.

Marko Roganovic
CEO netboxify
The average eCPM on Pollfish for us goes up to $240 and the conversion rate on some providers is almost 32% which is a huge increase compared to the other survey partners where we see a 4-5% conversion rate
Feedback
Users find the experience of Pollfish Surveys to be much more engaging and even fun, especially when compared to other ad formats, or simple offers.

Marko Roganovic
CEO netboxify
Both our team and our users find Pollfish to be a great addition to our growing offerwall. It just shows that great things are achievable within the industry. We hope that in the future we would be able to partner on an even higher level, and present our users with even more fun and lucrative surveys.