Powered by a vast number of connected consumers.
Adjust your screening criteria to reach millions of consumers across 160 countries worldwide. Target by location, age, gender, education, personas and many more.
Select your audience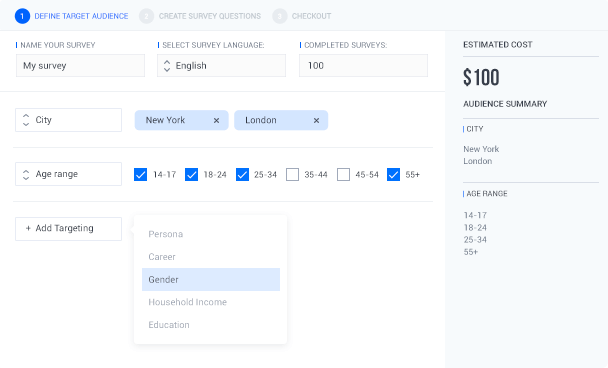 Step by step
You will find everything you need to get started in a single page, as soon as you create your first survey. There are numerous targeting options available at no extra cost, some that carry a charge and several handy options to keep in mind.
Survey language
Select your survey language form the drop-down menu. This will change the language that the users prompts are presented in, not the survey questions and answers. Our demographic questions will be sent out in that chosen language, as well.

Audience size
The number of completed responses your survey receives is your audience size.

Selecting targeting criteria
Reaching the right audience is simple and efficient with our Audience Builder. You set the criteria, we get the respondents.
Demographic Criteria
Gender
Age
Career
Education
Employment Status
Marital Status
Race
Number of Children
Household Income
Geolocation Criteria
Country
Region
City
US Census Regions
US DMAs
US Census Divisions
US Congressional District
US Postal Code
Mobile Usage Criteria
User Persona
Mobile Carrier
Installed App
OS Platform
Manufacturer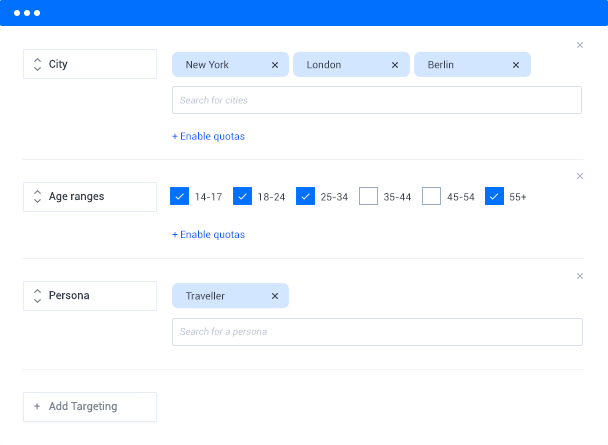 Adding quotas
You can use quotas to control how many of the respondents taking your survey will meet a certain condition, like belonging to a certain age group or residing in a certain location.
Click on "Enable quotas", set the percentage of respondents you need from each and don't forget to ensure that all numbers add up to 100%.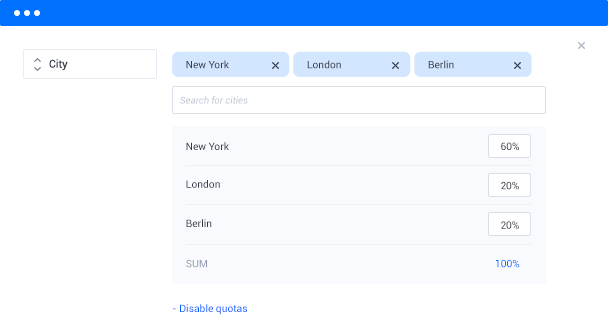 Questionnaire
Choose from an array of question types and several other options to decide what to add to your survey in order to gather the information you need from your respondents.
See more
Ready to get started?
Get in touch, or create an account.