Powerful Features. Simple Design.
Designing your questionnaire is easy and fun. We do all the heavy lifting for you, with question types and features especially crafted to address the most common research objectives out there.
Create a survey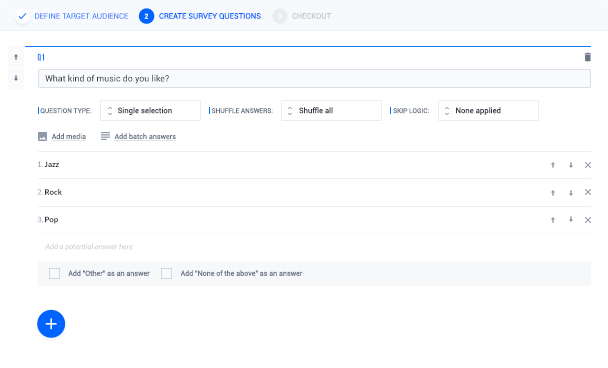 Survey question types
Be it something as simple as a Single Selection question, or as complicated as an NPS question, we've got you covered.
Add a media file to any question
Single/Multiple Selection, Rating, Slider, Open-ended, Ranking or Matrix Questions.
Respondents have to watch the entire video in order to proceed with the survey, ensuring you get a response to your question.

Test your video ad before you release it to the public and hear what your audience likes or dislikes about it.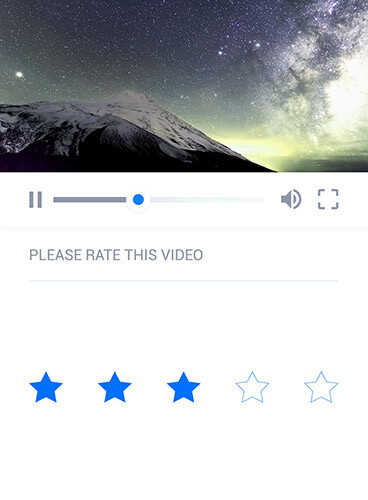 Screening questions
You may include up to 2 Screening Questions to your survey.
Ask a Screening Question to allow or block respondents from taking your survey, based on their answer.
Users that do not pass your Screening Question do not take the survey, are not included in your results nor are you charged for them.
Advanced features
More options and features give you increased value for money, taking your questionnaire to that extra level.
Shuffle answers
Shuffle answers in reverse order, shuffle answers but keep the last answer fixed and many more shuffling options take the headache out off how to arrange your answers.
Skip logic
Direct respondents down different paths in your survey by using Skip Logic. You choose which question respondents are asked, based on their previous answers and we take care of the rest.
"Other" and "None of the above" as an answer
Pre-designed "Other" and "None of the above" options give you the ability to gather more useful information from respondents and analyze their responses, too.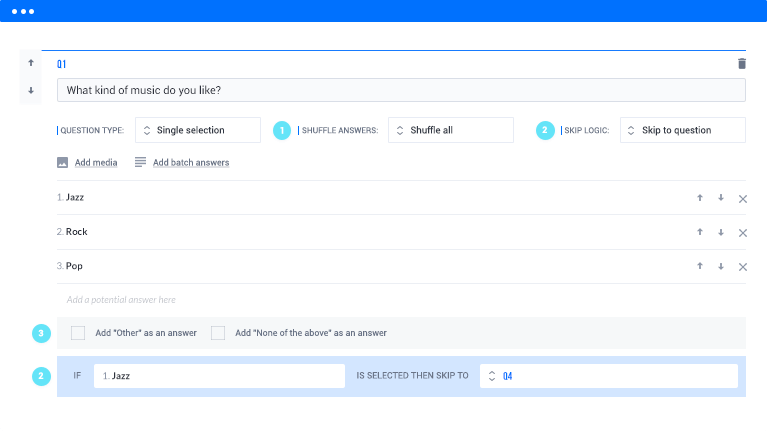 You are never alone
Our team of experts reviews all surveys that have been submitted to us and will examine your survey's methodology and design.
Survey templates
Our survey templates are there to help you get started, with useful questions on Brand Awareness or Concept Testing, for example.
Results
Our advanced reporting tool gives you the power to sort, filter, and analyze data from your survey - in real-time. And when you are done, you can choose whether to download an excel or pdf presentation too.
See more
Ready to get started?
Get in touch, or create an account.