Turning the tables on
traditional market research.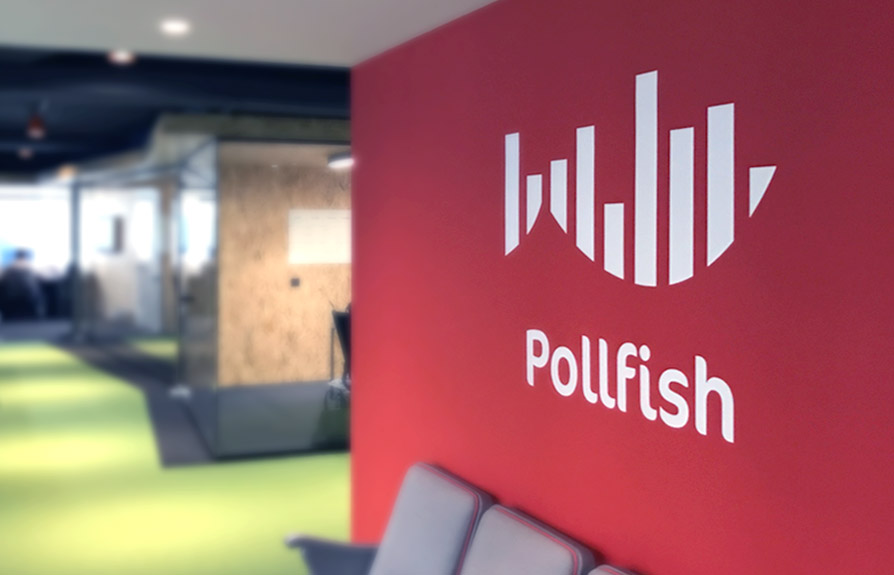 About Pollfish
Today's marketers and researchers are being challenged with shorter cycle times to get faster, high-quality feedback from their customers to make better business decisions. Traditional survey panels are progressively falling short of being able to deliver both quality respondents and responses in a timely manner to address this new mandate.
Pollfish is disrupting the legacy survey research space with a next-generation sampling approach coupled with a real-time, mobile-first DIY platform to address the current issues of declining respondent quality and leverage new technologies to improve respondent access, quality, and speed of response to meet the needs of today's marketers and researchers.
Our new methodology begins with an unparalleled global network of respondents who are not "impaneled." Cutting-edge capabilities including randomized and spontaneous invitations delivered programmatically while the respondent is in-app, while advanced machine learning techniques are used to identify and eliminate poor quality respondents at the question level. This combination delivers a level of data quality once found in the early days of random digit dialing
The net result? Brands, agencies and media companies can connect with mobile consumers in real-time, leading to better quality data, delivered faster and at a lower cost than traditional survey companies.
In February 2022, Pollfish was acquired by Prodege, a cutting-edge marketing, and consumer insights platform with innovative solutions to help leading brands, marketers, and agencies uncover the answers to their business questions, acquire new customers, increase revenue, and drive brand loyalty & product adoption. Pollfish and Prodege look forward to continued growth and innovation to empower our partners to gather meaningful, rich insights and better market to their target audiences.
Management
John Papadakis
CEO / FOUNDER
John has led Pollfish since its inception, bringing with him a history of successful entrepreneurial endeavors. John manages corporate direction and strategy at Pollfish, facilitating company activity across sales, marketing, operations, development, product and experience, and is responsible for sharing Pollfish's vision and strategy with our customers, investors and partners.
Andreas Vourkos
COO / FOUNDER
Andreas is the mobile guy at Pollfish. Created, supporting and expanding Pollfish publishers network. Working closely with app publishers on how to define a better monetisation strategy. Actively involved in the mobile apps world, interested in innovative products that can reach massive scale and improve the lives of millions.
Zissis Bellas
CPO / FOUNDER
Zissis is the CPO at Pollfish, leading both the Product and CX teams, responsible for the overall product experience. Prior to Pollfish, he held executive Creative roles at Leo Burnett and The Newtons, working on accounts including Nestle, P&G, Johnnie Walker and Samsung.
Stelios Gorilas
VP of Engineering
Stelios is the VP of Engineering at Pollfish. He leads the engineering team and is responsible for the platform overall architecture and day to day development work. Prior to Pollfish he was working as an architect and development team leader executing IT projects for financial institutions, European Organisations and Mobile operators.
Team Members
Achilleas Kyritsakas
Front-End Engineer
Fe
Adam Lifson
Senior Account Executive
SaE
Afroditi Lazarou
Customer Support Representative
CsR
Anna Maria Radoi
Customer Support Representative
CsR
Anastasia Alexandridou
Human Resources Manager
HrM
Anastasios Skarlatidis
Director of Data Engineering & Science
DeS
Andreas Athanasopoulos
DevOps Engineer
Do
Angelos Tsalapatis
Software Engineer
Se
Apostolos Rammos
Product Owner
Po
Athena Sousani
Customer Support Representative
CsR
Carina Lockemann
Account Executive
Ae
Chris Papathanasiou
Mac Help Desk Technician
Mc
Chris Tsavas
Front-End Engineer
Fe
Christos Pappas
Financial Analyst
Fa
Christos Theodorakis
Data Engineer
De
Chrysa Giasimaki
Business Development Representative
Bd
Demitra Psyhogyiou
Customer Support Representative
CsR
Despoina Paraskeva
Customer Support Representative
CsR
Dimitris Priftis
Senior Account Manager
SaM
Dimitris Tsolis
Back-End Engineer
Be
Dorothea Tsimpidi
Software Engineer
Se
Evangelos Michelioudakis
Data Scientist
Ds
Fotis Mitropoulos
Mobile Engineer
Me
Gabriele Petrioli
Front-End Engineer
Fe
George Giannou
Back-End Engineer
Be
Georgia Prantzikou
Customer Support Representative
CsR
Gina Thomas
Senior Account Manager
SaM
Grant Caddell
Market Research Account Manager
Mr
Hiram Santiago
Account Manager
Am
Iliana Panagiotidou
Junior Business Intelligence Analyst
Bi
Ioannis Sofianos
Front-End Engineer
Fe
Jim Theodoropoulos
Director of Customer Experience
DcS
Katelyn Jones
Account Manager
Am
Konstantina Stamoulou
Back-End Engineer
Be
Konstantinos Parsopoulos
Product Owner
Po
Kosmas Nestouris
Customer Support Representative
CsR
Lainey Kellogg
Account Manager
Am
Lorraine Ryshin
Content Marketing Manager
CmM
Loukas Vouthounis
Customer Support Representative
CsR
Loukia Katsimpra
Office Manager
Om
Mania Totomi
Product Designer
Pd
Marialena Travezea
Financial Analyst
Fa
Marion Theodoropoulou
Customer Support Representative
CsR
Mike Martocci
Senior Market Research Account Manager
SmR
Natalia Bletsogianni
QA Engineer
Qa
Nicole Spatz
Marketing Project Manager
MrM
Nikos Paraskevopoulos
Back-End Engineer
Be
Nikos Theocharidis
Customer Support Representative
CsR
Olga Maniati
Customer Support Representative
CsR
Panagiotis Liakos
Backend Engineer
Be
Roe Smith
Account Manager
Am
Spiros Tzavellas
Software Engineer
Se
Stefanos Papadogiannis
Back-End Engineer
Be
Stella Vlachodimitriou
Customer Support Representative
CsR
Stephanie Johnson
Director of Sales
DoS
Thanasis Rebelos
Project Manager
Pm
Troy Harrington
Head of Marketing
HoM
Vicky Kalogeraki
Customer Support Representative
CsR
Victoria Rapti
Market Research Director
MrD
Youjin Oh
Sales Coordinator
Sc
Zoi Malaki
Customer Support Representative
CsR