Real-time reporting.
The most advanced reporting tool available gives you the power to sort, filter, and analyze data from your survey.
Results are available in real time, allowing you to perform advanced filtering and segmentation to extrapolate valuable insights.
See sample results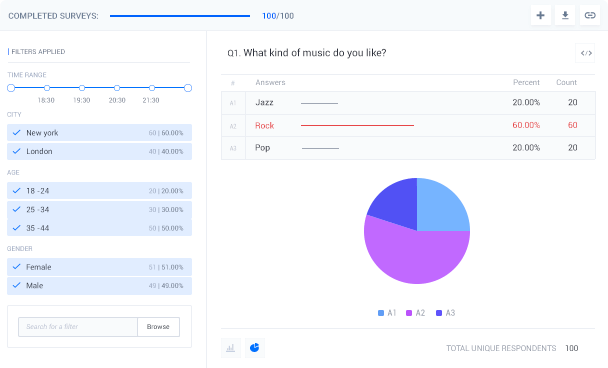 Pre-selected filters
On the left side of the Dashboard you can see your survey respondents chosen targeting criteria.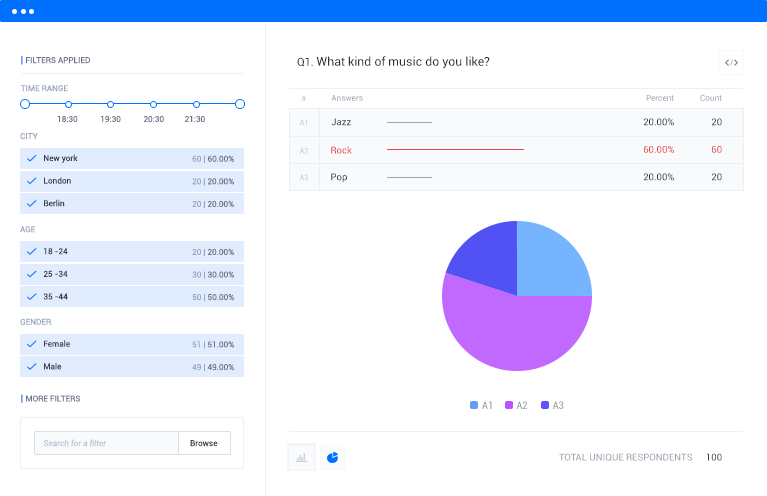 Filter by question and answer
Just click on any question or answer to select it and further analyze the resulting subset of data at your convenience.
You can also exclude answers
You can use the same feature to exclude responses from your set of data and analyze the results.
Advanced filtering
Choose from a very large number of additional filtering options such as location, education, employment status or operating system used. Just click to add and get more insights on your selected audience.
Audience demographics
All our survey results are accompanied with the demographic data that we have on our respondents. First-hand data, collected by running our own demographic surveys, updated at certain intervals. Data that you can use to gain valuable insights on your respondents and much more.
See sample results
Export results in PDF and XLSX files
Download a pdf presentation of your results at the click of a button and add it to your results analysis. Send a pdf with your results to your client or colleague. Run SPSS analysis on you results with the help of the downloadable excel results. The choice is yours. The data is yours. The power is yours.
Add more responses to your running survey
Got your survey design down to a tee and like your results so far? Want to take it a step further? Just click on the "Add more responses" and we will send out your survey again and again and again.
Audience
Getting access to your target audience could not be easier with our advanced targeting options. With a worldwide audience of over 400 million users to choose from and the ability to target by marital status, age, gender, location and many more. You are only a few clicks away from valuable customer insights.
See more
Ready to get started?
Get in touch, or create an account.