Google Play Store alternatives – Distributing your Android app to the world
When looking to publish your mobile app, Google Play Store seems the obvious choice since it is the biggest distributor out there, pre-installed on Android devices. However, should you limit yourself to this option only? Well, not really. Why not shop around? There are several other Android app stores out there, with their pros and cons, that can bring your app to thousands of new users every day. Exploring your options and submitting your app to more than one store will increase your app's visibility, and may in turn increase your revenue. Read on for more information on some Google Play Store alternatives:
1) Amazon Underground App Store
Amazon Underground App Store is quite a popular option to use when looking to expose your app to more users. It became quite popular in the past for its "Free app of the day" section where lots of users were visiting the Store to download for free, a paid app that would find on Google Play Store. With the introduction of Amazon Underground, Amazon gave the option to users to find several popular paid titles of apps, for free, as publishers of these apps get paid according to the amount of time their app is used.
For the publisher, uploading an app to Amazon is pretty straightforward. If a developer has in-app purchases or a paid app, he can consider using Amazon Underground and start getting paid for all of its user base. You can see eligibility information on monetizing with Amazon Underground here. The submission process for apps is simple, but there may be some complexity in the steps to follow when considering monetizing with Underground.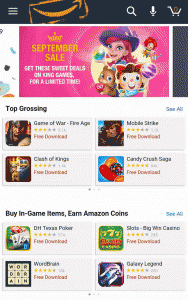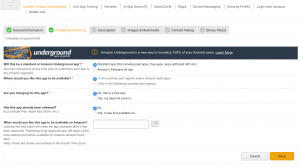 You can read more on how to install Amazon Underground App on your device from the Amazon website here. Access to apps & games on Amazon can also be achieved with the Amazon Shopping app on Google Play. Both require users to have an Amazon account.
2) SlideME
SlideMe is another app store with a great variety of free or paid Android apps. Their SlideMe Market App (SAM) has a really nice interface where users can browse through different categories, and review community reviews and comments. SAM app can be downloaded from the SlideMe website here.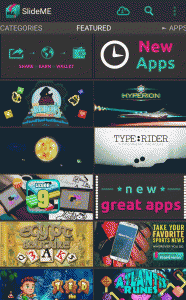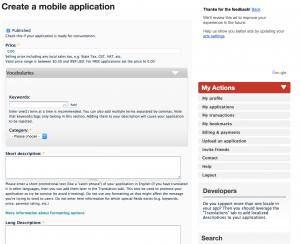 For the publisher, the submission process is easy. SAM app v6 offers publishers the In-APP Purchases (IAP) SDK, that enables the purchase of in-app items from within freemium apps via Paypal, Amazon, other cards, Mobile(fortumo) or SlideME Wallet balance, to name some.
3) GetJar
GetJar is one of the older app stores in the Android Market with a great variety of free apps. Users can either visit the GetJar website to browse through the different categories of apps or download the relevant apk which actually renders the same view. The look of the website is a bit old-fashioned, as you can see for yourself but still hosts a vast amount of apps.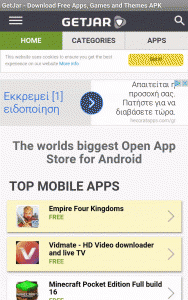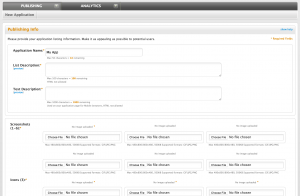 With GetJar, publishers can easily upload their apps by creating a free account. GetJar does not control in-app monetization, therefore each developer is in full control of their assets. Publishers can upload different versions of apps for different target groups (OS versions, device manufacturers, countries).
4) Yandex
Yandex Store provided by Yandex, is one of the largest search engines in Russia and is a great choice if you are looking to expose your apps mainly in Russia. You can download the Yandex store here. It offers a variety of categories and requires a Yandex account for making purchases.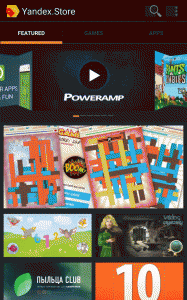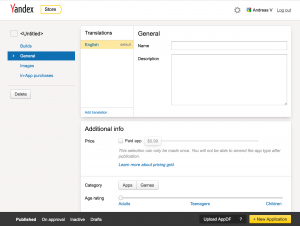 The submission process is easy. It includes selecting a relevant category, which countries to distribute and image assets upload. The store then carries out its own review process before letting your app go live.
Conclusion
There is a variety of mobile app stores out there. Submitting an app to several of those can increase your app's visibility and drive more traffic to your app. Choosing the right app store to focus on is a time-consuming process, however it can bring great results when done properly. The stores mentioned above are only a short list of what is available.
A more extensive list of Google Play Store alternative follows below.
List of other Google Play Store alternatives (App or Affiliate Stores)
---
Do you want to distribute your survey? Pollfish offers you access to millions of targeted consumers to get survey responses from $1 per complete. Launch your survey today.
Get started