Monetization Practices in the Fitness App Market

Fitness App Market: Increase of Downloads and Revenue over the last year
The Health and Fitness category is one of the app categories that received significant growth during the spread of COVID-19 since many people around the world started actively using apps to stay in shape during the pandemic. Gyms were closed for many months and users tried to find alternative ways to build and maintain a healthy lifestyle.
According to Statista's report, downloads of health and fitness apps increased significantly during 2020. Specifically, health and fitness apps were downloaded 593 million times during the first quarter and 656 million during the second quarter of 2020.  In the first two quarters of 2019, health and fitness apps were only downloaded 488 and 446 million times accordingly. These numbers correlate with the global coronavirus pandemic which has kept people at home and introduced new exercise and lifestyle practices.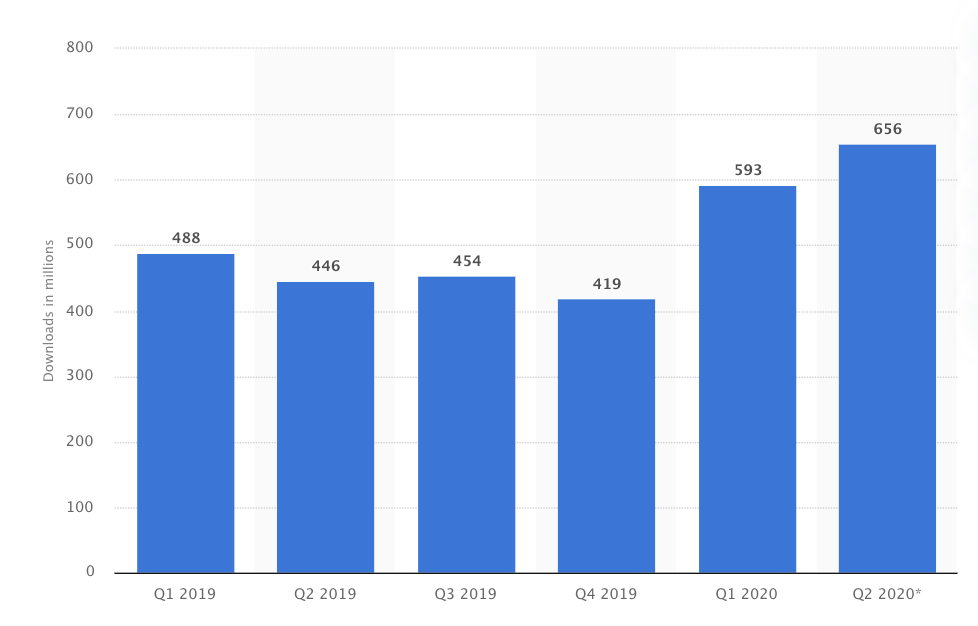 In 2020 in the USA only, health and fitness apps hit new records in the number of downloads and gross revenue on both Google Play and App Store. In particular, health and fitness app downloads exceeded 400 million in 2020 with a significant growth of 58% on App Store, compared to 28% on Google Play. Also, apps' revenue in that category set a new record of $214 million in Q2 2020 and then surpassing that in the next quarter with $225 million. Consumer spending in the category reached $838 million over the course of the year, 42% higher than the $592 million achieved in 2019.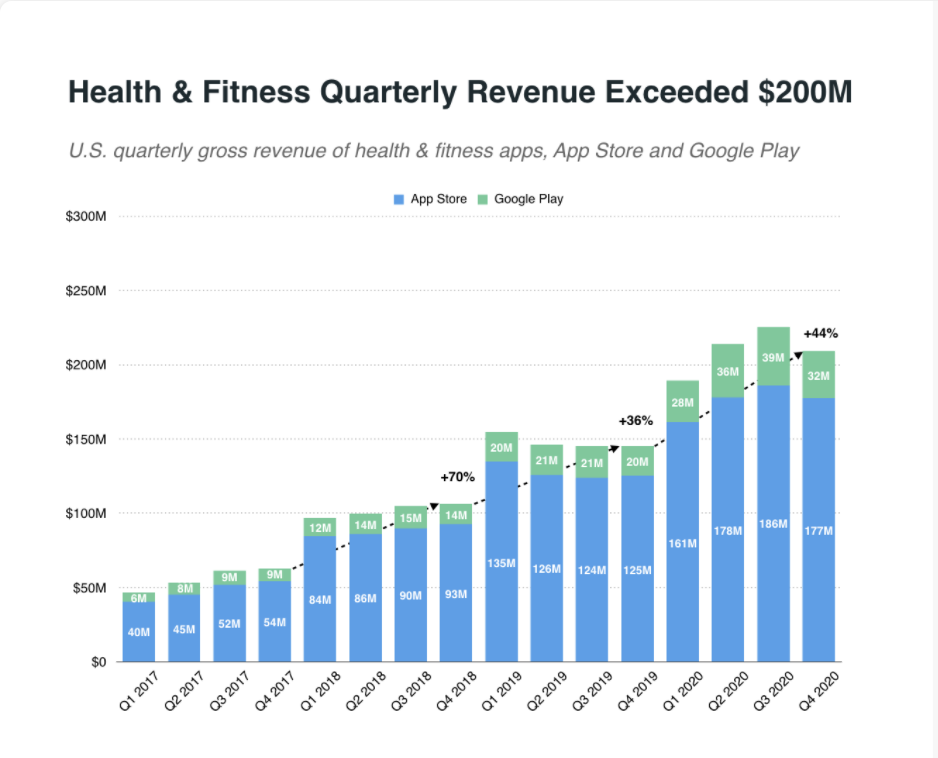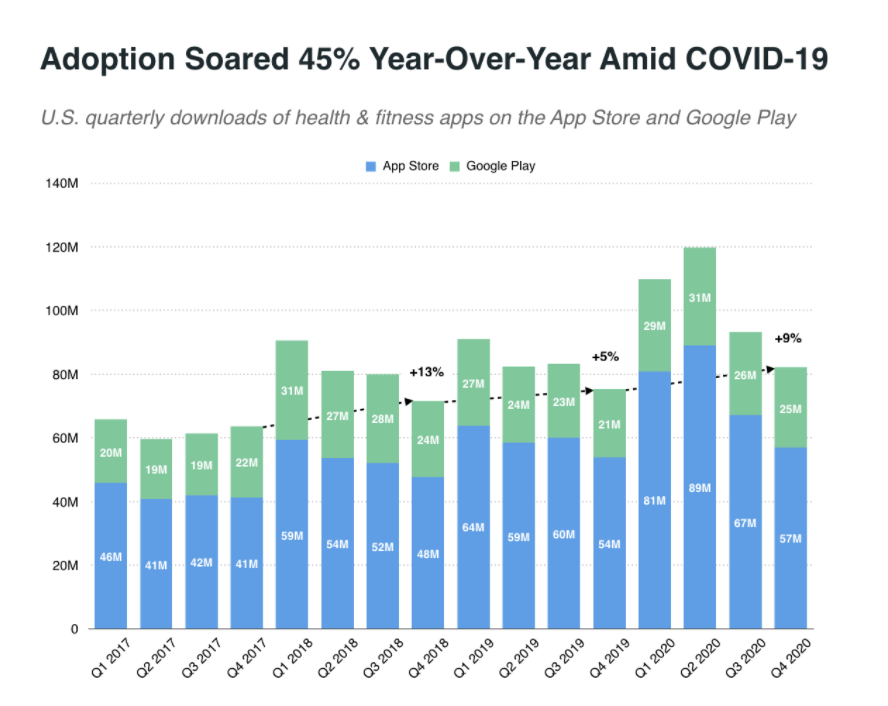 Health and Fitness Apps Categories
Health and Fitness apps include 4 different types of verticals based on their content such as workout apps, nutrition /diet apps, fitness activity tracking and wellness apps. 
Workouts apps

provide fitness plans and videos with explanatory comments. A successful app from this category should be able to adapt to users and create custom workout plans based on the goals of each user. 

Nutrition and diet oriented apps aim to create awareness among people about their nutrition and help them count their calories as well as keep a balanced diet. 

Fitness activity tracking apps enable users to track their activity via connecting their phones or other wearable devices and be aware of their improvement. 

Wellness apps include apps with spiritual practices, meditation, yoga and other motivational content such as sleep tracking and mindfulness.
Monetization Practices of  Fitness Apps
In the Health and Fitness category, we can find different monetization models that help publishers generate revenue. Below we can see the most popular ones:
Freemium Model
Subscriptions
In this model, users can download the app for free and gain access to some basic features, while later on, they can pay a subscription to access some other premium features (e.g premium fitness plans, coaching services, ad-free experience etc).
MyFitnessPal by Under Armour, is one of the top free apps on the App Store, aiming to help users follow a nutrition plan and succeed in personalized goals. MtFitnessPal offers a free month trial and afterwards users have to pay a monthly or yearly fee in order to access some key features of the app, a personalised experience and an ad-free experience.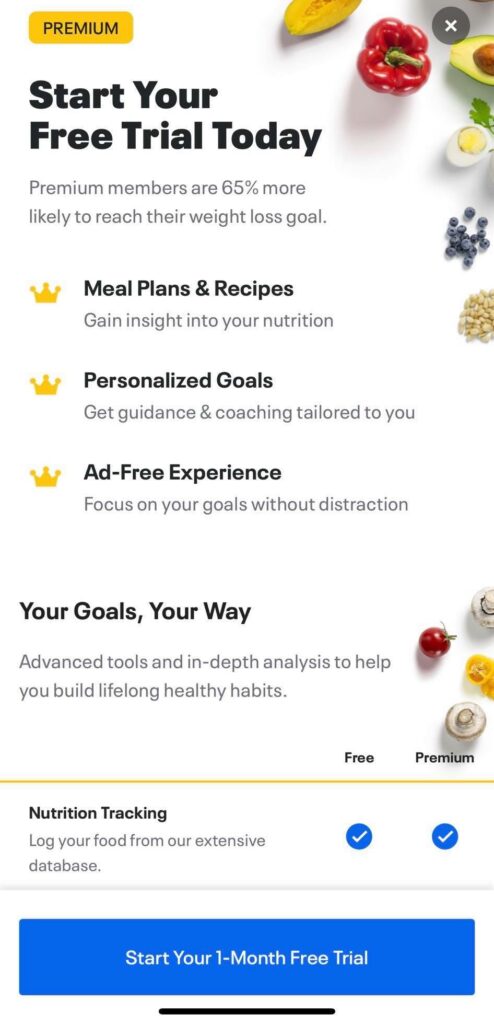 In-App Purchases
This monetization practice is usually implemented by apps distributed for free but offering additional purchases within the app. Publishers encourage their users to buy virtual goodies within the app (e.g digital currency, nutrition plan, sleep sound, water reminder alarm etc). The main difference between In-App Purchases and In-App Subscriptions is that the first one correlates with one-off purchases while the other with a subscription.
Runtopia is a very popular app both on Google Play and the App Store allowing its users to track their activity for run, walk, fitness and bike. This app provides a motivational incentive to convert the daily activity into awesome rewards (e.g giftcards, various fitness gear etc). Runtopia motivates its users to purchase a one-off membership inside the app and earn 10 Sports Coins.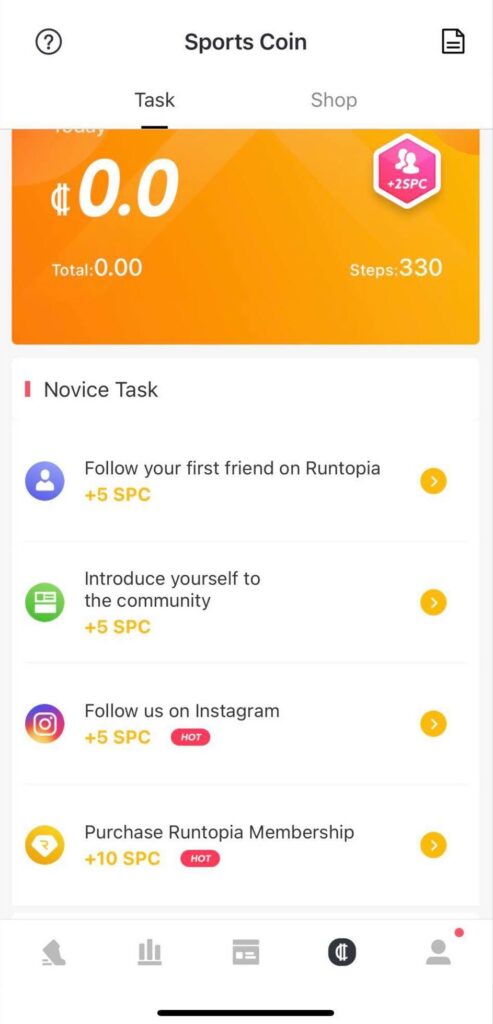 In-App Advertising
Usually one of the most common monetization models used in fitness apps is In-App Advertising. Some of the most popular ad formats include banners, native ads, video interstitials, playable ads,  rewarded videos and rewarded surveys.
For instance,  30 Day Fitness at Home a popular workout app for men and women, shows a banner on the app interface of other apps to earn quick returns.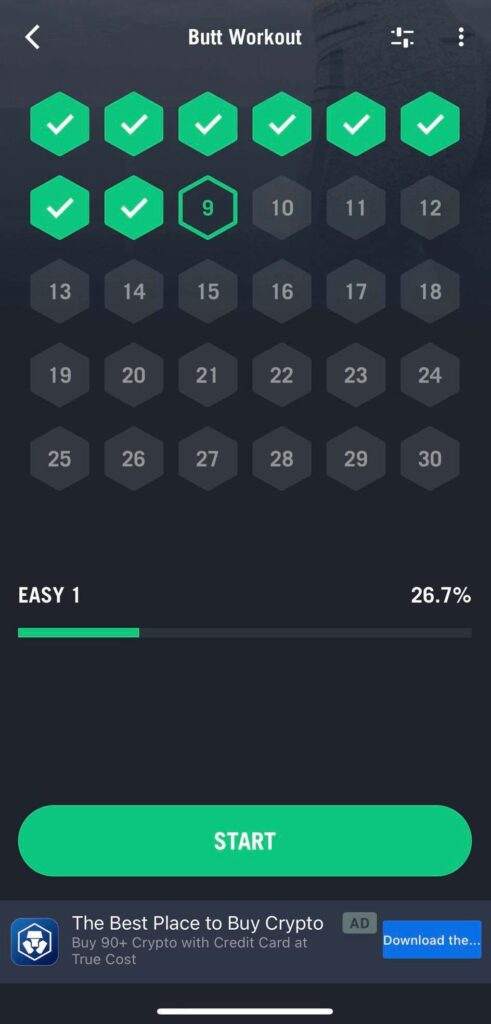 Rewarded Videos
A rewarded video is a type of ad format that rewards mobile users for watching full-screen ads in exchange for a reward. At the same time, publishers can earn money for every video watched by their users. Rewarded Videos constitute one of the most trending and engaging monetization practices over the last years.
Sweatcoin is a step counter that pays users a digital currency in exchange for their steps that they can use on gadgets, sport kits etc. This app shows Rewarded Videos to its users in the daily bonus section to prompt them to earn extra sweatcoins by watching a video.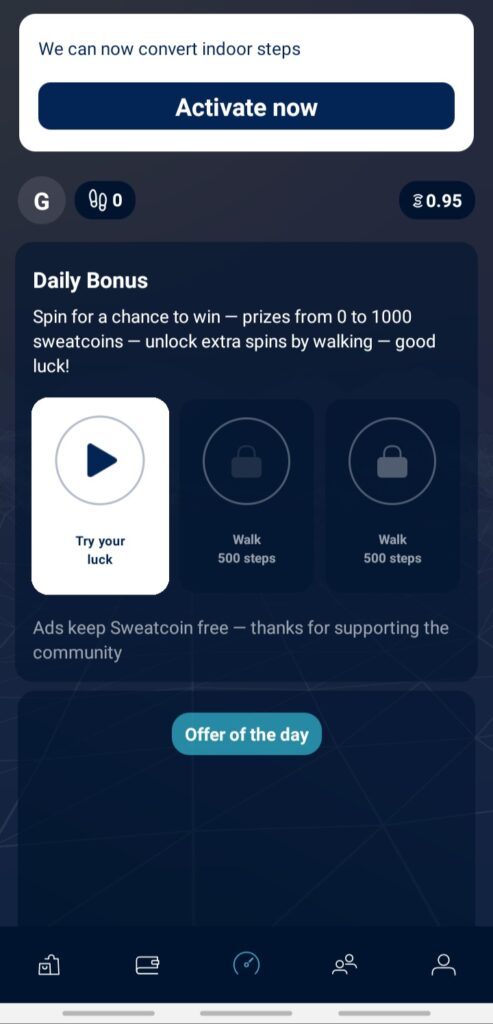 Rewarded Surveys
Rewarded Surveys similarly to Rewarded Videos allow publishers to get paid for every successfully completed survey by their users. In this monetization model, publishers motivate their users to complete a survey in order to earn a reward (e.g coins, ad-free experience, download workout plan etc). Many mobile apps use Rewarded Surveys along with Rewarded Video Ads as an additional revenue stream.
For instance, CashWalk is an app that pays users to walk or run. Actually, users can track their activity, measure their performance and collect coins for every 100 steps right from their lock screen. CashWalk implements Rewarded Surveys along with Rewarded Videos by motivating its users to complete tasks to earn extra coins.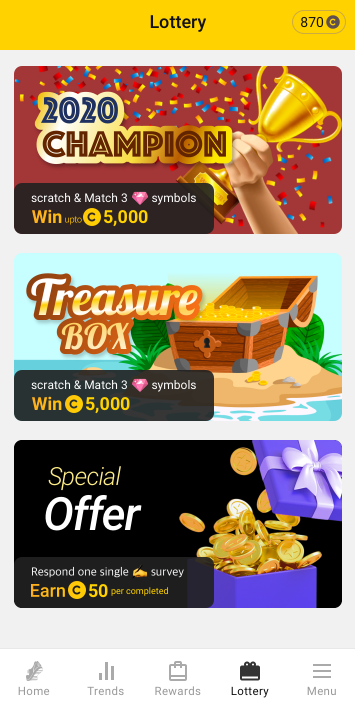 Paid Apps
Health and Fitness paid apps ask their users to pay a fee upfront in order to utilize the app. Many apps provide a free trial in order to convince users of the value of the app and make them willing to spend more money.
For instance, users wanting to download WaterMinder, a daily water tracker and reminder app, have to pay 5,49 euros. Publishers implementing this monetization model have to convince users upfront with their branding and features to gain their interest and trust.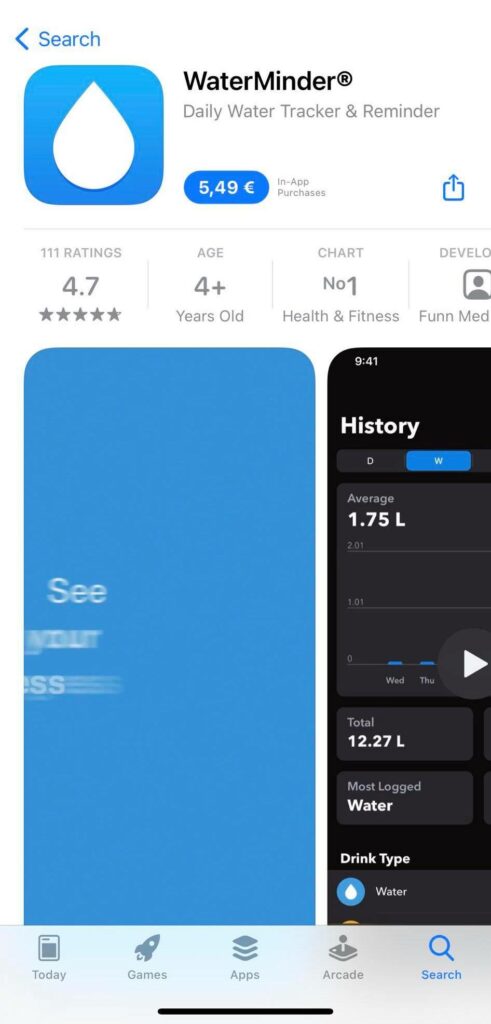 To conclude, health and fitness apps have been a trending app category over the last year as many people globally try to find alternative ways to keep a healthy lifestyle. In order to satisfy this market need, many publishers entered or focused in this vertical, with exercise apps, water drinking, nutrition, meditation and sleeping apps. Those apps use different monetization practices as listed above, to help publishers create a balanced user experience inside their app while establishing a successful app story.
---
Do you want to distribute your survey? Pollfish offers you access to millions of targeted consumers to get survey responses from $1 per complete. Launch your survey today.
Get started