Pollfish Launches the World's First Mobile Survey Mediation Platform
Today at Pollfish, we announce the release of the first mobile mediation platform for surveys, providing an easy way for publishers to integrate and manage surveys from different providers through a single solution.
More than $45 billion is spent in market research on an annual basis. In the past few years, the industry has realized that the future is mobile and has experienced some major transitions in an effort to reach consumers where they are—on their smartphones. Wanting to take advantage of this new revenue opportunity, publishers of mobile apps and games widely adopted market research into their monetization strategy.
However, this created a new issue. Over the past few years, more and more survey companies and networks have entered the space. This industry shift offered increased inventory and more options for publishers looking to monetize their apps with surveys, however this led to the same problems the mobile ad industry faced a few years before. The result was manual management of different survey networks and providers, prioritization, price management, multiple SDK integrations, multiple updates and endless IOs, which became a nightmare for publishers.
Seeing how that similar problem was solved in the past in the mobile ad space, Pollfish replicated the model, introducing a mediation platform for mobile market research. The new platform provides  an easy way for publishers to integrate and manage surveys from different providers with a single solution. Pollfish mediation offers the maximum possible fill rates to publishers looking to monetize their apps with surveys and the highest possible revenue. eCPMs of up to $200 can be achieved through the platform, making it a compelling and competitive solution to mobile ad formats.
Along with the new mediation platform, we are releasing a redesigned dashboard for publishers. Through the new dashboard, publishers can get access to real-time reports on revenue and performance of the surveys from different surveys providers that are being rendered through their apps. Moreover, publishers can control and select which networks render surveys within their apps with a few clicks on their dashboard.
Pollfish mediation takes no revenue commission for surveys being mediated through the platform, a revolutionary model for mediation, while the internal mediation algorithm provides a real-time, competing environment for survey networks where the highest-converting and most highly-paid surveys from the winning networks are delivered to the most relevant users based on the profile, region and other data collected about them.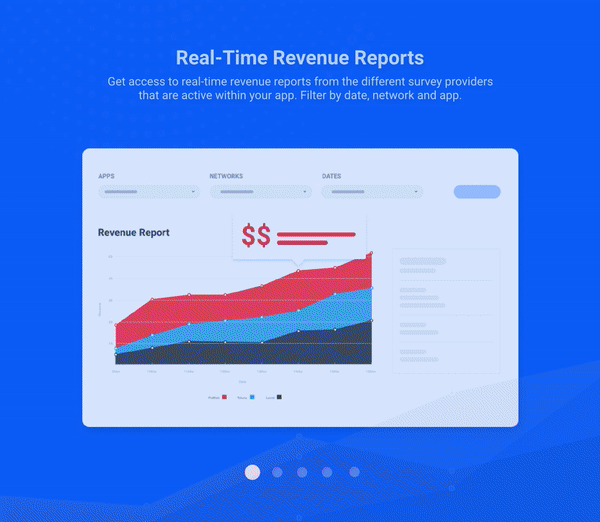 Using Pollfish, publishers can also gain deep data and demographic insights about their own user-base, with information collected from surveys shared back to them. Publishers can also register and receive real-time demographic notifications for every individual user in their apps. Finally, with the new platform, publishers are able to create their own surveys through Pollfish's DIY survey tool—for free—to target their own users, gathering actionable insights and learning exactly what their users want.
We are excited to provide technological solutions that the market research industry is rapidly embracing. History has shown that whatever happens in the mobile advertising space shifts into the market research space a few years later, and adapting mobile advertising models is only the beginning. To start taking advantage of the opportunities provided by the new Pollfish mediation platform, log into your dashboard and enable the survey providers you would like to see within your apps.
---
Do you want to distribute your survey? Pollfish offers you access to millions of targeted consumers to get survey responses from $1 per complete. Launch your survey today.
Get started