Christmas Survey: How Much Will the Average American Spend in 2019?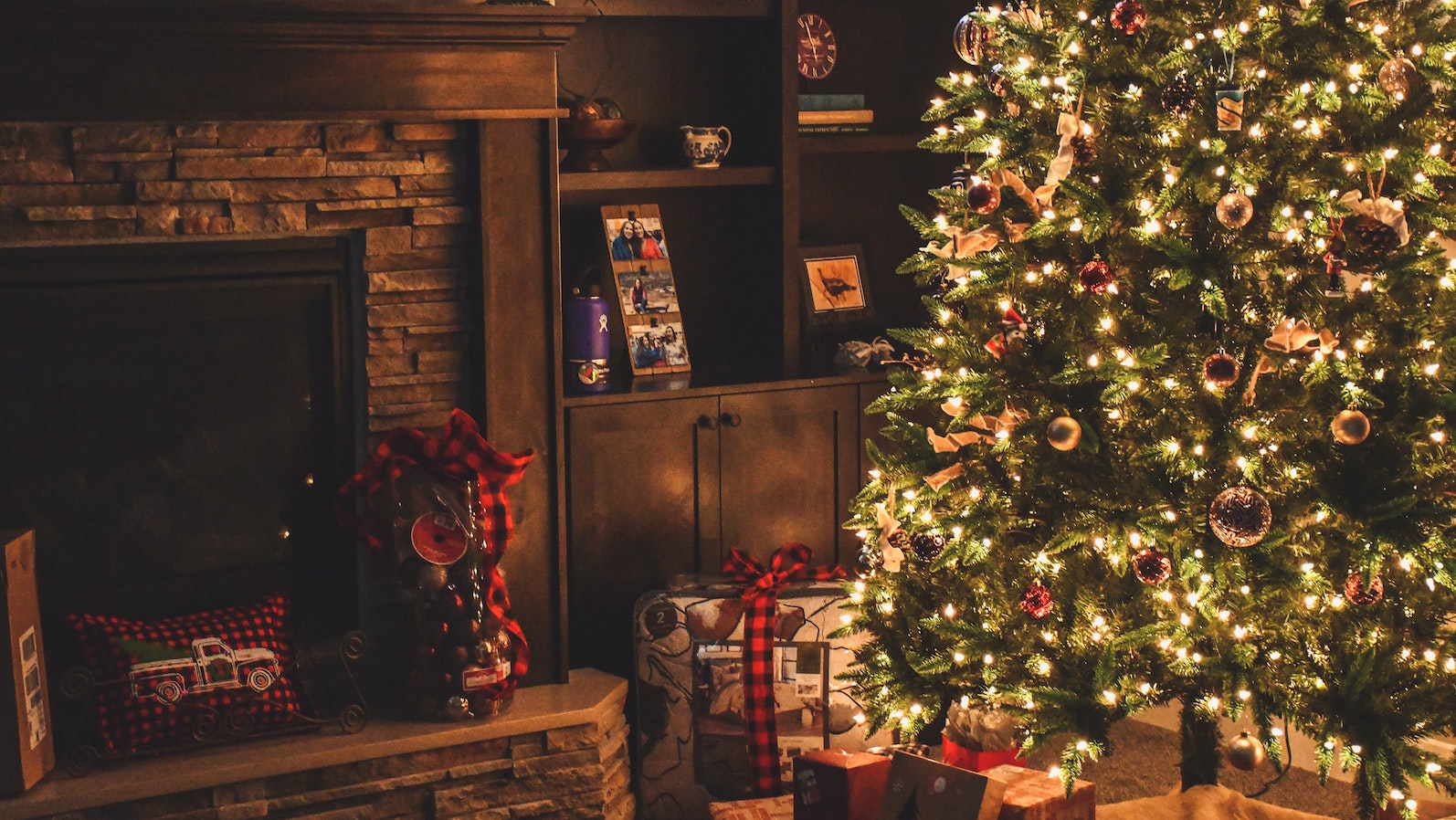 This post contributed by Mike Brown of LendEDU.
December is here which means it's time to unpack the decorations, turn up the Christmas music, cut down and light up the tree, and hit the mall or the web for some present shopping.
It's hard not to enjoy Christmas and the holiday season in general, except for maybe the cold weather depending on where you live. 
And also the money that will have to be spent on everything from eggnog to overnight Amazon deliveries. The Christmas season is just about the biggest time of year for consumers.
To illustrate this period of mass spending, LendEDU, with the help of Pollfish, conducts an annual Christmas survey of 1,000 adult Americans that intend to celebrate Christmas to better understand how much the average celebrator is forking over for the holidays. 
In 2019, Average Adult American Will Spend $668 on Christmas
LendEDU's 2019 Cost of Christmas report that surveyed 1,000 adult American consumers revealed that the average celebrator will spend $668 on Christmas this year. This figure is actually up from last year's figure of $633, but down from 2017's figure of $709.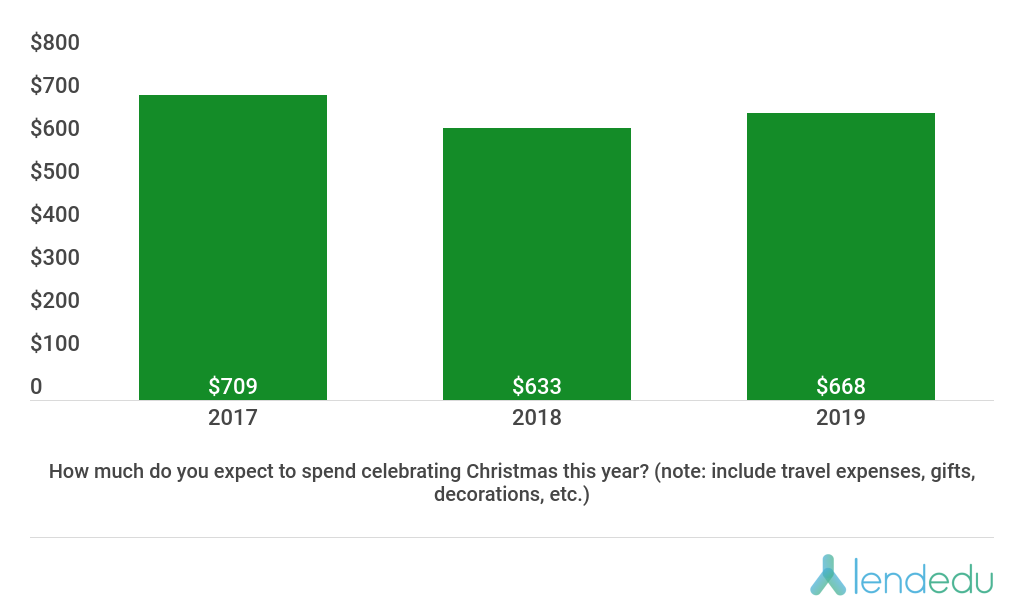 The survey further asked Pollfish survey participants to specifically breakdown how their total average spend of $668 will be divvied up.
Here's what was found: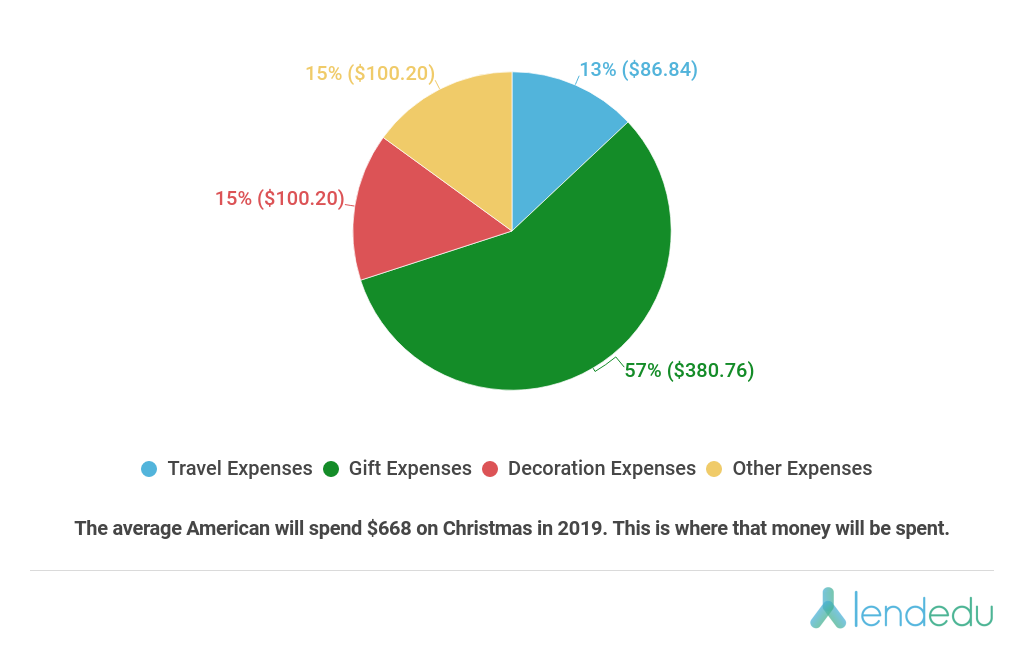 Not surprisingly, the largest financial commitment during the holidays belongs to presents; according to the survey data, gifts make up 57% of the total expenditure of $668, or $380.76. Remember that price tag before you rag on friends or families for getting the wrong gifts. 
Trailing gifts were both "decoration expenses" and "other expenses;" the latter could have included things like food and drink expenses, amongst other things. Both of these expense categories accounted for 15% of the total Christmas expenditure, or $100.20. 
Finally, "travel expenses" accounted for the smallest share of the total Christmas cost of $668. This category represented 13%, or $86.84, of the total expenditure. It was a bit surprising to see this expense as the cheapest as Christmas is a big travel time and gas or plane tickets can add up quickly. 
With Christmas carrying such a steep price, the next few questions in LendEDU's Pollfish survey pertained to debt. 
One-Fifth of Americans Anticipate Holiday Debt
To afford just a few days that will cost over six hundred dollars, a considerable percentage of adult Americans will have to take on some debt. 

Specifically, 20% of Pollfish respondents that participated in LendEDU's Christmas survey indicated that they would take on debt to cover some of the holiday cost. Meanwhile, 76% said they will not need to take on debt and 4% opted not to say. 
In terms of how much debt some of these consumers will be taking on for Christmas, the average amount was $720. 
For just the consumers that anticipated some debt this holiday season, their average total Christmas expenditure was $832, or $164 more than the overall average amongst all respondents. Additionally, the Christmas expenditure for just debtors was $205 more than the average total spend of $627 for just non-debtors. 
The remaining portion of LendEDU's Cost of Christmas report dove into the shopping habits of consumers in 2019.
In Sign of the Times, Most Consumers Will Do Shopping Online, Specifically at Amazon
When survey participants were asked about where they will do the majority of their Christmas shopping, here is what the LendEDU report showed: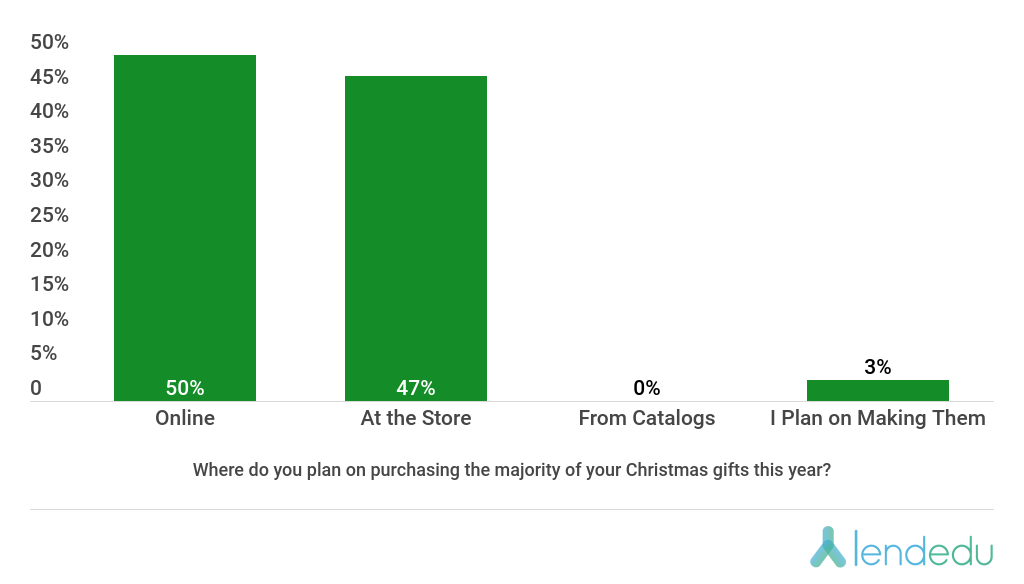 50% of all respondents answered that they will do most of their holiday shopping on the internet, which is not surprising given the year we live in. What was surprising was that this was the first time in the three years LendEDU has conducted this survey that "online" was the most populated answer. 
Trailing closely behind online shopping was 47% of consumers stating that most of their Christmas buying would be done the old-fashioned way, at the store. An additional 3% plan to craft most of their gifts, while no one had intentions of using a catalog, the real old-fashioned way.
With online shopping being the most popular option for consumers during the holiday season, the study wanted to see which e-commerce giant is more utilized for Christmas shopping: Amazon or Walmart. 

The plurality of Pollfish's survey respondents stated that they would be using Amazon for most of their purchasing this month, while 38% favored Walmart, and 15% were going to use either site. 
Sticking with the theme of this Amazon vs. Walmart competition for Christmas shoppers, LendEDU actually conducted a prime comparison experiment between the two websites by comparing the price differences between 20 identical Christmas items found on both websites.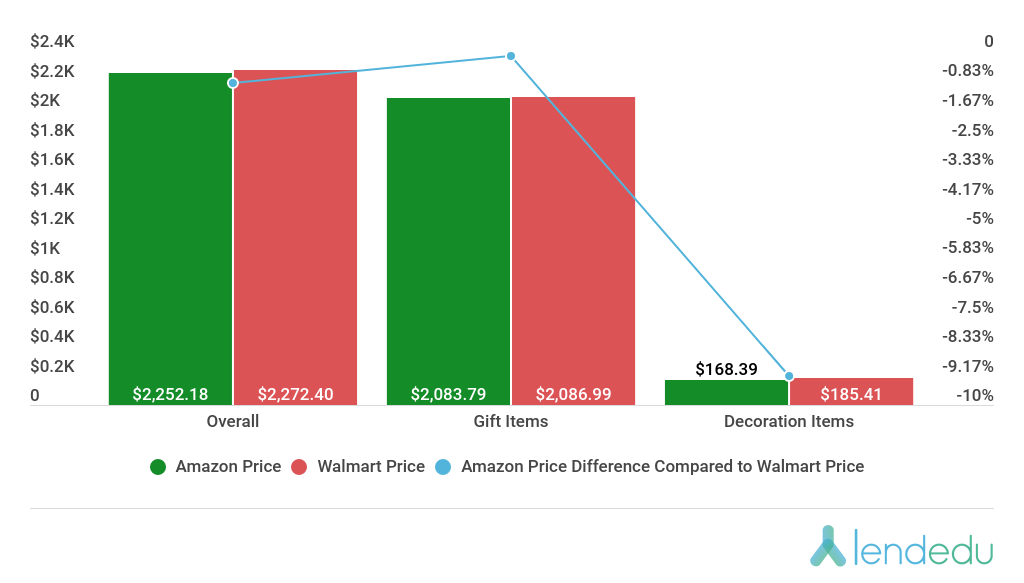 By the slimmest of margins, Amazon was cheaper than Walmart by .89% overall for 20 identical Christmas items found on both sites. When it came to the 15 gift items that were compared, Amazon was cheaper by .15%. For the 5 identical decoration items, Amazon was cheaper by -9.18%. 
---
Do you want to distribute your survey? Pollfish offers you access to millions of targeted consumers to get survey responses from $1 per complete. Launch your survey today.
Get started