For Students & Parents, Here Are Some College Planning Tips for Next Semester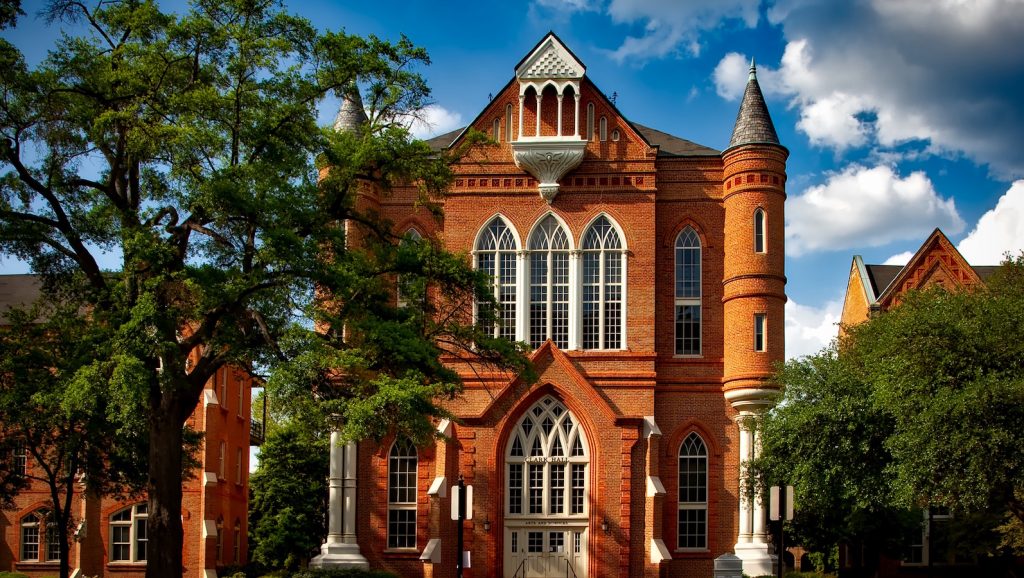 This post contributed by Mike Brown of LendEDU.
While many words can be used to describe the coronavirus pandemic that has ravaged the globe, one that fits the current situation quite well is "uncertainty."
Across a broad spectrum of topics, uncertainty is prevalent. No one really knows when sports, including major leagues like the NFL and NBA, will return or what that return will look like. When it comes to traveling, everything is up in the air and no one can say for certain when they will next hop on a plane, train, or cruise.
Higher education in the United States does not escape this coronavirus-induced uncertainty. College campuses across the country closed up in mid-March to help combat the virus, and not a soul knows when, or even if, higher education will ever be the same again. 
Only a limited number of colleges and universities have announced their plans for the Fall semester, and those seem shaky at best. Harvard, for example, will operate at 40% capacity next Fall and most of that will be first-year students. Everyone else will take online courses that will come at the same price as Harvard's typical tuition rate. 
Princeton will bring first-year students and juniors to campus in the Fall while sophomores and seniors will be welcomed back in the Spring. 
With such confusion coming from the higher education institutions themselves, college students are also completely uncertain of their plans for the next semester. 
LendEDU, a personal finance company, conducted a poll of both current college students from the class of 2021 or later and graduated high school seniors from the class of 2020 using survey platform Pollfish to capture this uncertainty. 
LendEDU's survey found that a combined 49% of high school seniors that have already committed and sent a deposit to a college for next Fall would consider trying not to enroll for next semester or attempt to defer their admission for one reason or another.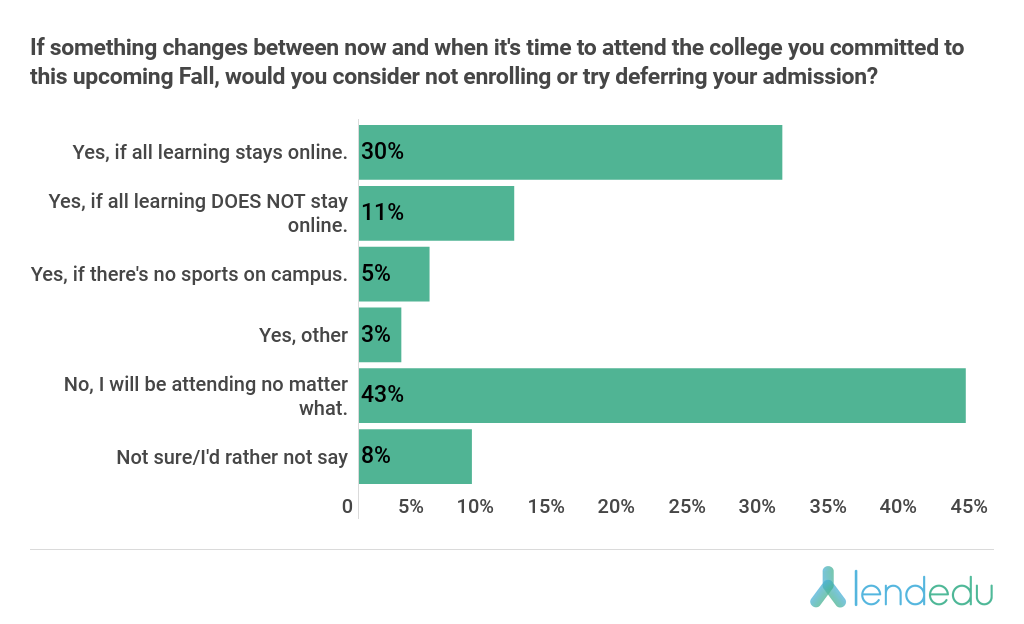 Another 41% of undecided high school seniors are thinking about online college for next Fall instead of heading to a traditional college, while 43% of undecided high school seniors from the LendEDU poll are considering taking a gap year.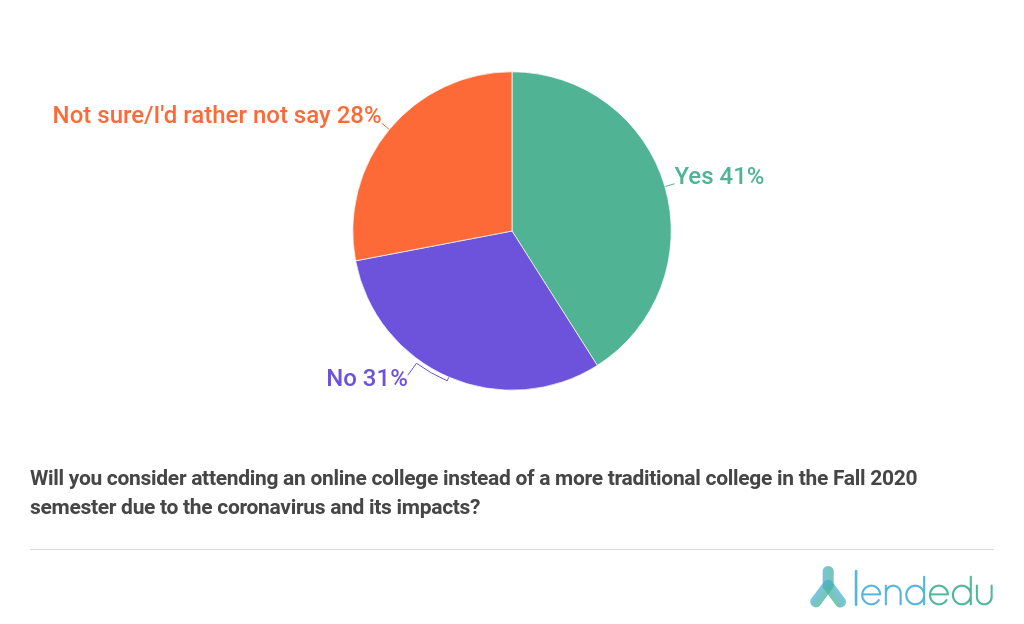 When it comes to current college students from the LendEDU survey, a combined 28% are considering dropping out of their current college and enrolling in online college, while 34% are thinking about dropping out and taking some time off next year.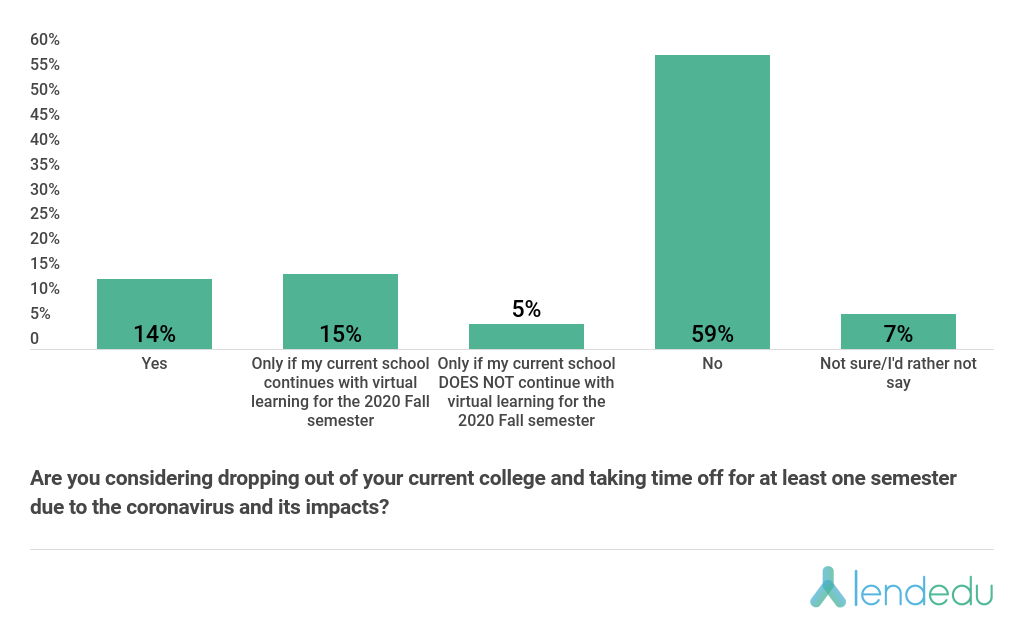 And finally, LendEDU found that 52% of current college students believe the coronavirus and its impacts will extend the time it takes them to graduate from college and move on into the working world.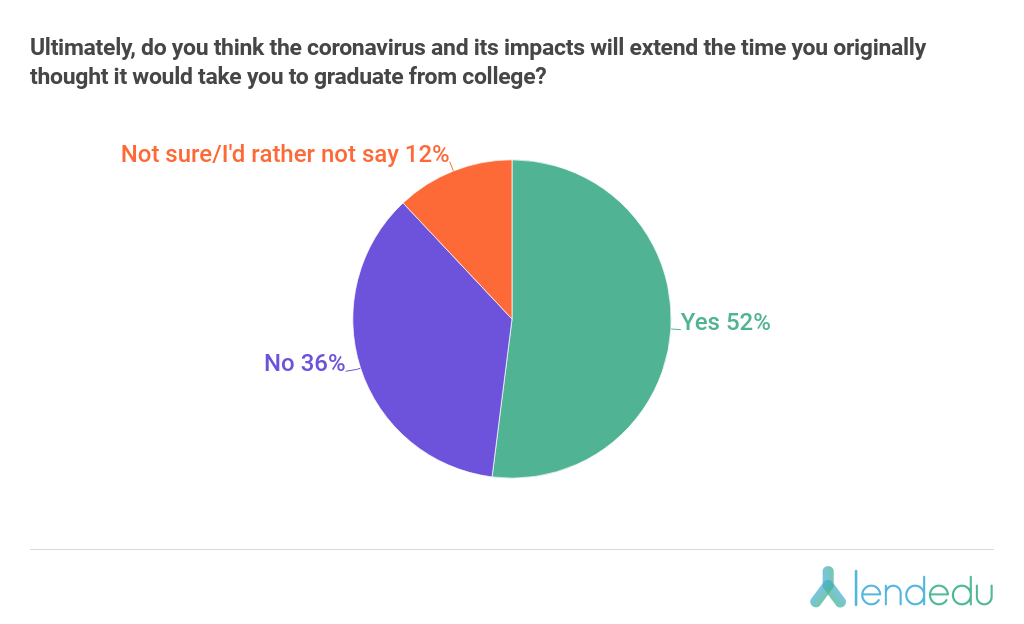 Such uncertainty in higher education can create unimaginable stress on both students and parents when trying to making college plans for the upcoming Fall semester. For this reason, LendEDU provides a few tips below on how parents and students can properly plan and manage the forthcoming academic year. 
Compare All of Your Options
During a time like this where nothing is certain and everything can change in a day, it's of the utmost importance for parents and college students to compare all of their options for the next semester.
By keeping all of your options open, you can be free to make the appropriate choice based on the everchanging circumstances. As either a current or prospective college student, some of these options include enrolling in a cheaper online college, enrolling in a cheaper community college, transferring or enrolling in a more affordable public or in-state college or one that is closer to home, or opting for online courses at your current college or the college of your choice and asking that institution if they are willing to offer a cheaper tuition rate for online courses. 
Additionally, now would be the time to consider that college that offered you a ton of scholarship money or financial aid to attend. Previously, cost wouldn't have mattered as much for some students but now that we are in a recession, affordability and the cost of the college must be seriously weighed. 
Hold Off Taking on Too Much Student Loan Debt
With much uncertainty around higher education in the U.S., now would not be the best time to break the bank by taking on too much student loan debt. 
So, when financially planning for next semester, it's important to be patient and wait to see if your college or university will lower tuition rates in light of the pandemic. This way, you won't end up taking out more student loans than what was actually needed, which means you probably won't be in student loan repayment for any longer than necessary.
This is especially true when it comes to private student loans, which often come with much higher student loan interest rates. LendEDU's recent private student loan report found that the average private student loan interest rate is 10.63%, which is quite high compared to federal student loans. 
You do not want to take out high-interest private student loans that you will be repaying for possibly over a decade if you do not have to. 
Be Patient!
The most important advice that can be given to any college student or their parent is to be patient and just wait and see how everything shakes out for the next semester. 
Don't rush into selecting a college or transferring from a certain college just because you felt like a decision had to be made in time for the Fall semester. For the most part, college students are young and have their whole lives ahead of them.
This gives them the opportunity to take their time in making a monumental decision like what their college plans are going to be. It also gives them the time to take a gap year if necessary to hopefully allow for the coronavirus pandemic to be brought under control and for higher education institutions to return to complete normalcy in 2021. 
Taking a gap year as either a prospective or current college student is certainly an idea worth pondering as it could save you either the stress of attending a college with messy plans for 2020 or the money of attending an institution that is still overpriced even through a pandemic and a recession. 
And then, you have the benefits of time and stability to make a sound college decision when it comes to your plans for the Fall semester of 2021. 
Using Pollfish, LendEDU has gathered original data helpful to understanding consumers, developing insightful reports, and offering the right solutions to their customer base during COVID-19. Want great data of your own? Create an account and get started. 
---
Do you want to distribute your survey? Pollfish offers you access to millions of targeted consumers to get survey responses from $1 per complete. Launch your survey today.
Get started