Monetization Strategies of Entertainment Apps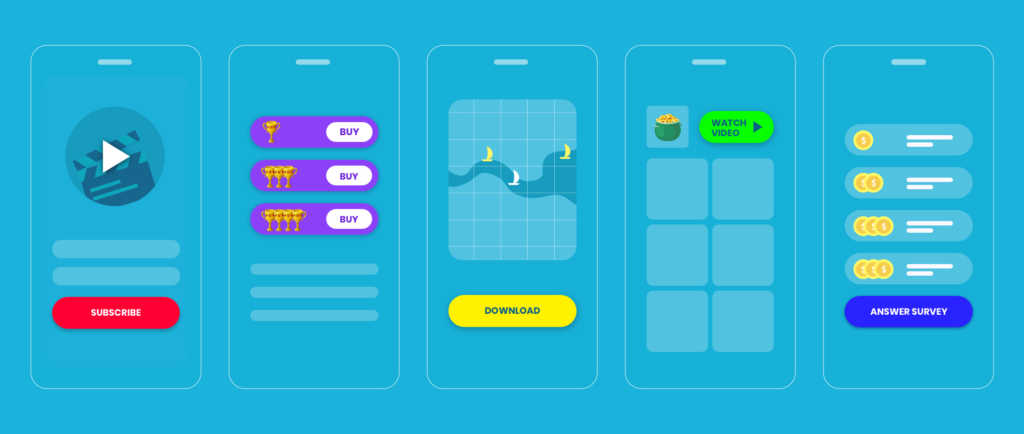 Entertainment apps tend to be a very popular app category on both Google Play and App Store. Mobile users nowadays look for mobile apps that can help them agitate their mind during their free time such as movie platforms, music platforms, games and others. At the same time, the imagination and talent of app creators, bring to the market many engaging and funny entertainment subcategories of apps, so users will never get bored.
Some of the top free entertainment apps in the USA over the last month include Disney+, Netflix, Twitch, Rewarded Play, Mist Play, Bitmoj, Akinator, Zepeto, and others. We can see that most of them are related to different aspects of entertainment such as streaming, chatting, posting videos or photos, downloading avatars or emojis and so on. Entertainment apps are often closely related to gaming and offer to users a variety of rewards in exchange for playing games.
Choosing the right Monetization Strategy
But how can mobile publishers make money from this popular app category? Entertainment apps implement various monetization strategies based on the business model they follow and the profile of their audience. Some of the most widely used strategies include In-App Subscriptions, In-App Purchases, In-App Advertising, Rewarded Videos and Rewarded Surveys.
Subscriptions
Paid subscriptions constitute a popular monetization option where users pay a specific fee to gain access to an app. In their turn, the application creators constantly work on customer retention and update their product.
The Subscriptions model is comparatively new to the market and is often implemented by streaming apps like Netflix and Disney++. App publishers normally provide users with the option to test the app for free and if they like it they have to proceed with the subscription model. This monetization strategy tends to achieve exceptional profits for publishers with high user engagement and a trusted brand in the market.
Subscriptions can appear in two options: non-renewing or renewing subscriptions. In the first case, users pay for the subscription one time and use it for the subscription period. In the case of renewing subscriptions, users need to pay for the subscription and renew it after the selected period.
Reface is the No #1 face swap app that took a great hype over the last few months on both Google Play and App Store, reaching the top charts for many weeks. In this app, users can swap a single selfie to celebrities or movie characters with deepfake technology, play around with face and gender swaps and share their clips or gifs on messenger or other social media.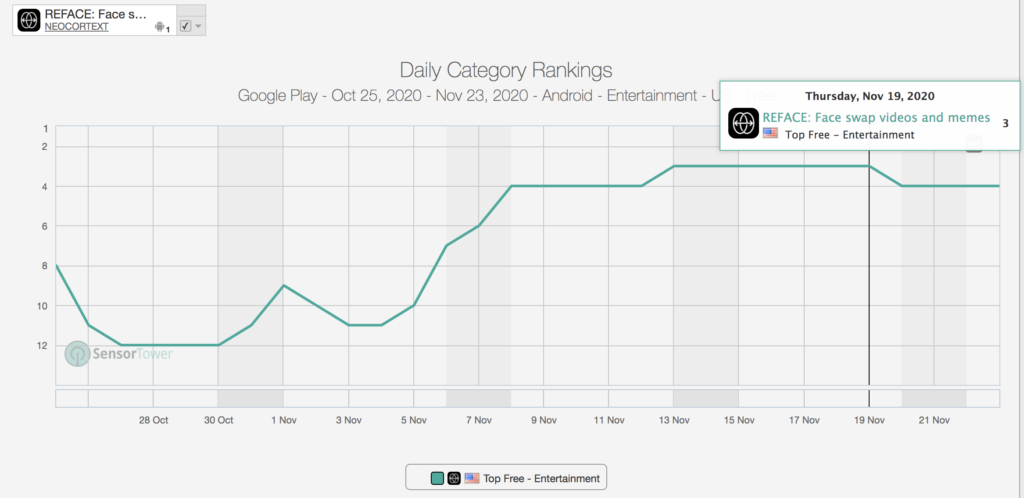 Reface implements In-App Subscriptions as a monetization model. In this entertainment app, users have a free trial period of 3 days and then they have to choose either to pay for a yearly subscription of 24,99 € or for a weekly subscription of 2,49 €. 
In-App Purchases
In-App Purchases are normally implemented by apps distributed for free but providing additional purchases to the users within the app. App owners normally sell virtual goodies within the app such as premium features, ad removal, coins, avatar styling etc. In-App Purchases can perform quite good for entertainment apps like games that have loyal users willing to spend money within the app.
Zepeto from Naver Z Corporation is an entertainment app through which users can personalize their avatar with millions of items like trending clothing, hairstyles, and makeup to branded collabs Moreover, they can play mini games and stay in touch with their friends by chatting and sharing new stories.
Zepeto monetizes with In-App Purchases by offering to users the option of buying extra coins and gems. Users select the pack they would like to buy and afterwards, they can use their credits to add different avatar styling options or just play games.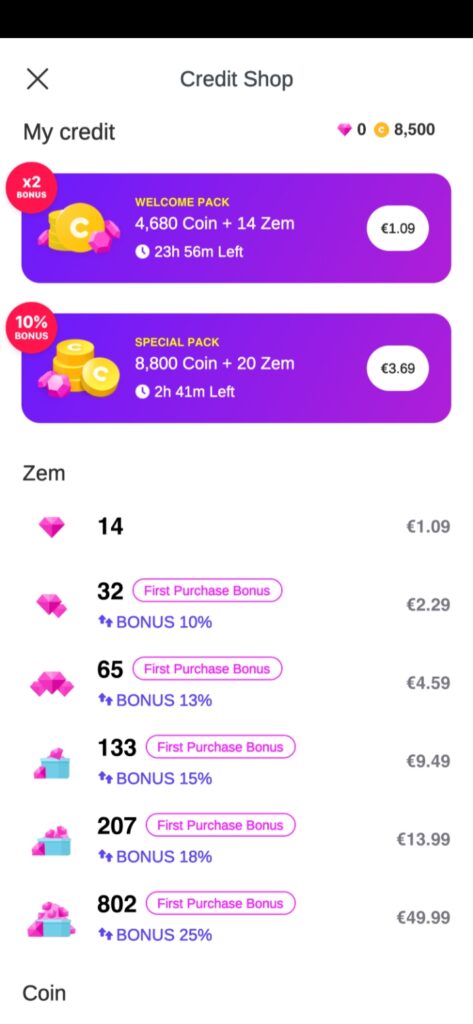 In-App Advertising 
In-App Advertising tends to be nowadays one of the most popular and straightforward monetization strategies. App publishers in the Entertainment monetize by serving ads within their mobile apps. With In-App Advertising, advertisers can reach their target audience effectively and app publishers can earn a steady income by showing ads to their users.
The most commonly used ad formats include:
video ads

banner ads

native ads (i.e., the ones that blend in with an app's content, like in Facebook feed).

Interstitials
Little Talking Ginger is a funny app where users can talk to a kitten, tickle him, play games online, record videos of the fun time with the kitten and share them online. This app implements In-App Advertising in the format of Interstitials which are interactive and full- screen ads, covering the interface of their host app.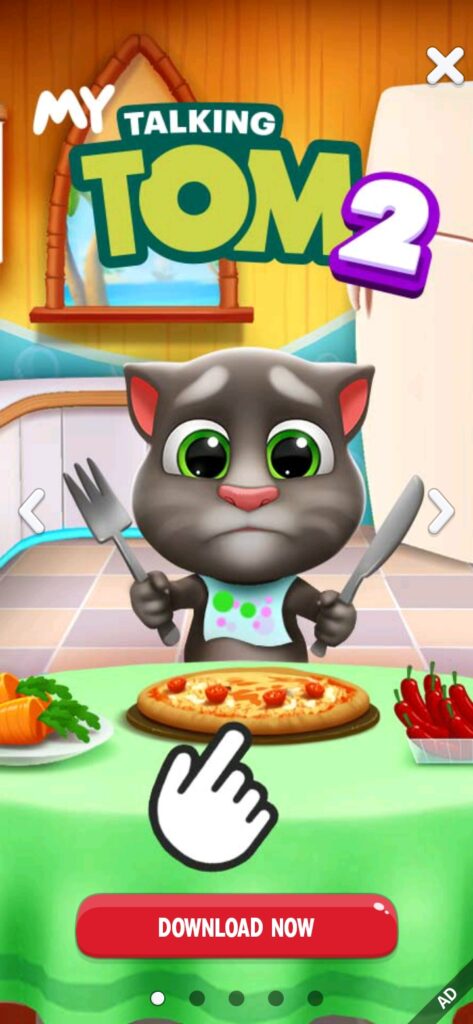 Skin for Among Us is a popular entertainment app on the App Store, where players have access to skins, hats, sound and extras. This app also implements advertising in the format of banners that are located on the top or the bottom of the app.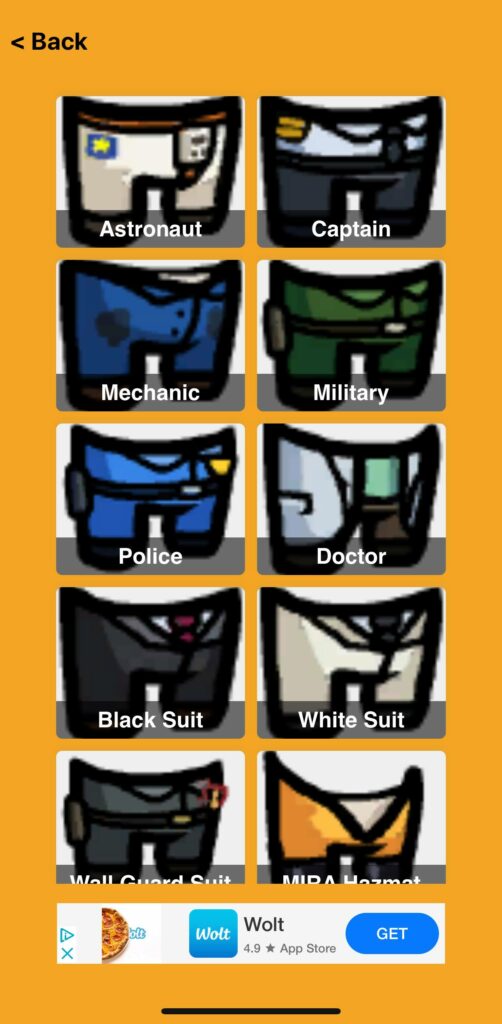 Rewarded Videos
Rewarded Videos is one of the most high paying and trending strategies over the last few years, where users have to watch a video in exchange for a reward. At the same time, mobile app publishers make money for every video watched by their users. Rewarded Videos tend to be an easy and engaging way for users to earn a reward while publishers increase their revenue.
Meme Generator Free is a cool app where users can create a variety of quality memes and share them with their friends via different channels. This app motivates its users to watch a video in order to color a specific meme for free.
Rewarded Surveys
Rewarded Surveys focus on a similar concept with the Rewarded Videos as users have to complete a survey in exchange for a reward. This monetization format can be effective for mobile apps that motivate their users to participate in a survey to unlock a premium feature or earn a reward. In entertainment apps, in particular, Rewarded Surveys can be easily implemented by games offering rewards or by apps that help users to download/create avatars, stickers, videos etc.
Prank Call Voice Changer App by Ownage Labs is a prank call and fake call app where users have access to awesome voices in order to dial and fool their friends from anywhere in the world. This app implements Pollfish Rewarded Surveys as a monetization approach, giving in exchange extra credits for completing a survey.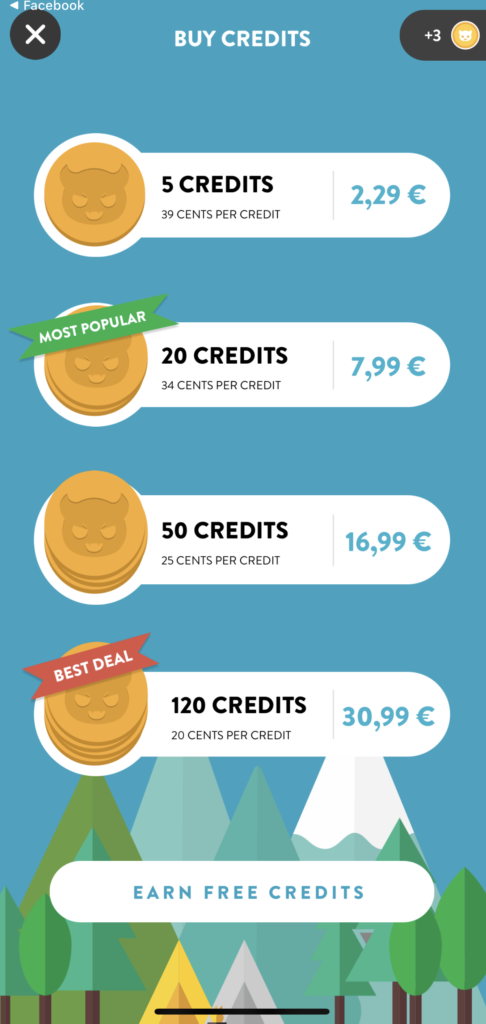 To conclude, entertainment apps constitute one of the most trending app verticals lately both on Google Play and the App Store. They tend to have many subcategories such as streaming platforms, games, avatar apps etc covering different user needs relating to entertainment. Most of them adapt different monetization strategies in order to maximize their revenue. Rewarded Videos and Rewarded Surveys are two of the most highly effective options in that category. At the end of the day, deciding which monetization strategy should be followed, depends heavily on your business model and the audience for the app.
---
Do you want to distribute your survey? Pollfish offers you access to millions of targeted consumers to get survey responses from $1 per complete. Launch your survey today.
Get started