The business/customer disconnect: 82.4% don't confidently know their pain points 😧
Customer-centric… Buzzword or core model?
For great brands, it rings true, but what about for the majority of small businesses?
Understanding customers is critical to acquire them, and equally as important to retain them. In fact, nearly half of consumers left a brand last year due to poor understanding.
We ran a survey on 500 business owners and executives to find out more.
1. 68.6% don't understand how their customers think
Psychographics, demographics, budgets, lifestyles, competitor intel, needs, habits, reasons for churning, pain points… As it turns out, there's a lot that companies don't know:
Digging into the matrix above, let's look at customer psychographics. This is defined by psychological traits like attitudes, values, and fears — essentially, the way customers think.
When you add those who moderately, severely and somewhat lack info on customer psychographics, the total is a whopping 68.6% of businesses that don't understand how their customers think.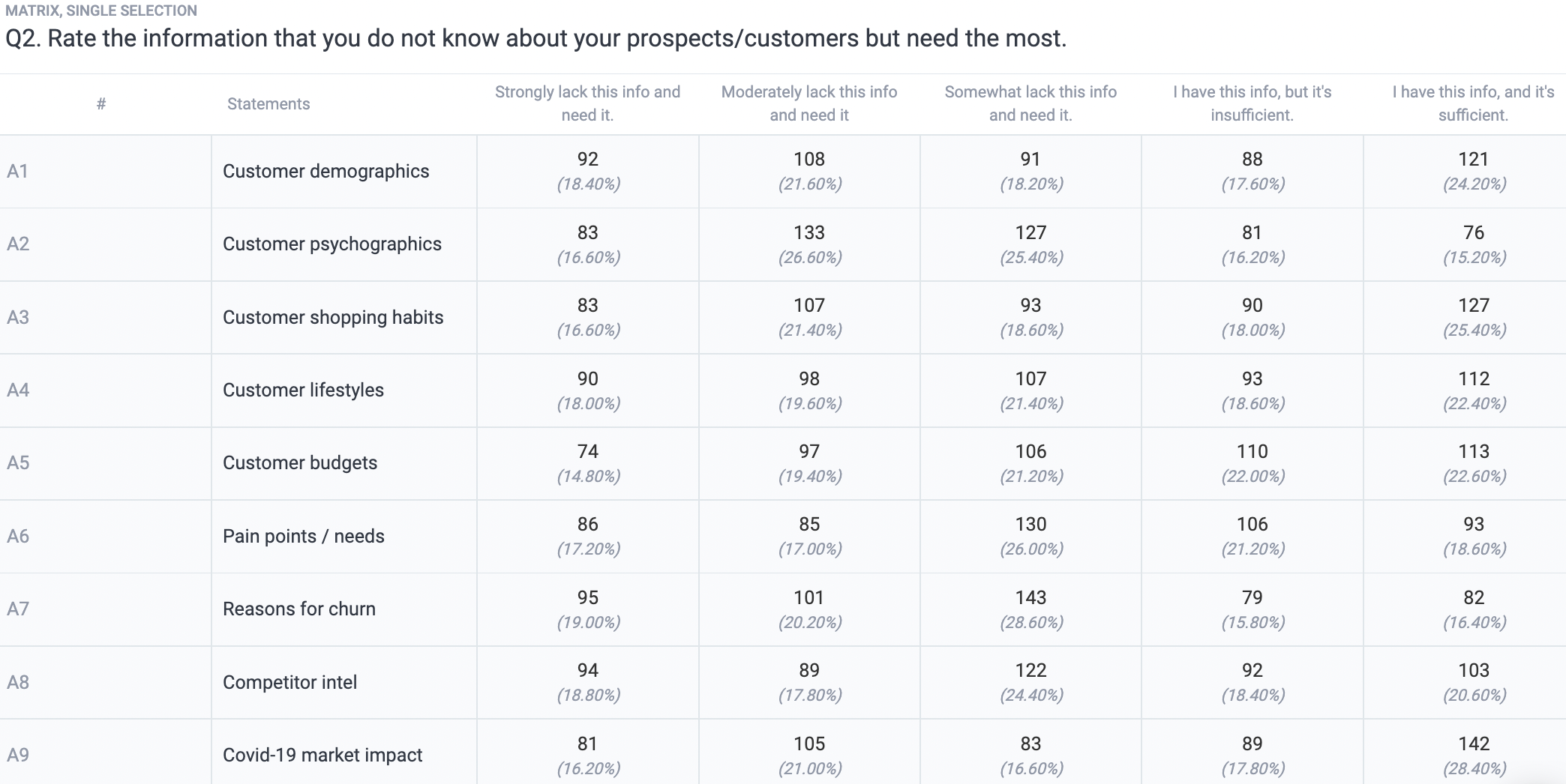 Okay, let's try something else. Surprisingly, 18.4% of businesses say they severely lack info on customer demographics, AKA, the most basic info on their target market. 
How about churn? 20.2% moderately lack info on why customers churn, while 19% say they severely lack this info. And for online brands, churn is possibly one of the easier elements to understand, as there are many ways to gather data upon cancellation such as single-select and open-ended exit forms.
In all, there is a lot of customer info businesses are lacking and should step their game up to acquire. Particularly when you see that 82.4% don't confidently know their pain points.
2. ¾ of small business owners personally fix 1-star reviews.
Shoddy reviews. We all get them from time to time.
But what do businesses do after receiving the lowest ranking: a one-star review?
A heaping 76.6% of business execs and owners say they'll take action,
13.6% say they'll hand this issue over to one of their teams to fix, and in 91% of cases, they'll read the review.
That is truly a great sign in understanding and addressing CX… but as the matrix table up top shows, it doesn't paint enough of a picture for businesses to gather meaningful insight.
By gathering agile data on your customers, you can get out ahead of the issues that often pop up in these 1-star reviews before they begin to derail other potential customer journeys.
3. 23% of businesses say pleasing customers is their biggest challenge
We asked about the biggest challenges that business owners and executives face when it comes to their businesses.
There is nearly a tie: 23.4% report hitting their revenue goals and 23% say pleasing their customers is their biggest challenge. These two stats are largely symbiotic…
In order to hit your revenue goals, you need happy customers.

20.8% say standing out from the competition and 11.4% say innovating are the toughest challenges.
Organizations across the board can crack these challenges simply by staying in the know of their customers via periodic surveys.
4.
55.6% say the customers themselves are the biggest challenge in customer service
Next, we asked about the hardest challenges in customer service and support, and it looks like the customers themselves carry the blame, at least from the businesses' perspective.
We learned that businesses fear customers the most in this regard.
That's because businesses find the following to be the biggest challenges:
29.8% say emotional customers

13.8% say dissatisfied customers

12% say customers who don't renew or continue buying
All these concerns are centered on the customers themselves.
And they come out to over half (55.6%) of companies worrying about the customers the most in their service/support sessions.
This is why we can't help but stress the importance of studying your customers regularly.
Because you can ask them about this matter via the customer service survey. 
5. Over 40% of businesses delight in interacting with customers the most
Sure, customers can be difficult to understand and please.
But they still delight businesses in their own way.
That's why, finally, we round out the piece with what actually delights businesses about their customers. 
We found that the most popular sentiment involves interacting with customers, as:
21.8% say interacting with customers at different touchpoints 

19.6% say pleasing customers and getting recognition for it.
In total, 41.4% of businesses are most delighted by actions that involve interacting with their customers.

They can do so continuously by running different types of consumer surveys.
Almost ⅓ — 29.6% of businesses say that expanding their customer base delighted them the most this year.
18.2% were most delighted by customers who recommended their business to others. 
All in all, although there's a disconnect between how much businesses claim to know about their customers and actually do know.
But they can always bridge this gap with survey research. 
Get insights from 250,000,000+ respondents.
It's time to conduct your own market research, so give Pollfish a try!
Our online survey platform is super user-friendly and offers 24/7 live tech support.
 It is incredibly easy to use, as you can make your own survey in just three easy steps. 
A DIY survey platform, you have full control of your survey campaign — from targeting, to deployment, to the questionnaire and your post-survey data.
Leveraging organic sampling and Random Device Engagement, the Pollfish platform provides random organic sampling to users across the globe in their natural online environments, staving off survey bias and providing the highest quality of survey data. 
Get started today, research anything now!
---
Do you want to distribute your survey? Pollfish offers you access to millions of targeted consumers to get survey responses from $1 per complete. Launch your survey today.
Get started