More Than Half of New Homeowners Now Regret Buying a House During the Coronavirus Pandemic
Despite the coronavirus pandemic forcing a mass shutdown of the economy, which led to nearly 20 million Americans losing their jobs and our second recession in a little over a decade, the U.S. housing market has been hot, hot, hot.
During the pandemic, people have been trying to move out of big cities and tiny apartments, while mortgage interest rates have been at all-time lows, and together this has caused mortgage refinance applications to be up 84% year-over-year (YoY) and mortgage applications to be up 22% YoY.
To dig deeper into this ironic homebuying trend, LendEDU utilized the services of research firm Pollfish to survey 1,000 adult American homeowners who are currently repaying an outstanding mortgage from a private lender.
The survey from LendEDU had many interesting findings, including 55% of new homeowners now regretting buying a home during the pandemic and 54% of all homeowners getting hit with a negative incorrect credit strike due to the abundance of pandemic forbearance agreements.
Many New Homeowners Now Regretting Their Decision
The mortgage report from LendEDU included 940 adult American homeowners who took out a mortgage before the coronavirus pandemic (pre-March 2020) and 60 adult American homeowners who took out a mortgage during the coronavirus pandemic (March 2020 to now).
Amongst the latter, 72% of respondents said the coronavirus pandemic played a factor in them taking out a mortgage and becoming a homeowner.

Specifically, 54% wanted to take advantage of record-low mortgage interest rates, while 15% wanted to move out of a location getting hit hard by the pandemic, and 3% cited another reason not provided.
Keeping with this group of new homeowners, the LendEDU survey also found that over half of them now regret the decision to buy a house with the help of a mortgage during the coronavirus pandemic.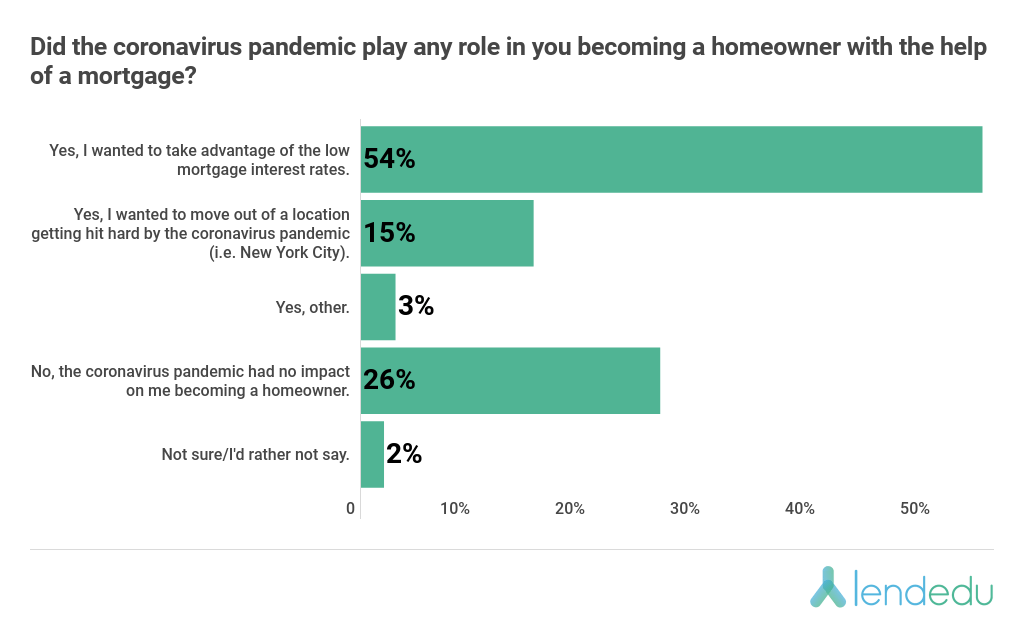 Specifically, 30% of poll participants cited financial reasons as the source of their regret, while 10% attributed social or life reasons, 7% said they were not prepared for homeownership, and 8% pointed to something else. 
The LendEDU study also found that refinancing has become quite popular during the pandemic, which is not surprising considering the low-interest rates.
Over One-Quarter of Homeowners Have Refinanced Their Mortgage During the Pandemic With Nearly All Receiving a Lower Interest Rate
As mentioned above, mortgage interest rates have been at all-time lows during the pandemic, and this has motivated many homeowners to refinance their mortgage.
According to LendEDU, 26% of all homeowning respondents have refinanced their mortgage during the pandemic.
And not surprisingly, nearly all of them have received a lower home loan interest rate.

Pandemic-Induced Financial Struggles Have Been Leading to Many Incorrect Negative Credit Strikes
The coronavirus pandemic has been devastating for the economy, and many Americans have been dealing with being out of work and living on a very limited budget.
With tightened financial situations throughout the country, a solid proportion of homeowning Americans have been having a tough time meeting monthly mortgage payments.
In fact, LendEDU found that 17% of all homeowners have struggled to repay their mortgage due to being laid off, while 20% have struggled due to the general financial struggles that come with a pandemic-induced recession, and 4% are struggling to meet monthly mortgage payments for another reason.
Only 58% of respondents indicated they are not struggling to afford their monthly mortgage payments.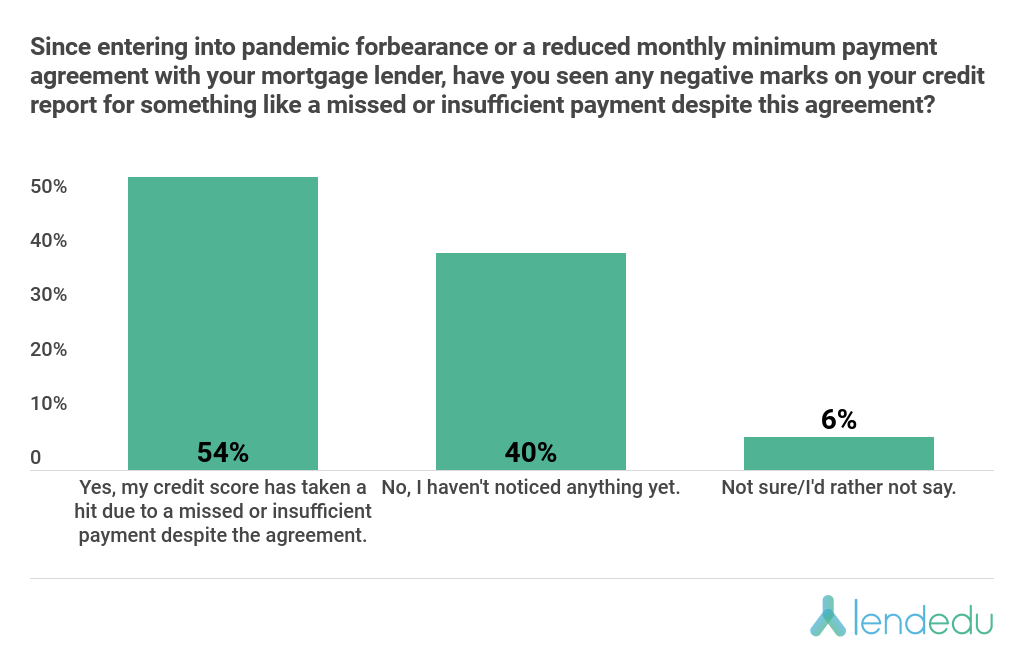 With so many homeowners having trouble budgeting for their mortgage payments, many mortgage lenders have been willing to agree to pandemic forbearance where no monthly payments are required or a very small monthly payment is required.
LendEDU's survey revealed 32% of homeowners have agreed to something similar to the above with their mortgage lenders.
Yet, this has had a negative side-effect as now many homeowners are now being hit with incorrect negative credit strikes for things like missed or insufficient payments despite the temporary pandemic agreements they came to with their respective home loan lenders.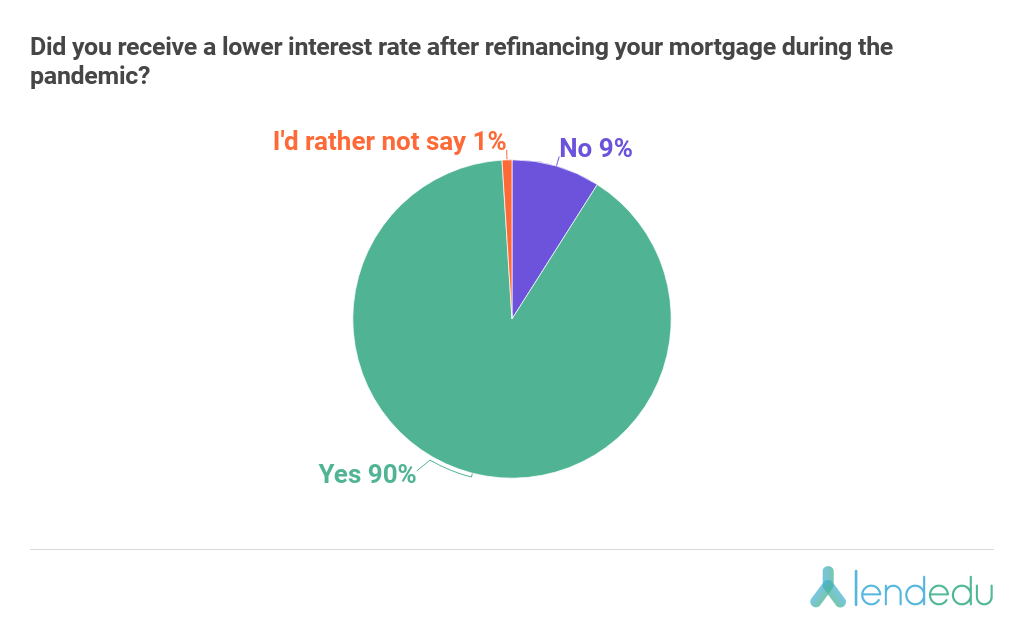 Specifically, 54% of homeowners from the LendEDU poll have been dealt an incorrect negative credit mark after agreeing to pandemic forbearance, while 40% have not, and 6% opted not to say. 
On the somewhat bright side, 60% of this cohort has already resolved the credit dispute, while 10% are currently working towards fixing the issue.
A previous LendEDU study found something similar related to the abnormally large number of credit reporting issues consumers have been dealing with during the pandemic.
Tips for Buying a Home With a Mortgage
If you are considering buying a home during the coronavirus pandemic, there are a few things to remember. 
First, you should always set yourself a budget and stay within that budget so that your monthly mortgage payments are affordable and stress-free. Using a mortgage calculator is a good way to estimate what your mortgage will cost you month-to-month depending on the size and interest rate.
Second, it is imperative to compare all of your options since there are so many mortgage lenders out there, from online mortgage lenders to VA lenders. By doing your due diligence on the wide variety of mortgage options, you can feel more confident in the deal you eventually agree to.
Third, it's never a bad idea to consider refinancing your mortgage if you have strong credit and a solid history of repayment. This is especially true right now as mortgage interest rates are at historic lows. A mortgage refinance calculator can help give you a better idea as to how much you can save when you refinance your home loan.
---
Do you want to distribute your survey? Pollfish offers you access to millions of targeted consumers to get survey responses from $1 per complete. Launch your survey today.
Get started