How Pollfish Has Helped LendEDU Create Content, Increase Traffic and Earn Media Placements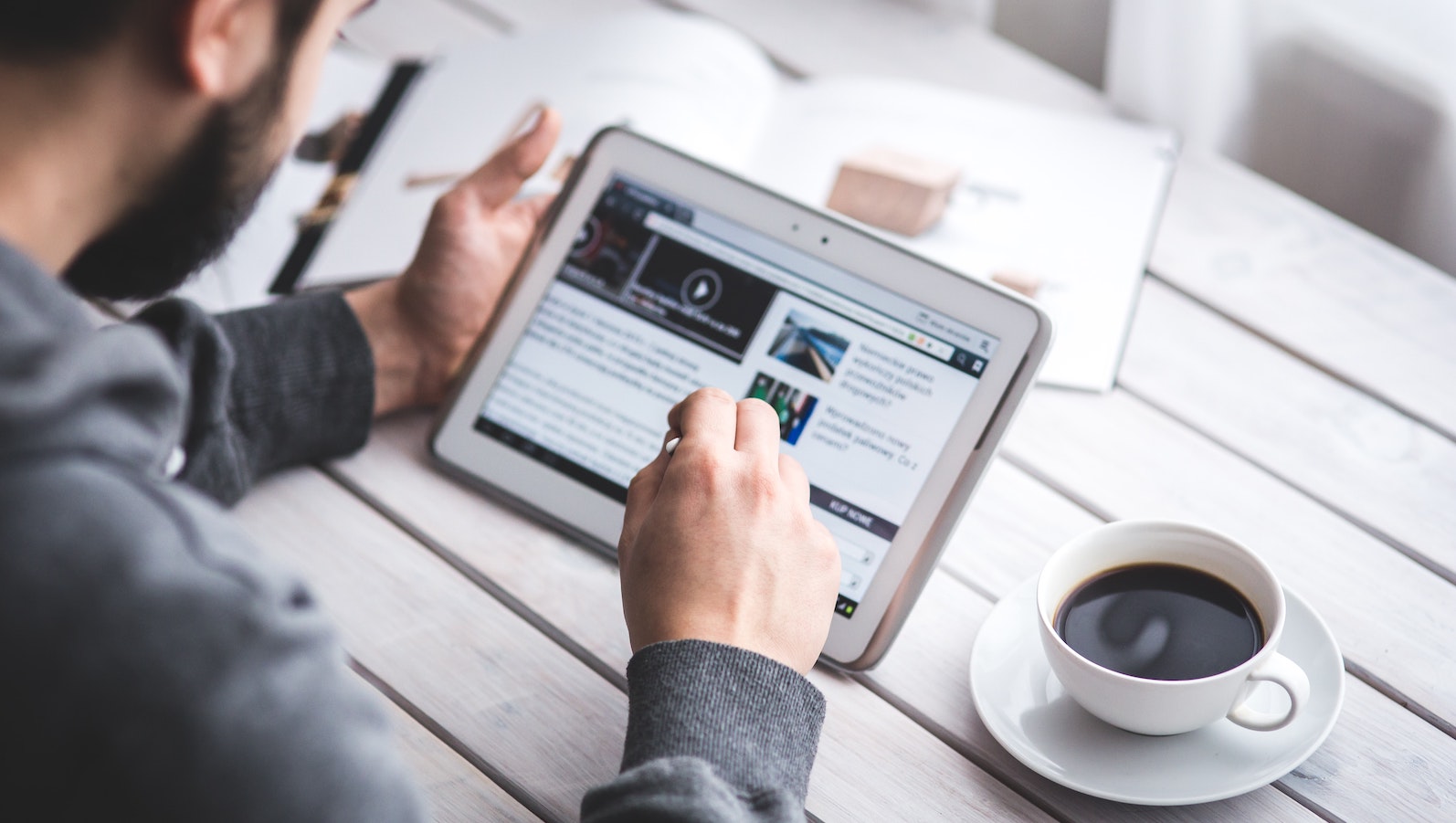 This post was contributed by Mike Brown of LendEDU.
In today's increasingly digital world, it's as important as ever for your business to develop an online presence in order to monetize online traffic and drive revenue.
However, this line of thinking has been around for quite some time.
There are now millions of websites and blogs, which has made competing in this online environment nearly impossible unless you have a plan of action and a unique product.
As a business that operates entirely online, LendEDU, the personal finance comparison website that I work for, has had to embrace this competition from the moment we were founded in 2014.
Some questions we have had to answer for the last six years include…
How do we create unique content?

How can we use this content to drive traffic to our website to make money?

How can we increase our brand awareness and earn media placements?
And while LendEDU has used various strategies (and many dollars) to tackle these ever-present challenges, one method has been remarkably successful and remains a core part of our business to this day.
Since the day we started using Pollfish, an online survey platform, to create surveys regarding personal finance trends, we have been able to deliver answers to each of the above questions.
Creating Content
As a personal finance comparison website, LendEDU is one of many. 
There are countless websites that do exactly what we do, and we are all creating the same keyword-based content because we all want the same type of website visitor.
Think along the lines of, "How do I refinance my students loans?," "How do I apply for an online mortgage?," and "What are the best credit cards?"
It's tough competing and making yourself unique if all you're going to do is create the same ole' rehashed content.
Pollfish has helped us establish our own original identity because it has been an extremely efficient tool to create surveys on a variety of personal finance topics that we then turn into unique and interesting content pieces.
By using the Pollfish survey platform, we have created original research pieces on timely topics that people want to learn more about. 
When Fortnite was trending, our report "The Finances of Fortnite: How Much Are People Spending on This Game?" used data from a Pollfish survey of 1,000 Fortnite video gamers to find out the average player was spending $84.67 on in-game purchases.
That report has subsequently been covered 76 different times by major media outlets including Fortune, Forbes, and Money. 
Other interesting reports created by LendEDU with the help of Pollfish have included figuring out the impact that COVID-19 will have on college and our finances. The former was picked up by sites like Business Insider and Penn Live, while the latter has been covered by InvestmentNews and American Banker.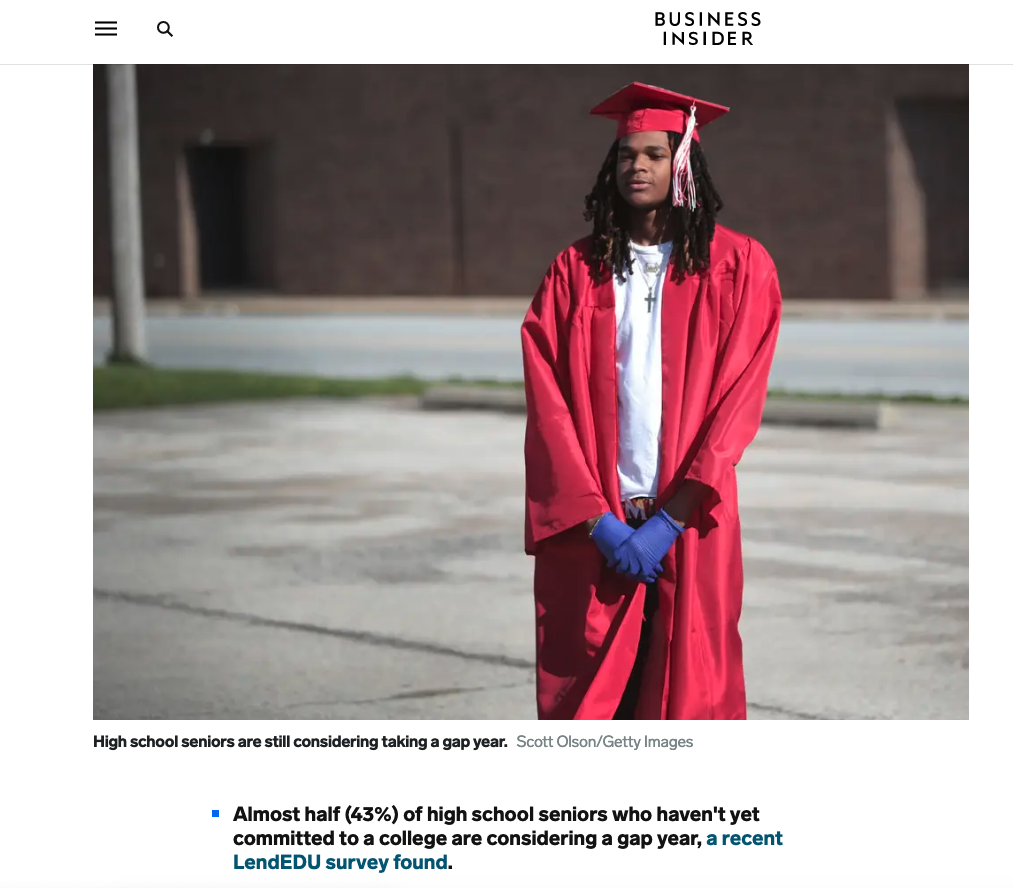 Driving Traffic
Getting your Pollfish-based content covered by major media outlets is exciting enough as is, but seeing the high amount of referral traffic this content can generate is even more important.
When LendEDU creates data-driven content with the help of Pollfish, it oftentimes will get covered many times by top-tier media outlets that have way higher visibility and readership numbers than we do.
And because these media outlets will almost always link back to the original data found on LendEDU's website, there is a high probability that readers will want to check out the source material and end up on our website via links in the coverage.
And for a company like ours, traffic equals revenue.
Take for example a recent study LendEDU published with the help of Pollfish. We surveyed 1,000 homeowners that have a mortgage to find out if they were having difficulties with homeownership and their mortgage due to the financial repercussions of the coronavirus pandemic.
This study, entitled "55% of Homeowners Regret Taking Out a Mortgage During the Pandemic," has been covered 46 different times by major media outlets like Business Insider, Bloomberg, and The Denver Post.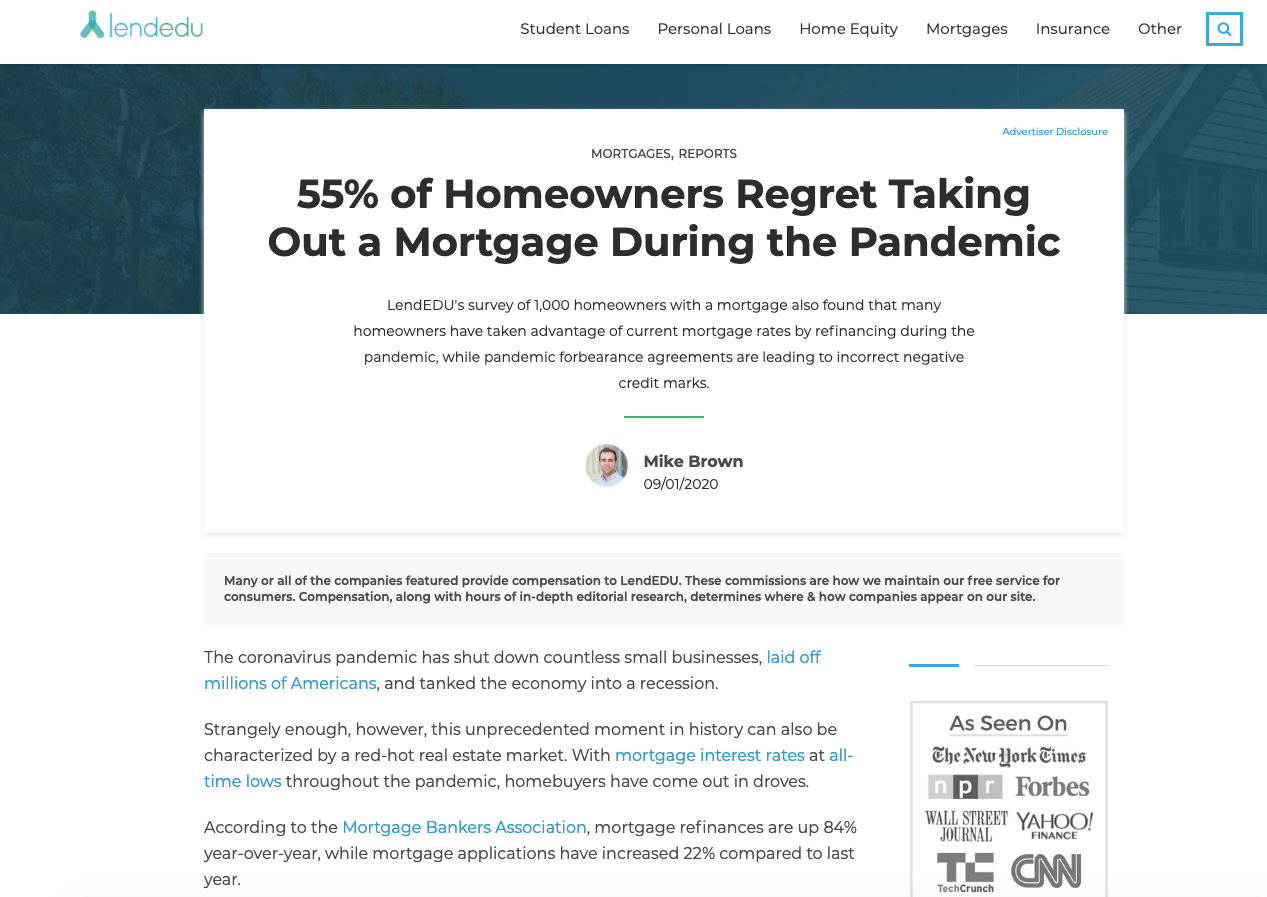 But the coverage from Business Insider was extraordinarily valuable because it was responsible for a massive spike in referral traffic that wound up on the LendEDU website. Over the course of just a few days, LendEDU had some of the best traffic numbers in recent months solely due to the coverage we received from Business Insider.
And that Business Insider traffic wound up on other parts of our website, including certain pages that drive tangible revenue for the company.
So by creating original research via Pollfish, LendEDU was also able to drive traffic and subsequently dollars to our website.
Earning Media Placements
And finally, if it wasn't yet made clear from the above, one of the core advantages of utilizing Pollfish to create unique and engaging content is to increase brand awareness by earning media placements. 
Our reports that have sourced their data from Pollfish have been covered just about everywhere, from the Wall Street Journal to small town blogs.
And from this coverage, there have been millions of readers from these sites that have now heard of LendEDU and may have even ended up on our website. They now know who we are, what we do, and how we can help them.
As stated above, the online world of businesses is incredibly competitive and it's nearly impossible to separate yourself and become known.
But Pollfish, through their timely and cost-effective online survey platform, has helped LendEDU do exactly that. 
---
Do you want to distribute your survey? Pollfish offers you access to millions of targeted consumers to get survey responses from $1 per complete. Launch your survey today.
Get started