Pollfish Trending Topics: Elon Musk Wants to End WFH, A Caked Mona Lisa & the Supreme Court Blocks Social Media Texas Law

In this week's edition of Trending Topics, we delve into several news topics of the past few weeks, their cultural significance and what they mean for people of various demographics going forward. 
That's because, in this week's coverage, we look into topics that change the current state of work, law and even marriage — along with other hot topics circulating the web. In this article, we provide firsthand research on the following topics:
Elon Musk's order to end remote work

, i.e., to work in the office for a minimum of 40 hours per week — or face termination

The Mona Lisa getting vandalized with cake by a man dressed as a handicapped woman

The

Supreme Court attempt to block a Texas law that would ban social media companies

from removing posts based on their views 

The continued impact of the Great Resignation

British Colombia's experimental policy to legalize small amounts of certain narcotics

The company that owns the intellectual property of Elvis Presley orders Las Vegas chapels to stop using Elvis in weddings and other ceremonies
We surveyed 400 people across the United States; these respondents fall under different ethnic and socioeconomic backgrounds. Want to get a detailed view into our targetting and all the data from this survey. Read our survey on the end of remote work and other trending topics. 
End of Remote Work: 24.75% say Elon Musk's request is extremely reasonable, 15.75% say it's extremely unreasonable
There has recently been a flurry of Elon Musk news making the rounds, from news of his Twitter acquisition, to his buyer's remorse of his Twitter acquisition, to his involvement with Amber Heard. We decided to look into Elon Musk's disruption of the new normal of work: working from home or working remotely. 
That's because Musk's leaked emails revealed his new policy for his Tesla employees: work from the office or get fired. 
Musk's order demanded his Tesla employees work in the office for a minimum of 40 hours, the typical full-time work week, before they can work from home, essentially signaling the end of work from home — for Tesla workers at least. 
Given Musk's popularity and influence, his decision can have a trickle-down effect and cause masses of workers who have been working from home since the start of the Covid-19 pandemic to start working in an office again. 
Hence, we asked our respondents how reasonable they found Musk's mandate of working in the office for a minimum of 40 hours or leaving the company to be. 
The results were rather mixed: 24.75% of respondents feel it is extremely reasonable, while 15.75% say it is extremely reasonable. Thus, the two most popular answers are at the polar opposite of the Likert scale question. 10.5% of respondents say it is neither reasonable nor unreasonable.
Those who answered with a response on the unreasonable side of the scale echo the sentiment that most Americans prefer to work from home instead of treading to their office. However, a large cluster of respondents believes Musk is being reasonable with his request.
Thus, while the pandemic changed the way Americans work, as many of them aren't opposed to working in their offices, while a great deal still prefers to work from home or remotely. 
The Caked Mona Lisa Incident: 49.75% Say Act of Protest is Ineffective for Climate Change
The Mona Lisa, one of the world's most famous paintings, was vandalized in an apparent protest for climate change visibility — although some would argue that the connection to this issue and vandalizing the painting is feeble. 
A man disguised as an elderly, wheelchair-bound woman smeared cake on the Mona Lisa in late May, shocking onlookers and people around the world alike. The painting was encased in glass, so the work of art itself was not tainted.
Although the art was saved, the act itself made international headlines, drawing confusion over its motivation. As the vandalizer was being arrested, he said in French that he was doing this so that people, artists especially, would "think about the earth." 
"There are people who are destroying the Earth. Think about it … all artists, think about the Earth — this is why I did this. Think about the planet," he said in protest.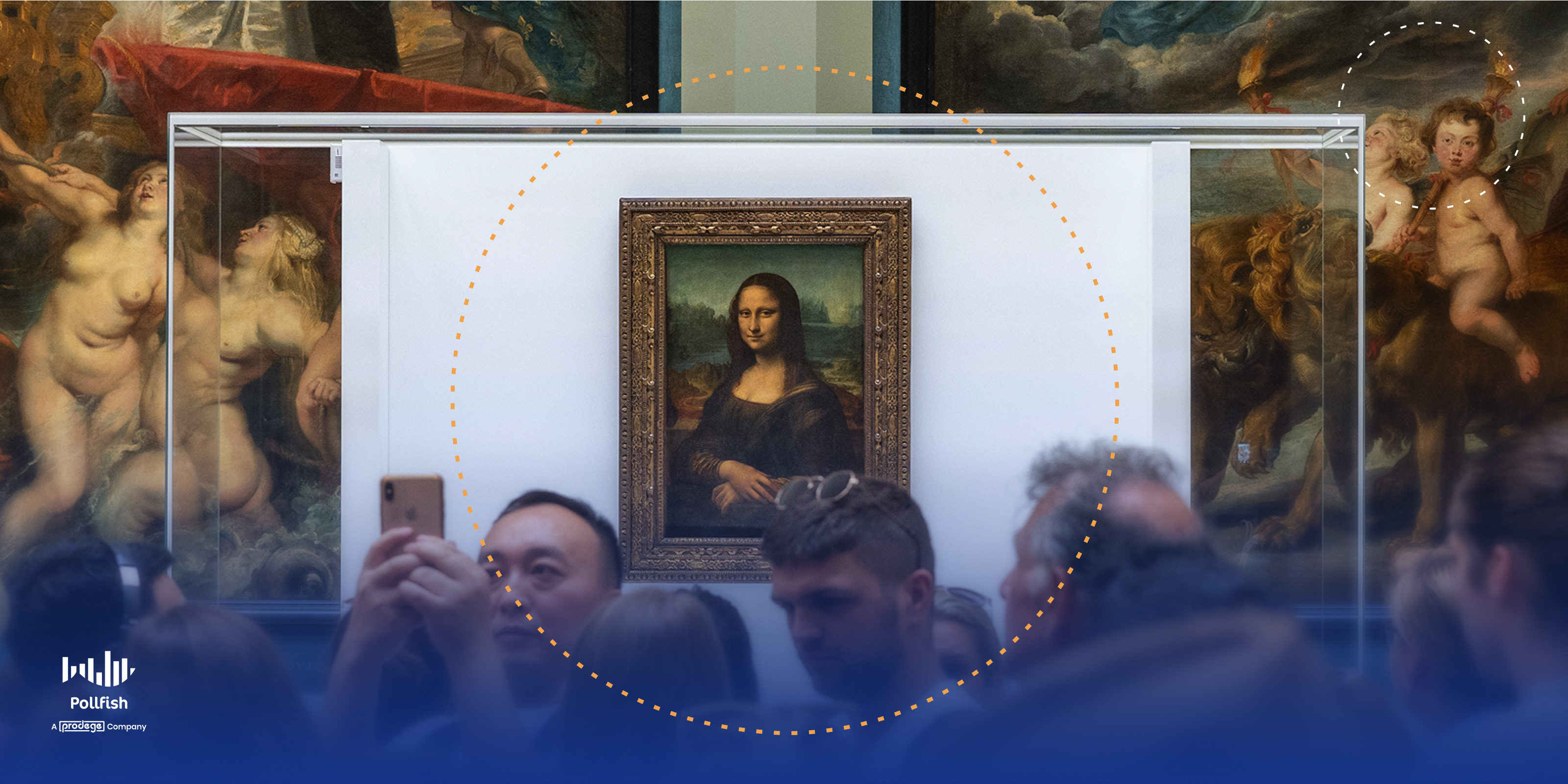 The man's eyebrow-raising act prompted us to ask our respondents whether they thought this unconventional behavior was effective in bringing awareness to climate change. The landslide answer was "not effective at all," at 49.75% of the vote.
The second most popular answer is "extremely effective" — tallying 16.5%. However, when combined, the answers that fall under the ineffective side of the response come out to be 58.5%, beating out the sum of the effective answers (41.5%).
This shows us that while creative, this unconventional act of smearing cake on the world-renowned Mona Lisa painting didn't contribute to climate change awareness or any methods to counteract it.  
The Great Resignation and its effect on employee benefits 
Referring to the mass exodus of employees voluntarily leaving their jobs, which the Covid pandemic had spurred, the Great Resignation continues to loom large. This means that the demand for labor is still high, and with it, employees are demanding better benefits and a working style consistent with their lifestyles.
In pursuit of how exactly the Great Resignation has affected workplaces across the US, we formed a dual Matrix question that lists various benefits, asking respondents to indicate all that apply to them. There is a major duality, in that this Matrix table asks respondents if their employer has always offered the listed benefits, or if they started only recently.
By setting up this question in such a format, the Pollfish platform lets us determine all the possible benefits employees receive and if the Great Resignation incited these benefits for their current employers.
In addition, our Matrix table includes the answers of "I wish my company offered this" and "unsure." 
Here are our findings:
Medical, Dental and Vision

37.75% say their company has always offered full coverage for medical, dental, and vision insurance.
32.75% say they wished their current company offered this benefit.
15.75% say their company has now begun to offer it.

Maternity Leave

34.75% say their company has always offered maternity leave.
20.75 say they wished their current company offered this benefit
20.5% say their company has now begun to offer it.

Unlimited Vacation Days

58.75% say they wished their current company offered unlimited vacation days.
50% say their company has always offered this benefit.
50% say their company has now begun to offer it.

Flexible Work Schedule

37.75% say they wished their current company offered a flexible work schedule.
27% say their company has now begun to offer this benefit.
23.75% say their company has always offered this benefit.

Free Access to Mental Health Services, Support and Apps

46.25% say they wished their current company offered free access to mental health services.
18.75% say their company has now begun to offer this benefit.
15.75% say their company has always offered this benefit.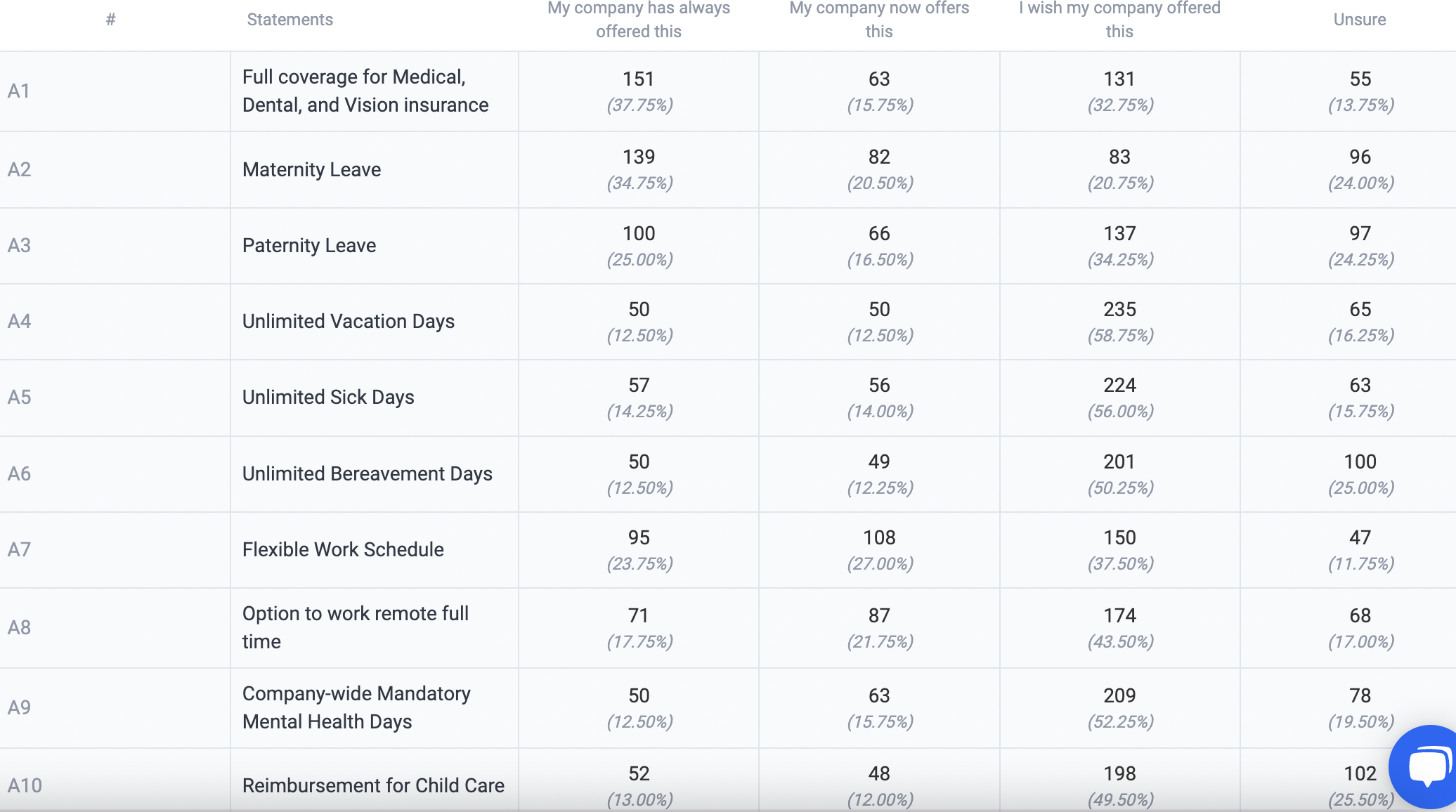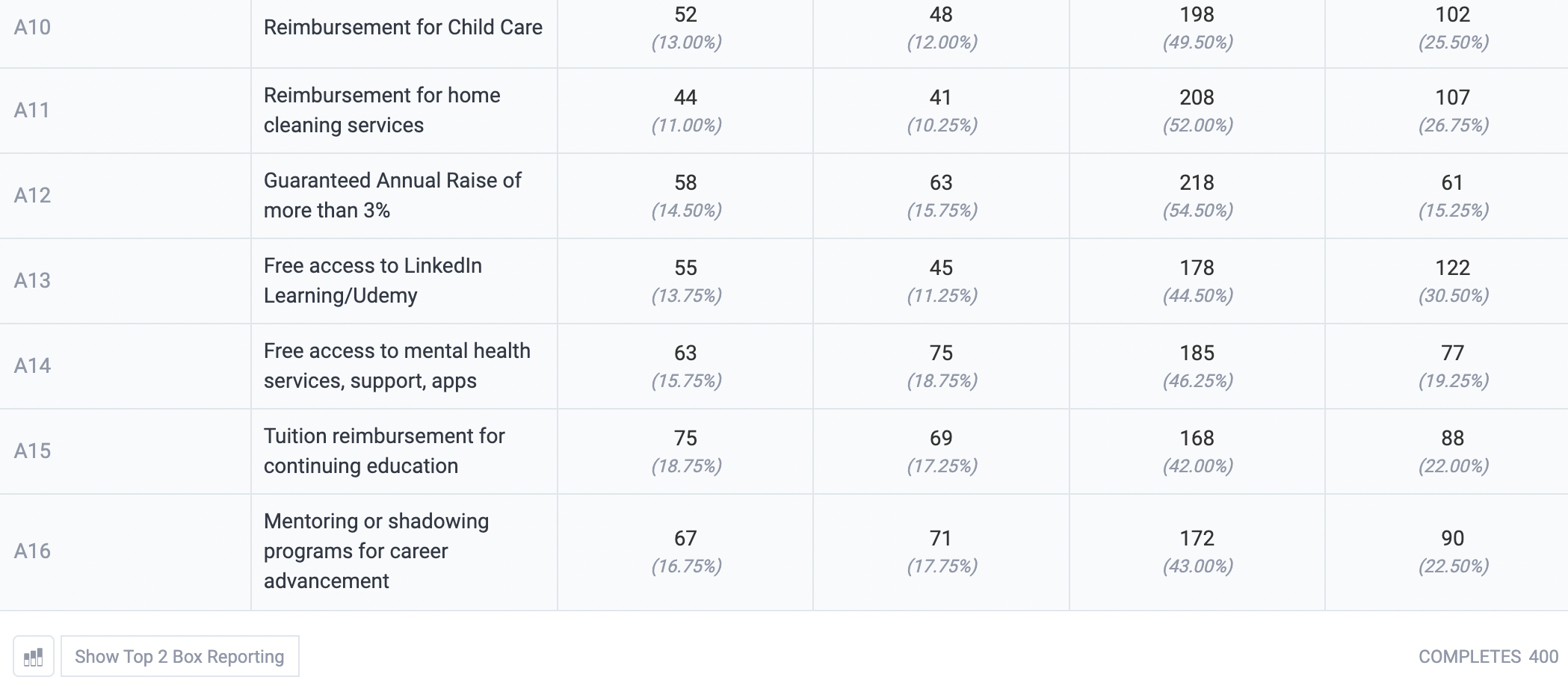 These stats show that many companies have only started to implement desired employee benefits in the wake of the Great Resignation. Many still have not improved their employee benefits, leaving a hefty chunk of the population in want of them. 
However, some benefits like medical, dental and vision and maternity leave have always been offered by respondents' employers. These stats show us that while some companies are upgrading their benefits to keep their current employees and attract new ones, plenty of businesses still have some catching up to do.
23% of respondents extremely agree with the Supreme Court block of a Texas social media law
The United States Supreme Court recently blocked a Texas law intended to ban social media companies from removing users and the content they post on social platforms, based on the viewpoints the users express. This is temporary, as lower courts continue to challenge it and it may return to the Supreme Court.
This measure applies to larger tech companies, those with a user base of 50 million active users per month, such as Facebook, Twitter, Tik Tok and YouTube. Smaller social media brands like Trump's Truth Social would not be affected. 
The law's proponents said that this law was a means to counter what they consider censorship, especially as it pertains to expressing conservative views online. Alternatively, proponents of the Supreme Court's block of the Texas law believe it is a win for those who want to stop propaganda and hate speech online. 
We took to our platform to ask our respondents the extent to which they agreed (or disagreed) with the Supreme Court's blocking of the Texas social media law with a Likert Scale question. Our Likert Scale question was set up with answers ranging from extremely unlikely to extremely likely. 
Coming in with the most popular answer, 23% of the respondents extremely agree with the block of the Texas social media law. The second most popular response was "neither agree nor disagree," with 20.5% of the vote.
The third most popular answer was "agree," at 17.5%, which allowed the stance of agreeing to tally up the most votes, as 52.25% in total agree with this legislation. 
27.25% is the sum of all responses on the "disagree" side of the issue.
We can conclude that most people don't mind it when big social media companies remove users and content based on their viewpoints. 
However, over a quarter of respondents side with the Texas law, as they believe that it is not fair to ban users and content from social media, simply because a company doesn't like the viewpoints they express.
69% agree with hard drug decriminalization policy
British Columbia, Canada is decriminalizing the possession of illicit drugs, as part of testing a drug policy change, slated for 2023. 
The goals of this policy change are to reduce deaths from overdosing, along with making more addicts willing to seek help for their addiction, by decriminalizing small possessions of it. 
Specifically, it will allow Canadians ages 18 years and older to own up to 2.5 grams of opioids, cocaine, methamphetamine and MDMA within the province of British Columbia, starting in January 31, 2023.
Originally, the province applied for an exemption under the Controlled Drugs and Substances Act in November 2021, for a threshold of 4.5 grams of possession, but the federal government lowered it to 2.5 grams instead.
This province has been the hardest hit by opioid-related deaths in Canada and is therefore implementing this experimental policy, which is set to last for three years.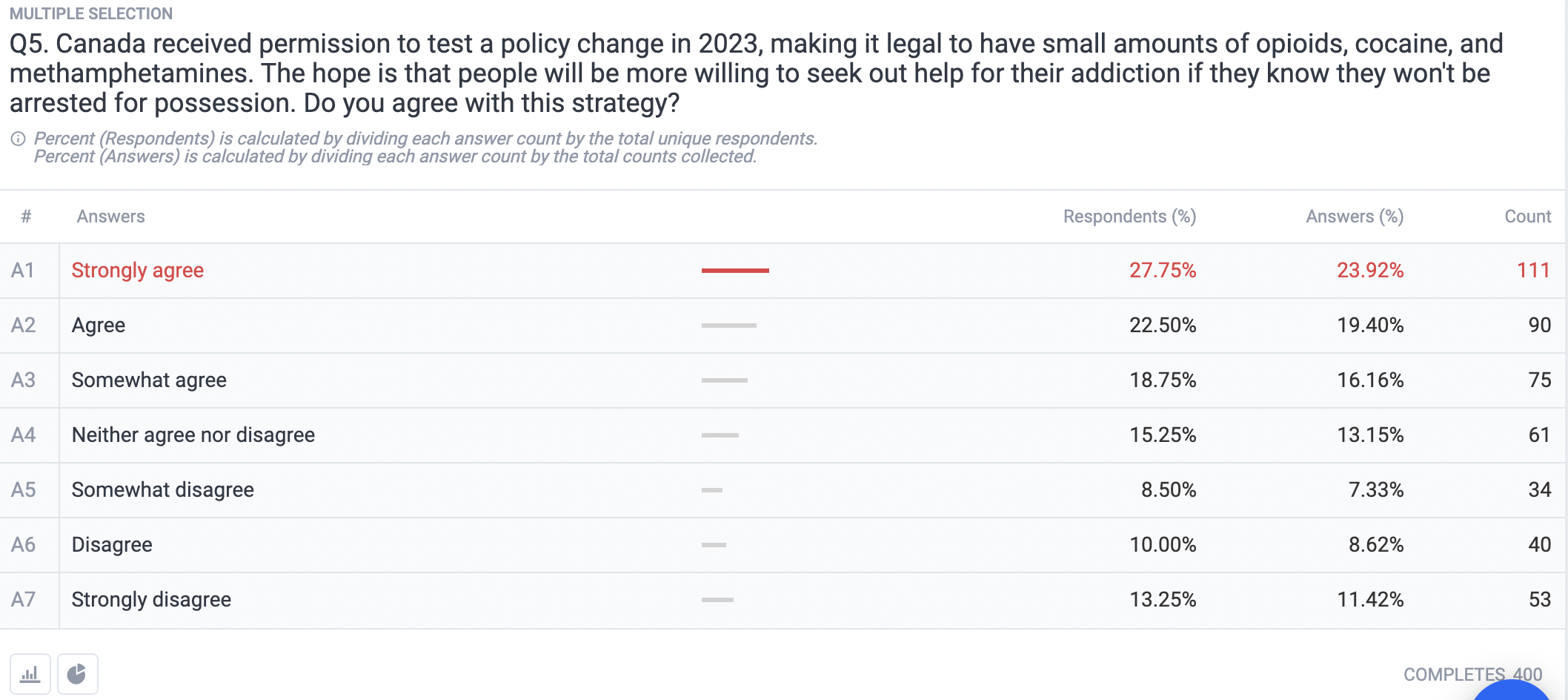 We asked our respondents a Likert question on the degree to which they agree or disagree with this soon-to-be drug decriminalization policy. 
The top three answers were all on the agreeing side: 27.75% strongly agree with this new policy. 22.5% agree and 18.75% agree, bringing the total of those who agree to a whopping 69% of people agreeing with the decriminalization of small amounts of hard drugs. 
On the dissenting side, 13.25% of respondents strongly disagree with this policy, 10% disagree and 8.5 somewhat disagree, bringing the total of those who disagree to 31.75%.
15.25% of respondents neither agree nor disagree with this drug policy. 
All in all, the landslide sentiment is that people believe decriminalizing the possession of small amounts of illicit drugs like opioids, meth and cocaine will decrease drug-related deaths and make addicts more willing to seek help for their drug problems. 
Despite this, a significant percentage of the population, at almost one-third of our respondents, disagree with decriminalizing small amounts of hard drugs.
51.75% upset at no more Elvis weddings in Las Vegas order
Authentic Brands Group (ABG), the licensing company that legally controls the Elvis Presley name and image ordered Las Vegas wedding chapel operators to stop using Elvis Presley's likeness in weddings. 
The licensing company sent cease-and-desist letters in May to multiple chapels, which are now expected to comply. ABG argues that the chapels are infringing on intellectual property rights related to Elvis Presley, which Elvis Presley Enterprises owns and ABG represents.
However, with Elvis so closely tied to the Las Vegas wedding industry and Las Vegas itself, some say that this move may be a harsh blow to small businesses. So we asked our respondents to share their sentiments on this topic.
We presented a single select, multiple-choice question, asking which of the following statements best describes their feelings on this order.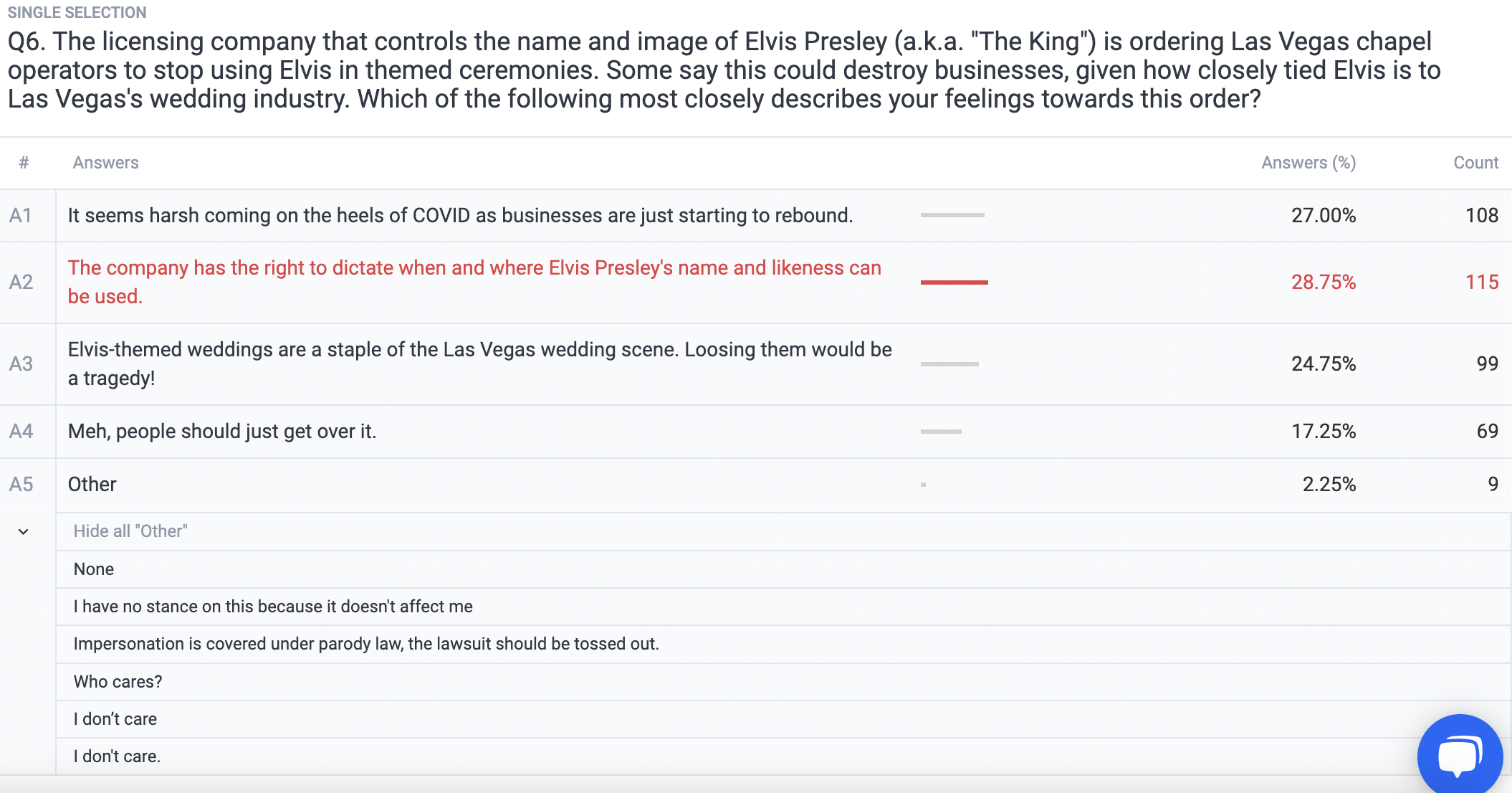 Coming in with the most amount of votes, 28.75% say that the licensing company has the right to dictate when and where Elvis Presley's name and likeness can be used.
The second most popular answer — which is in start contrast to the top answer — has received almost the same amount of votes, with 27% saying it seems harsh coming on the heels of COVID as businesses are just starting to rebound.
The third most popular answer lines up closely with the second most popular, as 24.75% say Elvis-themed weddings are a staple of the Las Vegas wedding scene and that it would be a tragedy to lose them. 
17.5% of respondents appear to not care about this issue, as they said answered with "meh, people should just get over it.
In all, most respondents are upset at this decision, as the total of respondents who call this order harsh and those who call it tragic make up a total of 51.75% — that's over half of our respondents.
Want to learn more? Create your own survey
You can stay in the know of any topic you wish, whether it is a trending news story or an esoteric topic and whether you need to for editorial, ecommerce, content marketing strategy or any other purpose. 
That's because Pollfish isn't solely for market research. You can use it to aid your publication, blog, news site, marketing collateral or any other media source.
Best of all, the Pollfish online survey platform is user-friendly and offers 24/7 live tech support. It is incredibly easy to use, as you can make your own survey in three easy steps. As a DIY survey platform, you are in full control of your survey campaign — from targeting, to deployment method, to the questionnaire and how your post-survey data is presented.
Leveraging organic sampling and Random Device Engagement, the Pollfish platform provides random organic sampling to users across the globe in their natural online environments, staving off survey bias and providing the highest quality of survey data. 
Research anything now!
---
Do you want to distribute your survey? Pollfish offers you access to millions of targeted consumers to get survey responses from $1 per complete. Launch your survey today.
Get started