Google Play Developer Policy – Staying 100% compliant
In an effort to make Google Play a better and more safe place, Google updates from time to time its developer policy. In the latest updates in August more clarifications and guidelines were added on how publishers should handle user data within their apps, and how to be more transparent in that process. Looking deeper into the updated Policy especially in the section Privacy and Security – User Data we will highlight some of the key steps that publishers need to follow for their apps in order to be compliant with the new policies, along with what Pollfish does to ensure that.
Privacy Policy on Google Play Console
Every publisher must post a privacy policy for his app in the relevant Google Play Console field. In that privacy policy it should comprehensively been disclosed how the app collects, uses and shares user data, including the types of parties with whom they are shared.
Pollfish requests (as described in the integration docs) from its partners to include the following paragraph within their Privacy Policy:
"Survey Serving Technology

This app uses Pollfish SDK. Pollfish is an on-line survey platform, through which, anyone may conduct surveys. Pollfish collaborates with Developers of applications for smartphones in order to have access to users of such applications and address survey questionnaires to them. When a user connects to this app, a specific set of user's device data (including Advertising ID which will may be processed by Pollfish only in strict compliance with google play policies- and/or other device data) and response meta-data is automatically sent to Pollfish servers, in order for Pollfish to discern whether the user is eligible for a survey. For a full list of data received by Pollfish through this app, please read carefully Pollfish respondent terms located at https://www.pollfish.com/terms/respondent. These data will be associated with your answers to the questionnaires whenever Pollfish sends such questionnaires to eligible users. By downloading the application you accept this privacy policy document and you hereby give your consent for the processing by Pollfish of the aforementioned data. Furthermore, you are informed that you may disable Pollfish operation at any time by using the Pollfish "opt out section" available on Pollfish website . We once more invite you to check the respondent's terms of use, if you wish to have more detailed view of the way Pollfish works.

APPLE, GOOGLE AND AMAZON ARE NOT A SPONSOR NOR ARE INVOLVED IN ANY WAY IN THIS CONTEST/DRAW. NO APPLE PRODUCTS ARE BEING USED AS PRIZES."
If any respondent or publisher wants to look further and in detail the data that are being collected for a user and how they are used, he can visit at any time Pollfish Respondent Terms & Conditions.
In-App Privacy Policy
Every publisher must include within his app the Privacy Policy posted on Google Play Console.
At Pollfish, aside from the Privacy Policy provided by the publisher (that should include Pollfish paragraph as listed above) we also provide within the questionnaire prompt, an easy way for the respondent to read in detail all the information around which user data are being collected by Pollfish and how they are used.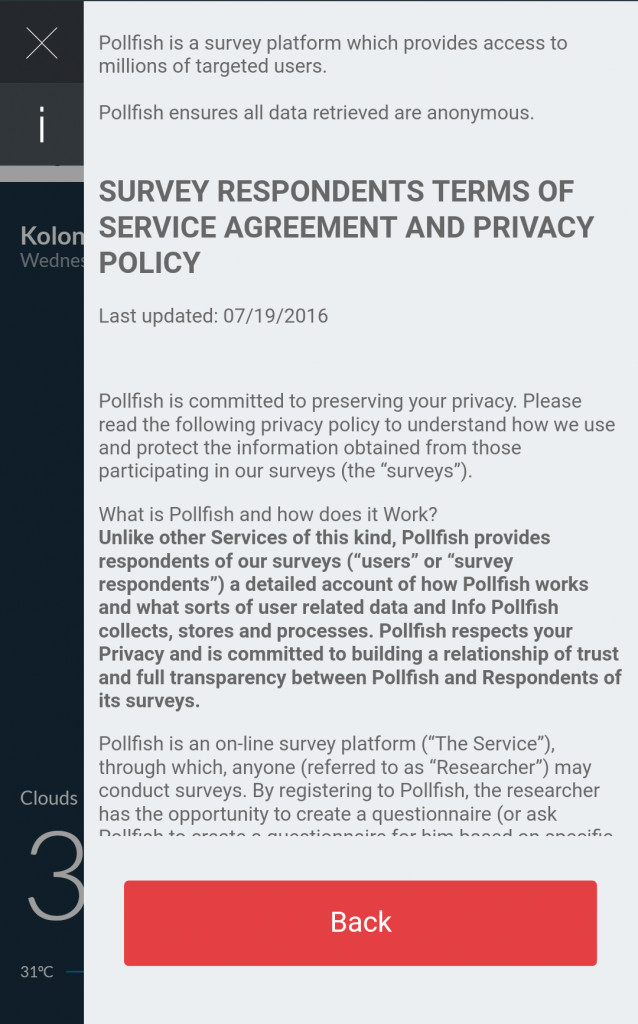 Secure Transmission
All user data collected and processed should be handled with security in mind and should be transmitted over https. At Pollfish, this is something we respect and follow since the early days of the company.
Prominent Disclosure
One of the latest requirements by Google, is prompting the users with an in-app disclosure when collecting and transmitting personal or sensitive user data. Prior collecting any of those data a disclosure should be made followed by an affirmative consent by the user for such usage. The disclosure should be within the app and it should not require user to navigate to it. That disclosure should not be within a privacy policy along with other disclosures.
At Pollfish we disclose the collection of such data on the survey prompt prior starting the collection and we require the affirmative action of the user to proceed (agree to Take the Survey). Data collected are used for better targeting in future surveys and also for finding the eligibility of the user for the existing survey.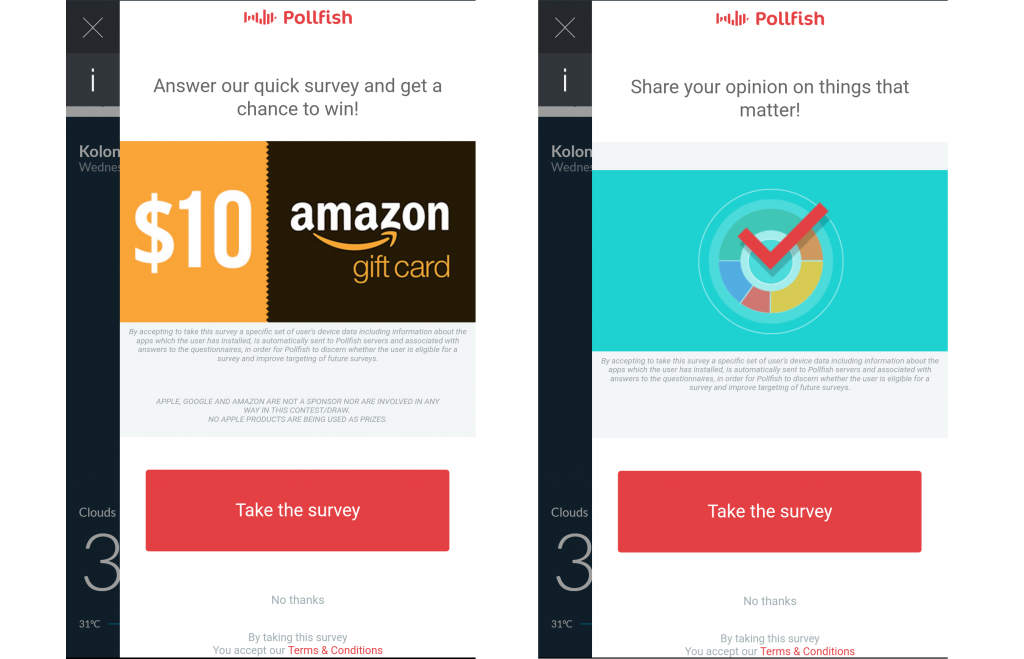 Staying up to date with Google Play's latest updates, is really important both for app publishers but also for the ad, survey, analytics or any other network that publishers use within their apps. Designing apps that respect and properly handle users' data will result not only to more happy app users but also to a healthier Google Play Store.
---
Do you want to distribute your survey? Pollfish offers you access to millions of targeted consumers to get survey responses from $1 per complete. Launch your survey today.
Get started