Monetizing Quiz & Trivia Games With Rewarded Surveys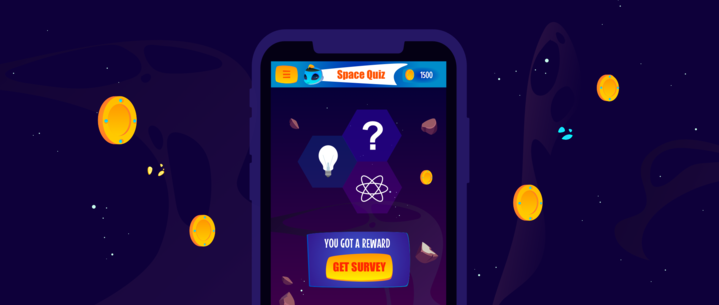 Quiz & Trivia Games are one of the most popular categories in the mobile games' space. Quiz games can be created, even without coding skills, by using app builders where you can launch your own game without having any knowledge in code. Some people argue that Quiz or Word & Trivia Games can have a longer life-span on users' phones, compared to casual games which are currently dominating the charts.
According to AppAnnie the process of app maturation (the time it takes to reach peak downloads) typically lasts for about fifty days, after which apps have another two and a half months before interest starts to dry up. However, Quiz Games tend to have a longer life because trivia playing habits tend to be more long-term for the users. That happens because publishers are able to supply new content from time to time. A great example is Etermax's success, which after the success of the first Trivia Crack title they launched launching a new version called Trivia Crack 2.
Quiz & Trivia Games choose different options to monetize their content, from Rewarded Videos to In-App Purchases and Rewarded Surveys. In this article, we will explore further how Rewarded Surveys can be used in such games, where the users can take a short survey in exchange for free coins for instance. Those coins can be used later on to reveal words or hints at a specific level. An example of a market research monetization network offering Rewarded Surveys is Pollfish.
Rewarded Surveys Placements
1.Booster Section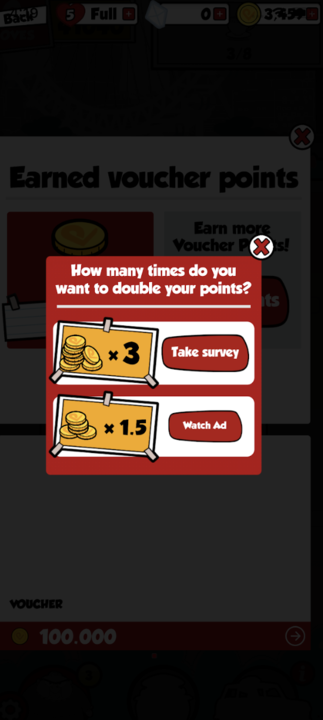 In different trivia games users collect points for their accomplishments while competing with other players, or for using some of them in order to get hints within the game to reveal the right word and proceed to the next level. In this booster example, the user can multiply his points after passing a level by either watching a Rewarded Video for 1.5 points or by answering a short Rewarded Survey for 3 points. In the latter, the user will complete a 7-8 questions survey.
2.Get Free Help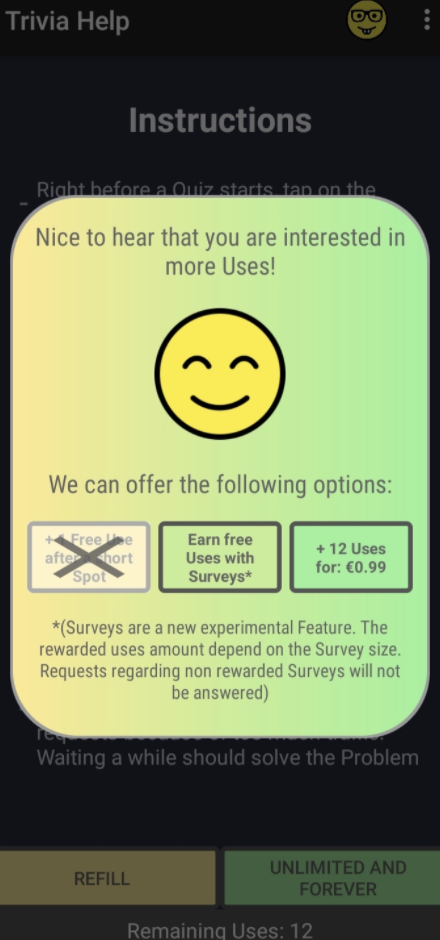 In Quiz and Word & Trivia games, users utilize their general knowledge in different subjects in order to successfully complete a level and proceed further to the game. However many times, users get stuck and need help. In that scenario providing an option to the users, to keep playing by completing a task such as a survey is a good alternative to extend the length of the sessions and keep the users engaged. 
3. Earn Coins – Free Coins Section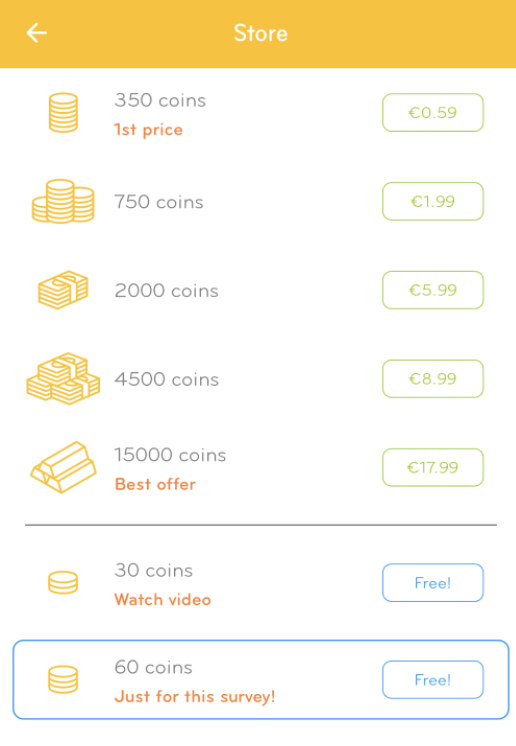 In a similar approach to the previous example. In certain Quiz or Trivia games, the users might need to collect a certain amount of coins in order to get hints, unlock new levels or features, play again the same level, etc. In this trivia app, the users can either pay some amount of money or choose from the different free options such as Rewarded Surveys or Rewarded Videos.
As we can see from the screenshot above, in the free coins section, Rewarded Surveys pay usually a higher amount of coins (60 coins) compared to the Rewarded Videos (30 coins). This happens because the Rewarded Survey format is one of the highest rewarded formats currently available in the market. Average eCPM for Rewarded Surveys is usually ~$70, whereas ad networks that offer Rewarded Videos have eCPMs ranging between $25-$45. Trivia games that monetize with Rewarded Surveys along with Rewarded Videos ad format, achieve higher revenues since they are capitalizing on an extra revenue stream with an interactive format for their users which provides higher payouts.
4. Removal of Ads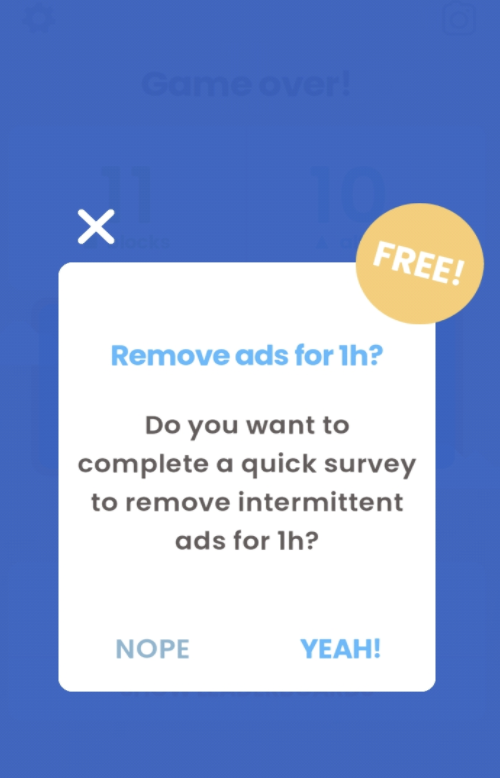 In some cases, you might have seen games that try to combine different types of ads like banners and interstitials. 
Rewarded Surveys, along with Rewarded Videos, are provided as an alternative to improve the experience of the user. It is therefore a commonly used approach to show a Rewarded Survey (or a Rewarded Video) in exchange for the removal of ads. This approach minimizes the exposure of users to intrusive ads providing an enhanced user experience and achieving better engagement and retention through the game.
Rewarded Surveys are a very popular approach in the broad Quiz and Word & Trivia game category and they can be used in different placements within a game's economy, providing attractive eCPMs, a variety of different ad options, and an improved user experience.
---
Do you want to distribute your survey? Pollfish offers you access to millions of targeted consumers to get survey responses from $1 per complete. Launch your survey today.
Get started