Americans Still in the Halloween Spirit — 42% Eagerly Await the Holiday Despite Covid-19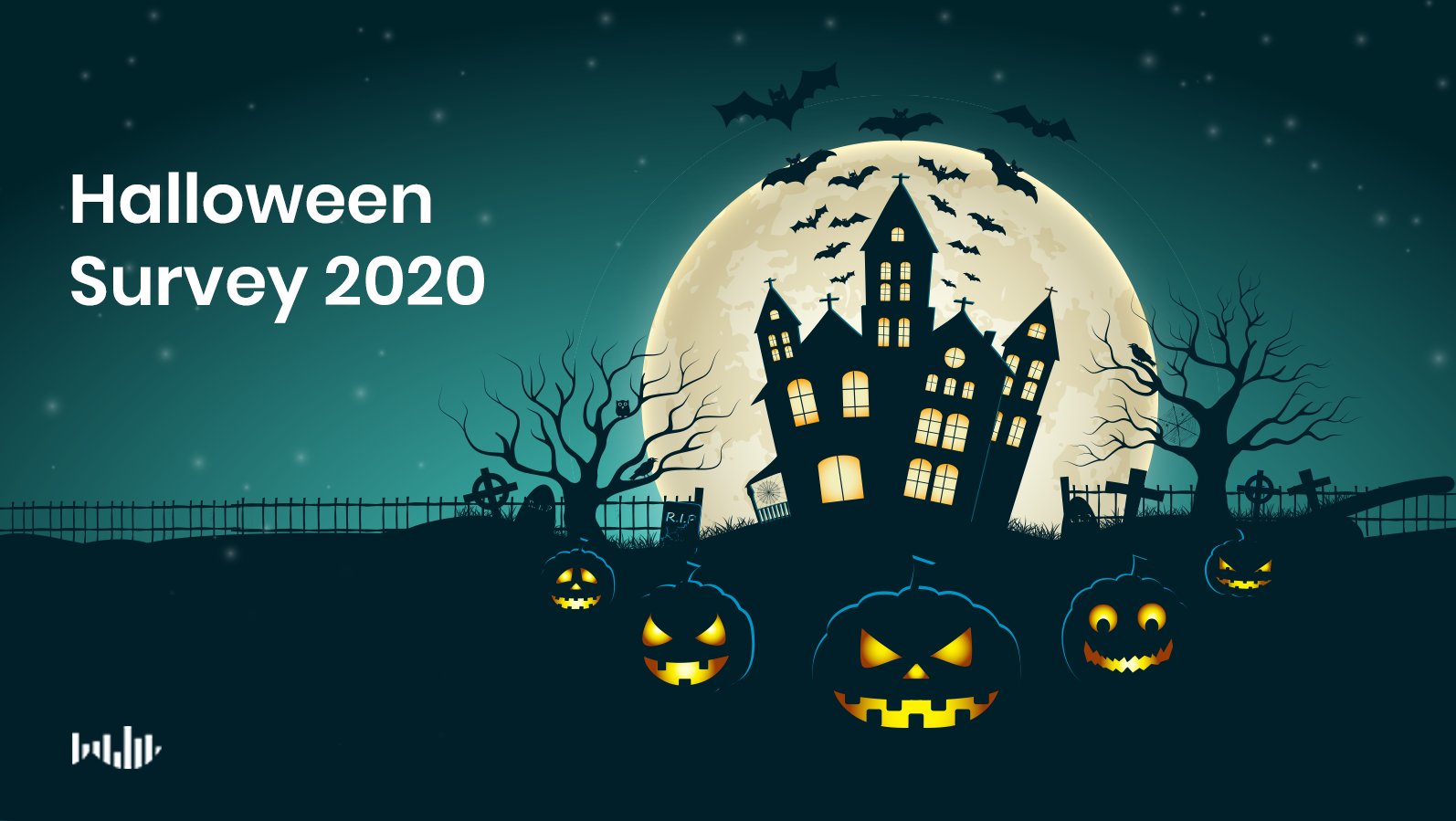 With Halloween right around the corner, we at Pollfish decided to pick the brains of a wide group of Americans about the spookiest of holidays. 
So we've conducted a short survey centered on Halloween 2020 to learn people's attitudes, plans and more. This article will give retailers, business owners and anyone curious, a glimpse into consumer opinions around this holiday, a key precursor to the holiday season.
We polled 800 participants of varying incomes, education levels, professions and other demographics to see exactly how they're approaching Halloween. While some responses were predictable, others nonplussed us.
The Halloween Spirit is Alive and Well
We had a rather ghastly outlook when contriving this survey, due to the pandemic and its implications on spending, celebrations and the general mood around the holiday. 
Halloween spending has recently been forecasted to depreciate to $8.05 billion this year, as opposed to $8.78 billion in 2019, a drop of 8.3%.
While this is a grim prospect, our own survey discovered a silver lining: almost 42% of respondents said that they couldn't wait for the holiday, when asked whether they were excited about it or not.
40% of our respondents marked that they were excited for Halloween, but Covid-19 put a damper on their enthusiasm. What this tells us is that not only are more people looking forward to the upcoming holiday, but that had it not been for the coronavirus, over 80% of responders would approach it in good spirits. 
Only about 6% of participants stated that they've always hated Halloween, while only 12% said that they view it as a children's holiday; the latter is not necessarily an indicator of negative sentiment towards the holiday. 
As a matter of fact, although this portion of the respondents isn't excited about Halloween, they may still contribute to it, since viewing it as a strictly children's affair may incite them to buy candy for trick-or-treaters, or possibly even some for themselves.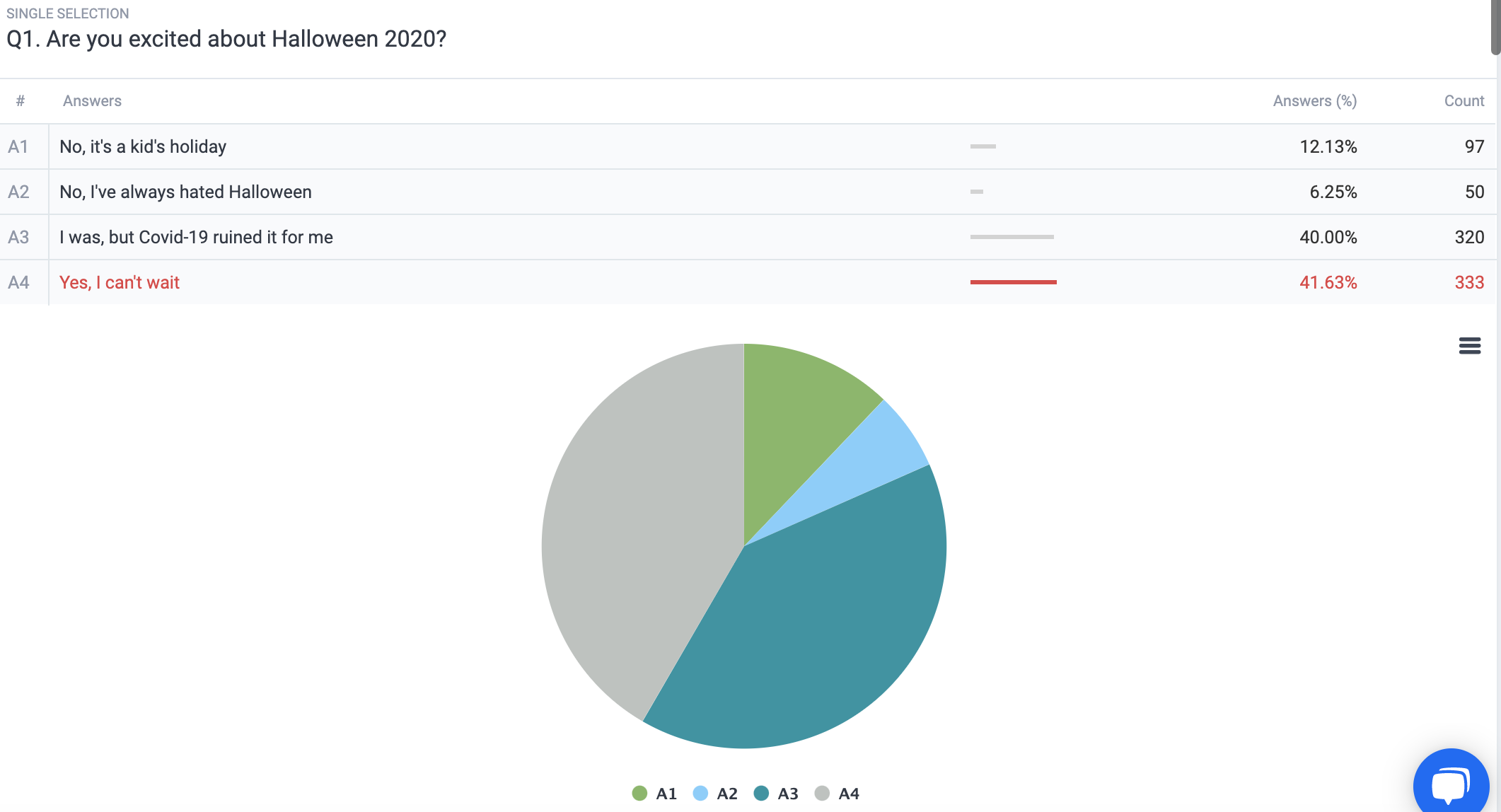 A Major Disruption
Although a sizable portion of our respondents was enthusiastic about the holiday, Halloween 2020 will not arrive without disturbances, due in large part to Covid-19. When asked whether Covid-19 had affected their Halloween plans, over 60% of respondents answered "yes."
When combined with the respondents who answered "somewhat," Covid-19 has affected over 70% of our participants' Halloween plans. There is a smaller, but sizable amount of responders who said that the coronavirus hadn't affected their plans for the holidays.

This can point to revelers who tend to celebrate at home or those who do not celebrate the holiday at all. Despite the disruption, Americans still have plans on how they are going to spend their Halloween.
Over 35% of responders declared they would spend the holiday at home with a small group of people, while almost 30% said they'd spend it at home by themselves. That means, at about 65%, the majority of responders are going to spend Halloween at home.
When combined with those who said they'd be handing out candy to trick-or-treaters, which is typically done at home, that brings the spending-Halloween-at-home count to a whopping 78%.

Indeed, the disruption of festivities can be felt within this survey. On the other hand, 16.4% of responders marked that they would spend it out and about (but socially distanced). As such, we can see that a smaller (but considerate) amount of people still plan to be slightly more active on Halloween, rather than taking the indoor route.
A Strain or New Hope on the Economy?
As aforementioned, Halloween spending (in total) is going to plunge this year by about 8.3%. This decline is echoed in our survey, as over 35% of respondents said that Covid-19 had in fact affected the way they'll spend money on Halloween and other holidays.
Combined with those who answered "slightly too much," Covid-19 has disrupted roughly 62% of our responders' Halloween expenditures. These responses can account for the dip in projected overall Halloween sales.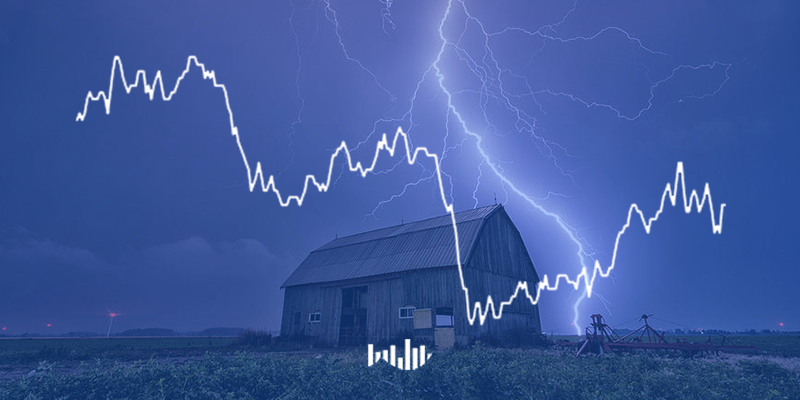 Alternatively, there is still some positive news on Halloween spending. Due to the pandemic, 3 out of 4 parents are going to spend more on Halloween 2020 to make up for the difficulties of the year.  
In relation to our survey, there is therefore a possibility that those who reported Covid as having affected their Halloween spending are going to spend more on this Halloween instead of less. 
The Scariest Thing About 2020
Finally, to close up our survey, we probed our respondents on what they feel is the scariest aspect of 2020. (Sound the drumroll)
As it turned out, the Covid-19 pandemic led the way as the scariest part about 2020, as over half of the respondents (54%) marked this answer.
The presidential race and the racially-charged riots and unrest nearly tied, at 20.15% and 18.77%, respectively.

The only other option, "something else," included an open-ended field that prompted the responders to elaborate. Most of the answers we received for this open-ended option fell into the above three categories, with coronavirus-related answers taking precedence.
Moving Beyond Halloween
All in all, the coronavirus has clearly been the biggest villain of 2020. But even in darker times, business owners shouldn't be exceedingly frightened, as US online sales have increased by 43% in September of this year alone.
As we draw nearer to the holiday season, online sales will continue to rise. 
As such, your business too can thrive in these trying times, as long as you properly cater to your customers' desires and expectations. The best way to achieve this is through market research. 
---
Do you want to distribute your survey? Pollfish offers you access to millions of targeted consumers to get survey responses from $1 per complete. Launch your survey today.
Get started