"I'm Going To Disneyland!" | Pollfish Branding Questionnaire
All over the world, Disneyland is known for its magical history and family entertainment especially through the amusement parks.
Since first opening its door in Anaheim, California on July 17, 1955 by Walt Disney, it has seen millions of visitors from all over the world each year.  From just Disneyland alone, the resort has grown and expanded and now includes Downtown Disney, Disney California Adventure, Disneyland Hotel, Paradise Pier Hotel, and the Grand Californian Hotel & Spa.
The success of Disneyland alone has inspired new openings of other Disney amusement parks all over the world, from Tokyo, Paris, Shanghai, and Hong Kong.  Thus, the Disney name and culture has become a worldwide phenomenon for all generations.
For Disney, brand awareness is not a problem. But even the largest companies need to assess brand health. Could a brand questionnaire help you?
For this study, we wanted to examine the success of the Disneyland brand.
For this branding questionnaire, 952 participants from the United States were questioned about their familiarity with the Disneyland Resort in Southern California.
Q1.Have you visited the Disneyland Resort in Anaheim, California?
The vast majority of these 952 participants reside in California at 28.68%, with Texas, New York, and Washington coming close.
Q2.Do you have children?
50.95% said they had children with the remaining 49.05% with no children.
When asked which park in the resort they have visited, 84.87% said they gone to Disneyland Park and 47.06% to adjacent Disney California Adventure, which focuses on the history and culture of the state of California.  The popular reason to why these participants visited the Disneyland Resort was the amusement rides.  About 43.59% said Disneyland Park was their favorite from Disneyland Resort.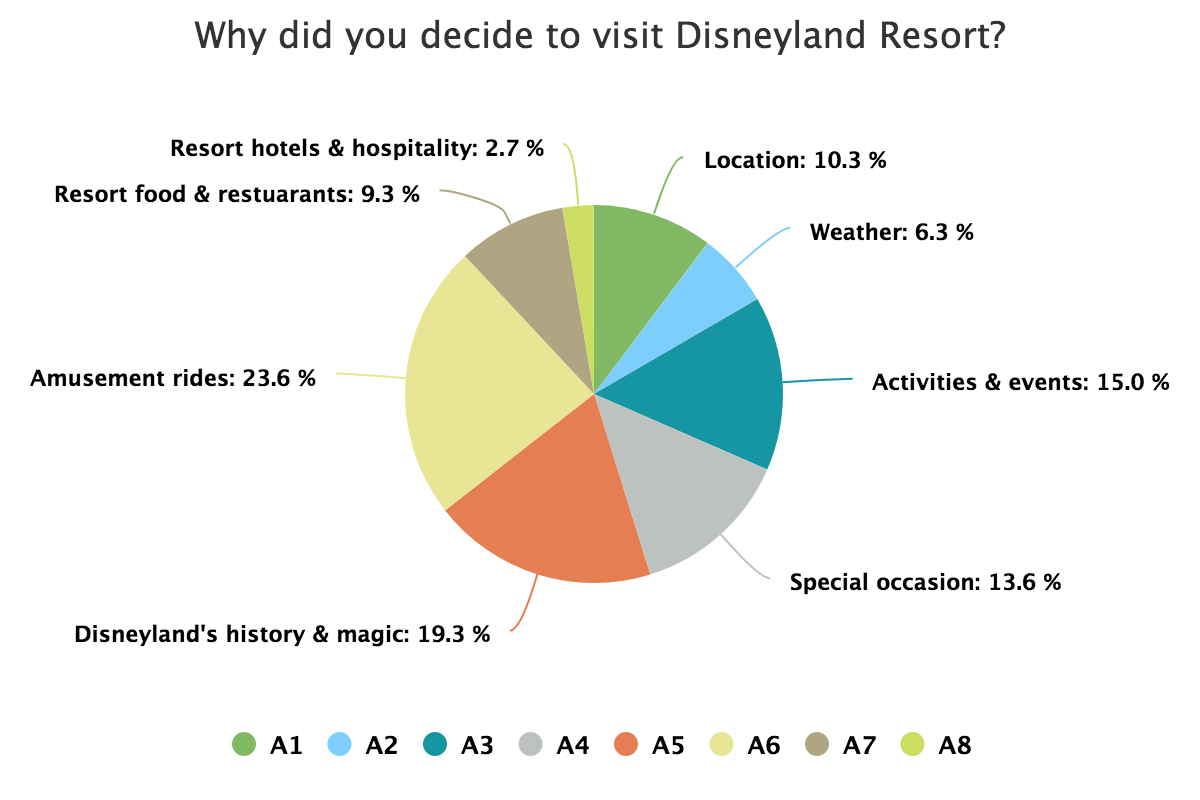 Q3.Where do you stay during your visit?
At the Disneyland Resort, three hotels are located for the guests' convenience and magical experience.  Participants were asked if they stayed at the three resort hotels, other hotels, a relative or friend's house, or their own house, and the majority of 43.70% indicated they stayed at other hotels than the resort hotels. Lodging at the resort hotels received the lowest percentage compared to the choices given.  Due to this, the reasoning for their choosing of lodging was asked.  About 45.19% said they chose their choice of lodging due to price, which is a high factor for most vacation choices.
When booking their travel and lodging, 43.01% said they had used discounted travel websites, such as Kayak and Expedia.  This is another indication that price is an important factor for families and individuals on vacation.
Conclusions
From this study, the majority of Americans have visited the original Disneyland Resort and have made smarter choices in saving money in order to better enjoy their time at the "Happiest Place on Earth" and to experience the visionary Walt Disney's creation.
Assess your target audience today!
---
Do you want to distribute your survey? Pollfish offers you access to millions of targeted consumers to get survey responses from $1 per complete. Launch your survey today.
Get started