Bustle Digital Group Partners With Pollfish To Drive Rapid Response to COVID-19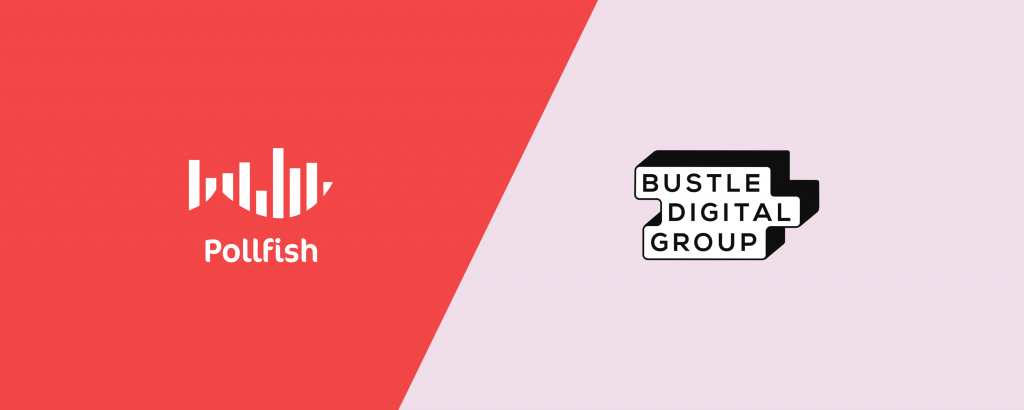 In January, almost no one had heard of COVID-19–what some media outlets had begun calling the "Coronavirus."
By March, COVID-19 was upgraded to a pandemic, setting off an international, once-in-a-generation health crisis. 
As you are likely reading this from home right now, you know that business leaders in every industry faced hard choices as well. 
How would they adjust to an entirely remote workforce? 
How would their brand positioning, value proposition, feature set and content evolve to meet perceptions, fears and aspirations of a population gripped by doubt and uncertainty? 
How would they rise to meet the moment, while still reminding their loyal customers why they trusted them in the first place?
Now, imagine you have to meet this challenge for multiple content brands, across multiple platforms, reaching multiple audiences in multiple countries. And you need a decision right away.
That was the conundrum facing one of today's leading global media companies, Bustle Digital Group. With a portfolio of distinct digital and experiential brands like Bustle, Mic, Elite Daily, Nylon and more, BDG had to decide quickly how to respond to the COVID-19 pandemic, both as a parent company and as individual brands with individual audiences, voices and topic areas. 
Like many news sources, BDG wanted to shed light on the COVID-19 pandemic across their portfolio of sites. But how could they create a unified plan for response that wouldn't stifle individual brands or alienate individual brand audiences? 
Through a partnership with Pollfish, Bustle responded quickly, creating a series of surveys designed to answer these tough questions. 
Here's what they wanted to know: 
What kind of content were their readers reading during the Pandemic? Were they looking to sites like theirs for news? Entertainment? Escapism?
What matters most to the audiences they serve during this crisis? How would they continue to speak to the diverse, underserved audiences who's trust they had worked so hard to earn?
Could they get from one single platform the ability to build a survey audience and questionnaires that would reach all the diverse populations that read their various publications?
Over the course of their partnership with Pollfish, Bustle Digital Group collected the data they needed to define their content strategy to address COVID-19. They tested potential story ideas, created new initiatives and developed their market research plan that is still in use as they navigate the ongoing pandemic crisis. 
Over the next several weeks, Pollfish will tell the story of Bustle Digital Group, going in-depth on the tactics, strategies and research methods they used. 
Throughout this process, Bustle's team—along with Pollfish survey experts—will share the secrets to navigating your brand through a crisis, using your in-house research team, and the right market research platform. 
To get you started, we want to share our latest Case Study: Bustle Digital Group gained audience insights during a crisis using Pollfish.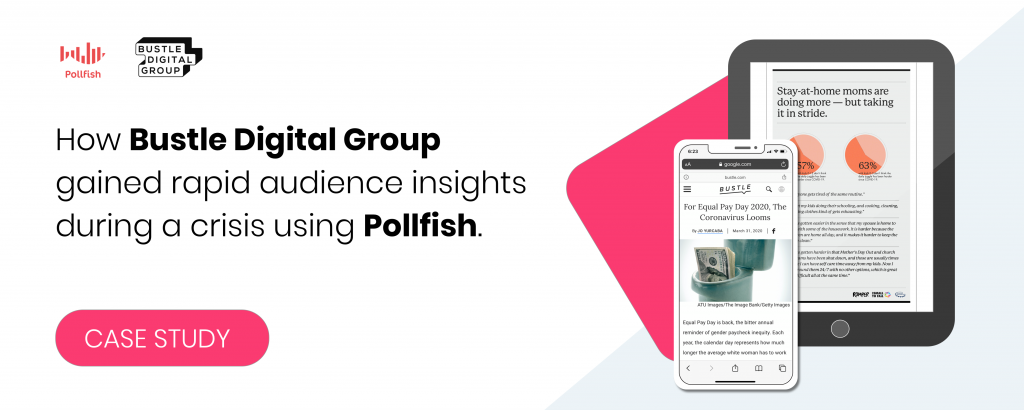 Here, you can see the size of surveys used, the targets and timelines and even individual results. 
To learn more about the topics and tactics that came from this partnership, stay tuned to the Pollfish Resource Center. We'll show you everything from how to create content from market research to how to reach difficult-to-survey audiences. 
And remember, Pollfish is still accepting submissions for our COVID-19 Survey Program, where you can get 50% off a survey for your business aimed at learning the impacts of the pandemic on your customers and stakeholders. 
If you want to conduct a survey strictly for news or informational purposes, let us know and we'll let you know if you qualify for our full sponsorship program. 
---
Do you want to distribute your survey? Pollfish offers you access to millions of targeted consumers to get survey responses from $1 per complete. Launch your survey today.
Get started