What Kind of Impact Will the Coronavirus Pandemic Have on Higher Education?
This post contributed by Mike Brown of LendEDU.
For all of the uncertainty that the coronavirus pandemic has created, the only thing for certain is that nothing will ever be the same again. 
And that includes the higher education system in the United States.
As the COVID-19 outbreak spread throughout the U.S. in mid-March, colleges and universities were forced to close their campuses and finish off the 2020 Spring semester in a virtual setting. Instead of learning in classrooms and having access to libraries and gyms, college students took exams and earned credits via Zoom meetings. 
The unfortunate but necessary circumstances have already begun a disruption in the higher education space. A growing number of students are filing class-action lawsuits against their respective colleges and universities based on the argument that they should be partially reimbursed for tuition to more accurately reflect the learning experience they received this past Spring. 
In addition to that, students and parents are now wondering what they were ever paying for in the first place when all that is needed for a degree is seemingly a few online classes. The cost of college in 2020 is immense and oftentimes requires both federal and private student loans to cover, which are usually very difficult to pay off fast after graduating.  
But is that cost that ranges between $40,000 and $50,000 per year really worth it after the pandemic exposed what really goes into earning a bachelor's degree?
Moving forward, it will be quite interesting to see how the higher education system in the U.S. is changed as a result of the coronavirus pandemic. Will more students look to online colleges or colleges closer to home? 
And even looking at the Fall 2020 semester, the college landscape still hands in the balance as no one knows for certain if campuses will even be open or what the learning experience will look like. Will high school students consider a gap year or community college?
LendEDU sought to answer these questions and more by utilizing survey platform Pollfish to survey 1,000 current high school seniors from the class of 2020 and current college students from the class of 2021 or later. 
For Committed High School Seniors, Pandemic Played Big Factor When Deciding on a College
Amongst the current high school seniors from the class of 2020 that participated in the survey from LendEDU, 59% of them had already made a decision on what college they will attending starting in the Fall 2020 semester and submitted a deposit to that school. 
And, 56% of them said that the coronavirus pandemic played a major role in their final decision. For example, 20% said they chose a more affordable college even if it wasn't their top choice, while 15% ended up selecting a college closer to home, and 10% selected the college that was offering the most in financial aid or scholarships. 
LendEDU's survey also found that many committed high school seniors may still not enroll or defer their admission if certain coronavirus policies are still in place in the Fall.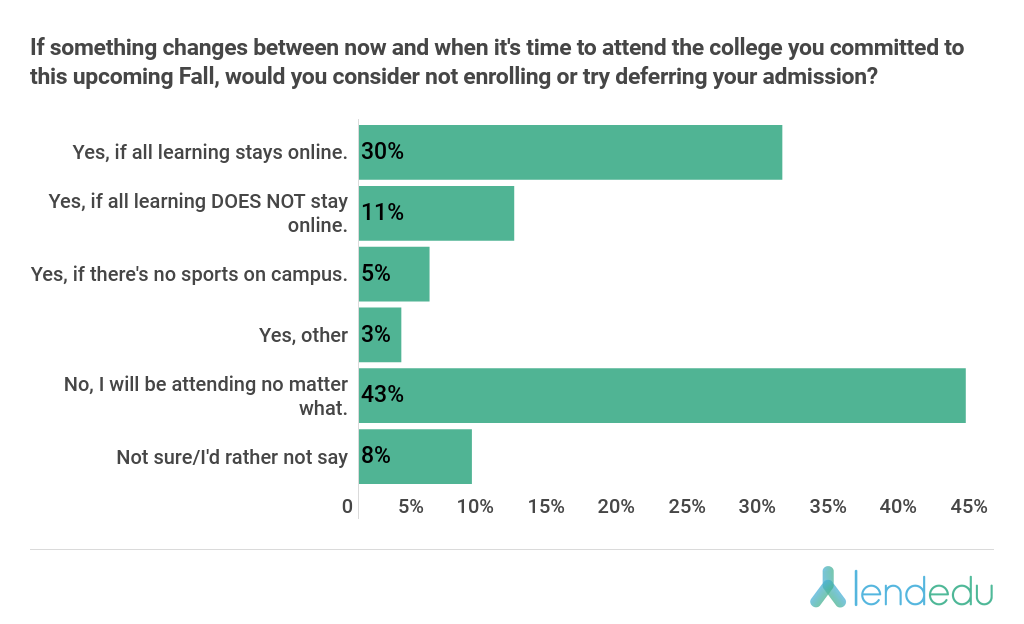 If learning stays online in the Fall, as some colleges have already indicated it will, then 30% of committed seniors indicated that they will try to defer their admission or simply not enroll.
Undecided High School Seniors Pondering Online or Community College, Or Gap Year
Amongst current high school seniors that are still undecided on their college plans, non-traditional options like online college, community college, or taking a gap year remain very real possibilities. 
For example, 43% of this cohort indicated that they are considering taking a gap year this upcoming Fall, while 41% of respondents are strongly considering online college, and another 37% are pondering community college.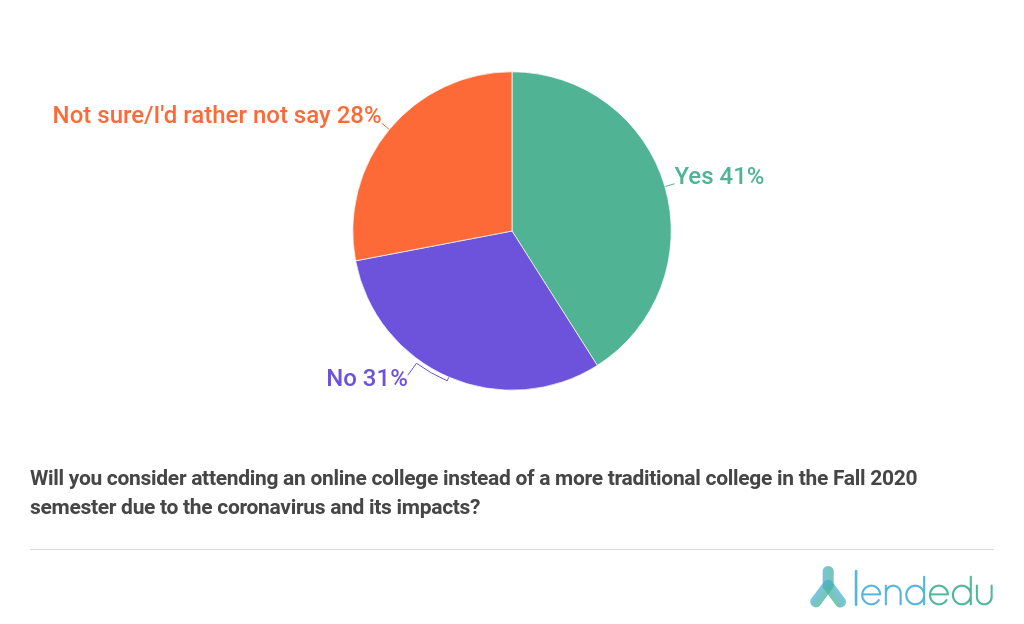 One thing is clear from the LendEDU survey, and that is that colleges stand to take a major financial hit moving forward because of the impacts of the pandemic. The University of Michigan, for one, is already projecting revenue losses of up to $1 billion due to a drop in demand. 
And the drop in demand looks like it's not just coming from high school seniors, but even current college students. 
Current College Students Also Exploring Alternatives
The report from LendEDU also found that many current college students are also weighing other options for the Fall 2020 semester due to the coronavirus and its impacts.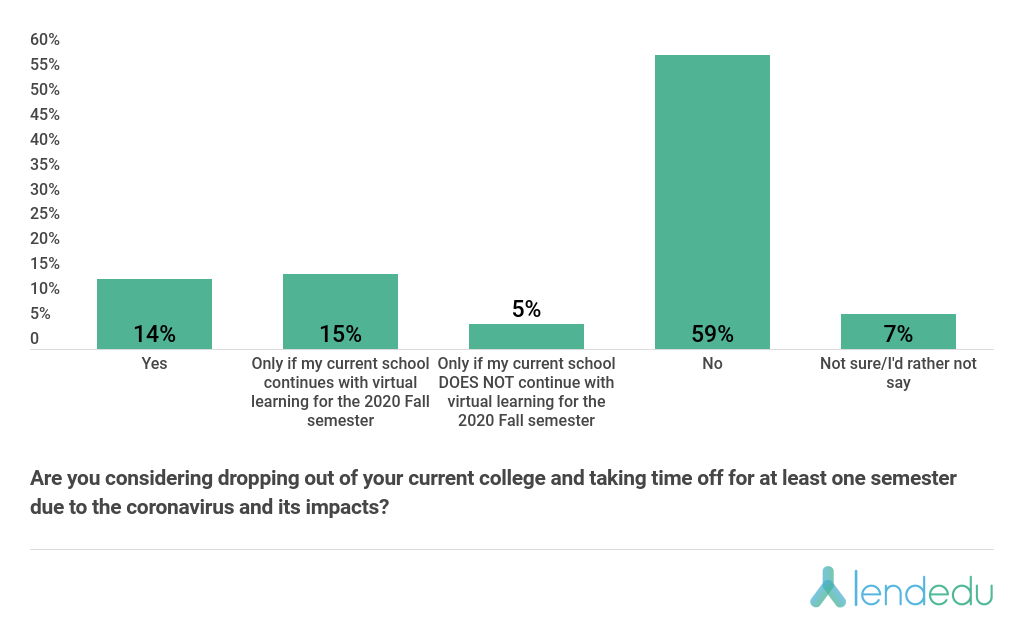 14% of college students say they are considering dropping out and taking the year off next year, while 15% said they will consider this if virtual learning continues into the 2020 Fall semester. But on top of that, 15% of students said they are considering transferring to a more affordable college or one closer to home, while 13% will consider dropping out and enrolling in an online college if virtual learning continues at their school in the Fall. 
And the final question from LendEDU asked current college students if they think the coronavirus and its impacts will extend the time they originally thought it would take them to graduate from college. Here's how the respondents answered: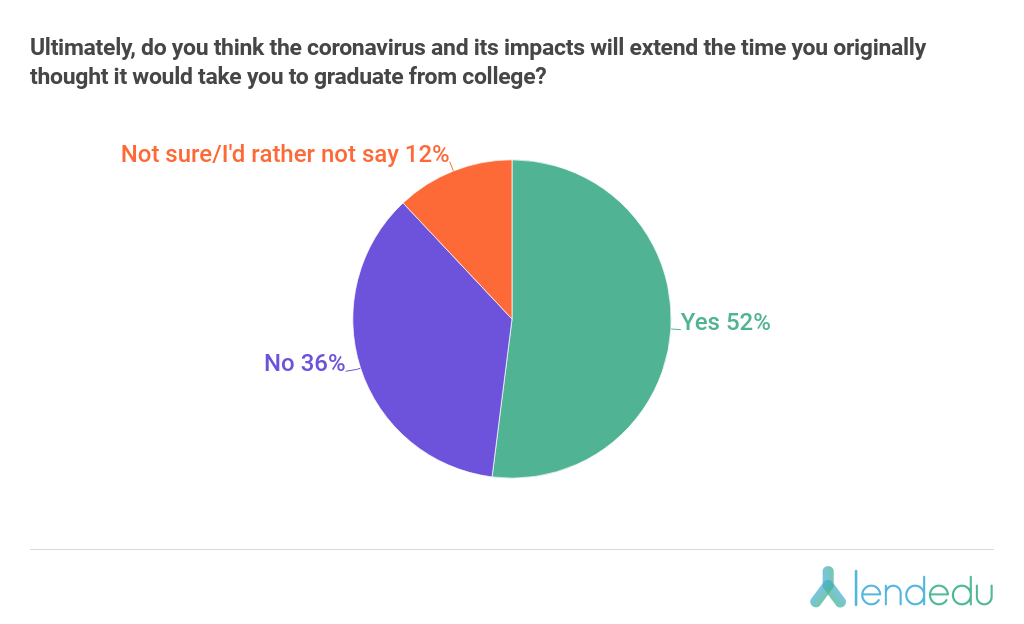 The majority of poll participants, 52%, believe that the pandemic will extend the amount of time it takes them to graduate, while 36% do not believe it will, and 12% are unsure. 
Throughout all of this data, one thing remains clear and that is that the higher education will never be the same from here on out due to the coronavirus pandemic. 
Using Pollfish, LendEDU has gathered original data helpful to understanding consumers, developing insightful reports, and offering the right solutions to their customer base during COVID-19. Want great data of your own? Create an account and get started. 
---
Do you want to distribute your survey? Pollfish offers you access to millions of targeted consumers to get survey responses from $1 per complete. Launch your survey today.
Get started