Edit Targeting in a running survey
Although Pollfish has the largest audience of consumer respondents in the world, sometimes there are segments that are just harder to reach than others. This is why we've released a new feature for our users: the ability to edit targeting in a running survey!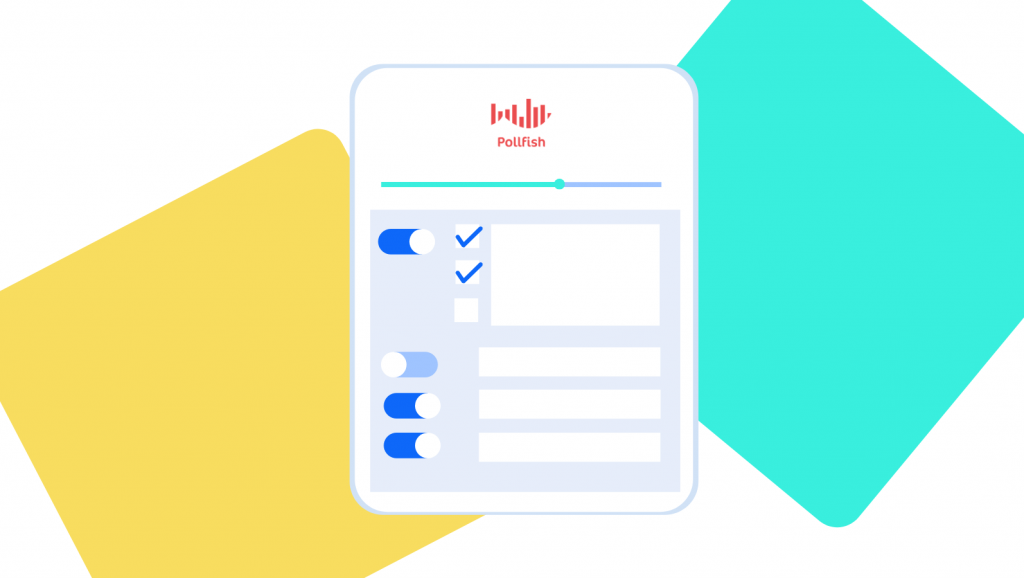 A typical Pollfish survey entails selecting a target audience, building a questionnaire, and waiting a short time for results to come in. However, some surveys have very narrow audiences that can be challenging to reach or take a long time to complete. When this happened in the past, we advised users to contact support to pause, cancel, or adjust their targeting.
With the ability to edit targeting in a running survey, we are giving you one more way to take your research into your own hands. 
This new feature gives you complete control over your survey. If you (or a client you're working for) changes their mind about what they need from a survey, you have the flexibility to make adjustments. This can help you quickly unblock a hard-to-reach segment to get results faster or explore narrower audience segments if your incoming results suggest that you could add additional criteria. Instead of waiting for a survey to complete, you can pivot as needed in real-time. 
How to Edit Audience Targeting in a Running Survey
When you're in your dashboard viewing the surveys in your account, you will see the survey status on the right-hand side. You can also use the filtering menu to select surveys by their status. When you hover on a survey that is "running", you will see the option to "edit audience," "pause," or "stop" your survey.

If you choose to edit the audience targeting, you'll be presented with an overlay to tell you your editing options, or you can choose "cancel" to exit the audience editing at any time. 
Editing options include:
The ability to add more completes to your total number of survey responses needed

Disable the screening questions or change the answers that are "allowed" to enter the survey to increase qualified respondents

Add, edit, and delete targeting criteria that is in place 

Add, edit, and delete quotas that are in place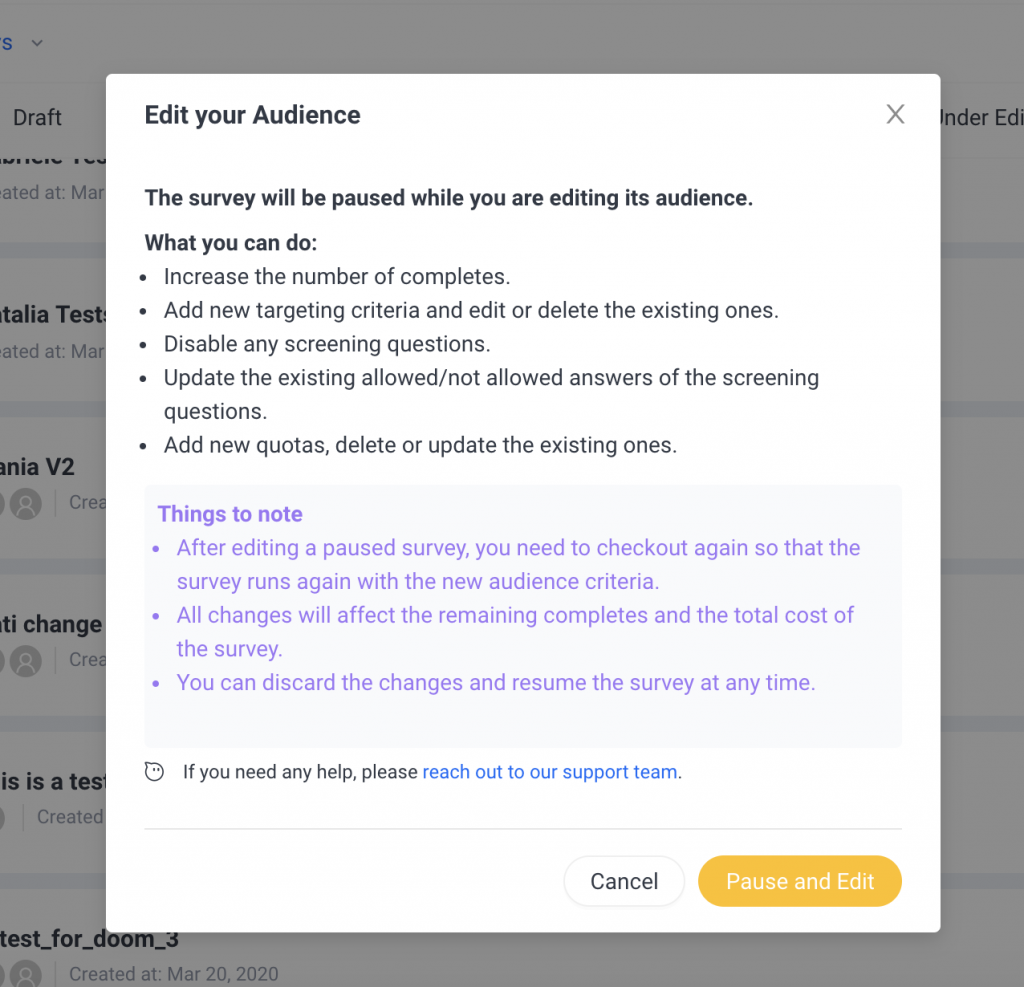 Your survey will be paused while you make adjustments to your audience targeting. You may take your time editing the criteria, but you must complete check out again before your survey can begin fielding to your new target audience. 
Adding responses, quotas, or screening questions all impact pricing, which will be reflected when you launch your survey again. When your survey resumes, all remaining completes from your survey (and any additional you have added) will be completed by respondents fitting the criteria of your new target audience.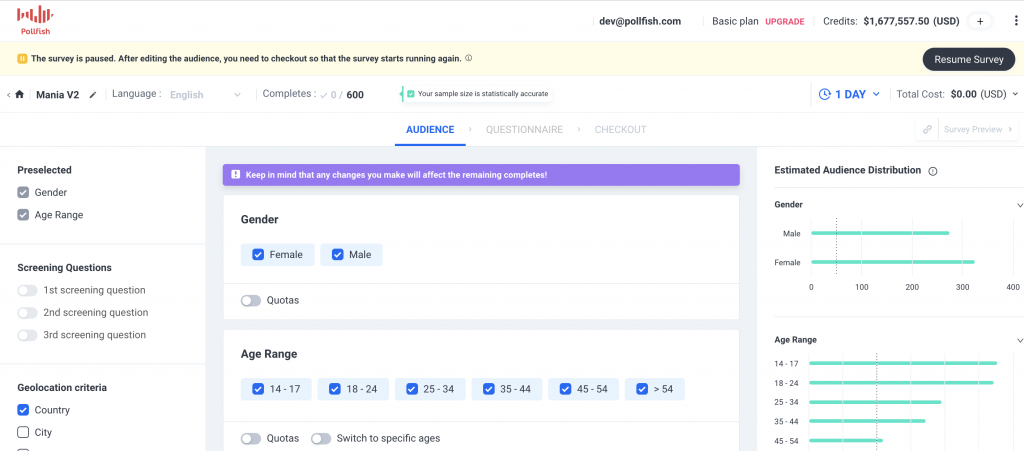 If your survey is already completed, but you'd like to add more responses, this feature also allows you to add responses to the completed survey to collect more without having to duplicate or reset the targeting. 
Quotas
You may have also noticed that quotas are now represented by number of completes rather than as a percentage. For example, if you wanted to survey 500 respondents and wanted quotas to split them evenly between men and women, you would input 250 men and 250 women. The percentages will be calculated for you and shown next to your total number of completes for each quota group. 

This feature offers a more seamless experience to those in need of new or different targeting options for their survey. However, our 24/7 support team is always available to guide you through this feature or other questions you may have about survey set up, targeting, or how to write a great questionnaire. 
---
Do you want to distribute your survey? Pollfish offers you access to millions of targeted consumers to get survey responses from $1 per complete. Launch your survey today.
Get started