Questionnaire updates in Pollfish
You may have noticed things look a little different on our platform. That's because our product team has been hard at work, updating the questionnaire builder section of our survey tool for a better experience including more stable technology and a sharp, minimalist design.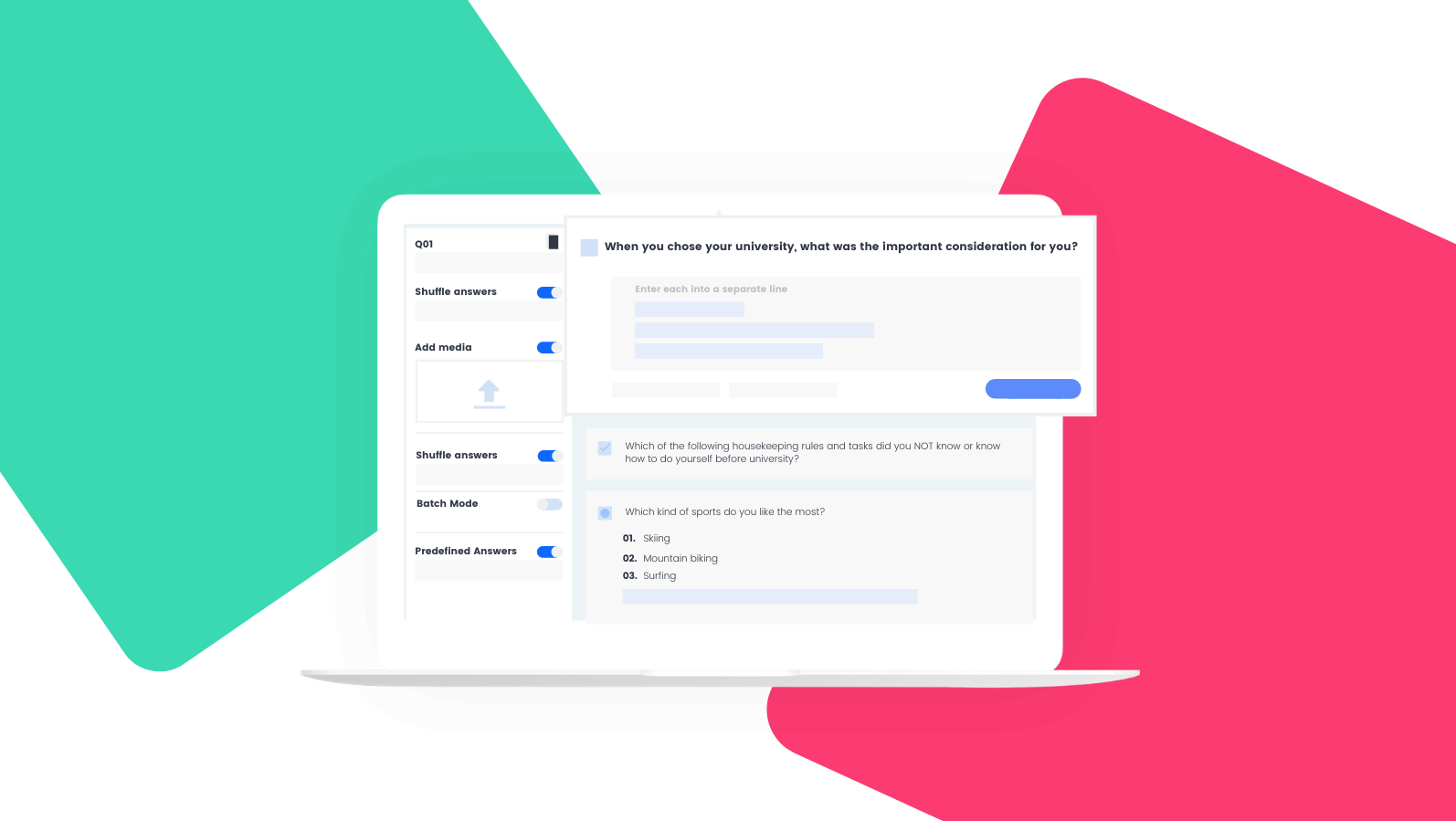 First of all, what new features can you take advantage of when building your questionnaire?
New Features
Adding "none of the above" and "other" 
You asked and we delivered. You can now include "other" as well as a "none of the above" answer choice on your questions. This is a valuable option for researchers who are looking for more in-depth responses from people who don't fit an existing answer choice but also want to offer an escape alternative for the people to whom the question does not apply. 
Adding images to new questions and answers
In addition to offering "none of the above" and "other" on the same question type, you can also attach images to these answers. You can also add images to screening questions, which can be found in the Audience Targeting selection criteria.
Branching preview
Another new feature is our logic path preview. Branching (or skip logic) presents questions based upon the respondent's previous answers, allowing them to skip the ones that don't apply to them. For example, those who wrote "other" could be asked, "Why did you give this response?" Those who selected "none of the above" would skip this question entirely. You can view a branching logic flow by selecting the branching view toggle on the right-hand side of your questionnaire screen.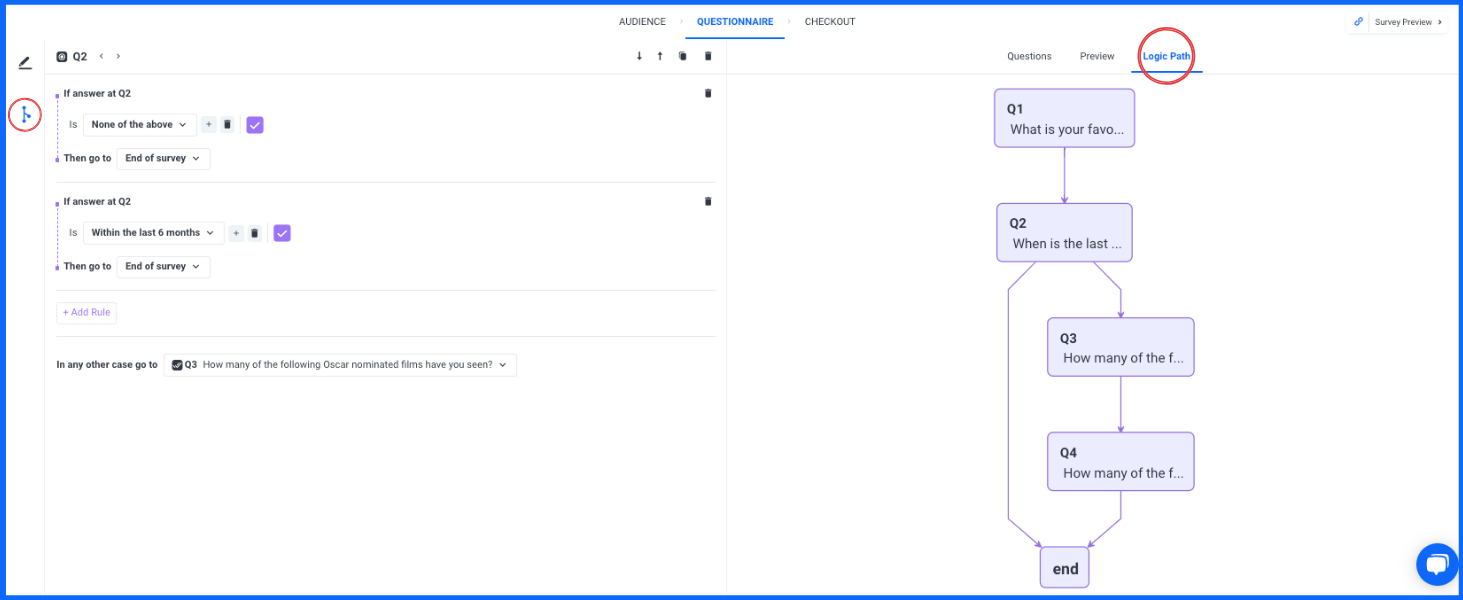 Increased character limits
Text formatting has been expanded. Questions can now be up to 400 characters (previously 200) and answers can be as many as 200 (previously 100). This lets researchers add more context to their questions and descriptions, and lets respondents offer more details in open-ended survey questions.
Changing question types
We've lifted the restrictions we previously had on changing question types. For example, a single-selection matrix question could be changed into a multiple-selection matrix, but couldn't be turned into a ranking question without deleting and rewriting it in our previous version. Now you have the ability to change the question type without losing the details you've already included.
New placement of familiar features
Along with improvements and additions, we've rearranged some of the other features you already know and love. Here are a few things that you'll find in new locations in the questionnaire experience. 
Mobile preview
Mobile preview is now on the righthand side of your builder, so you can see the questions as they are created. This feature is still interactive and lets you see and experience the survey exactly as your respondent would. However, one improvement we've made to the mobile preview is the option to view individual questions as you go, rather than going through the entire survey to get to the one you want to see. 
Left sidebar
This is your new hub for question settings and add-ons. Previously, all modifications to a question were within the individual questions. Now you can see these on the left-hand side for each question that you have selected. This presents a cleaner design, and only shows full options for a given question when it's relevant to you (when you have the question selected.) 
Items you will now find in your question settings on the left-hand side include:
Answer shuffling
Adding "other" or "none of the above"
Media
Logic/ Branching
Batch answers
Duplicating a question
Re-ordering the questions
Deleting the question
Download Questionnaire
You can still download your questions and answer choices to a .doc file, but now you'll do this from your dashboard. You can find "download questionnaire" in the same menu as your folder organization along with "move to new folder", "duplicate survey", "edit", and more.
If there's something you miss about the previous version and you want to continue to use the old questionnaire page layout, we've left that option too. You can view your survey in the old version by choosing "Go to Old Questionnaire" in the top navigation by your account name.
As always, if you're having any difficulty or just have general questions, our 24/7 support team is here to guide you along.
---
Do you want to distribute your survey? Pollfish offers you access to millions of targeted consumers to get survey responses from $1 per complete. Launch your survey today.
Get started