How marketers can use social media to connect to Gen Z
With phones at the fingertips of Gen Z, brands and marketers have a great opportunity to put their products in front of their target audience—if they're able to identify the best channels and strategies to reach them.
As a part of our Gen Z Survey Series, we asked respondents age 14-24 across the United States about their platform use, motivations, and which apps they expect to stick around to see where new or scalable opportunities lie to pivot advertising strategies for this demographic.
Key Takeaways:
The first-checked platforms are not the ones resonating with Gen Z's deeper emotions
Message over medium: Gen Z care less about the platform and more about how they resonate with the brand or product
Social media sustainability: Gen Z uses many platforms now, but don't expect many to be relevant in as little as 5 years
Frequency vs depth
Snapchat, Instagram, and Facebook were the most popular apps that Gen Z reported opening when they unlock their phones. However, regardless of the first app respondents opened, they all expressed the greatest feeling of connection to community on a different platform that they checked at some point later in their mobile use, showing us that the apps that have the most emotional connection with Gen Z are not necessarily the ones they're engaging with first or most often. This opens opportunities for brands to develop multi-channel strategies to drive awareness in Gen Z's most frequent apps, but also to explore under utilized channels to connect with them on a deeper level through their communities.

Brand loyal, platform agnostic
Our survey results supported existing research that Gen Z will dig in their heels for causes they believe in when asked what might motivate them to start or stop following a brand, product, or personality. It came as no surprise that they cited the main reason they would stop following an influencer was displaying "artificial" or inauthentic behavior. The leading platforms for following brands or influencers were Instagram (65%) and Youtube (48%), although Gen Z didn't necessarily have more trust in these than any other social channel. They were more likely to follow a brand that they had purchased from before. This shows us that brands need to focus on message over specific distribution tactics, and those that are able to merge advertising and authenticity will be the one who win the trust (and the business) of Gen Z consumers, regardless of the platform they used to reach them.
Future of social with Gen Z
We saw a polarizing trend in use of social media apps, with nearly 40% reporting being on a variety of major platforms "daily" and nearly as many (about 35%) saying that they were "never" on any of them. In spite of the "daily" group using multiple social platforms, they were not optimistic about the long term viability of most of them. When asked which apps will still be relevant in 5 years, more established platforms with visual-first experiences were clear winners. YouTube was expected to still be a player with almost 90% of Gen Z. Instagram (75%) and Snapchat (62.71%) were also expected to maintain their status. Alternatively, Gen Z predicted the demise of newcomers TikTok and Twitch, with 92% and 85% of respondents respectively doubting that these would be around in the near future.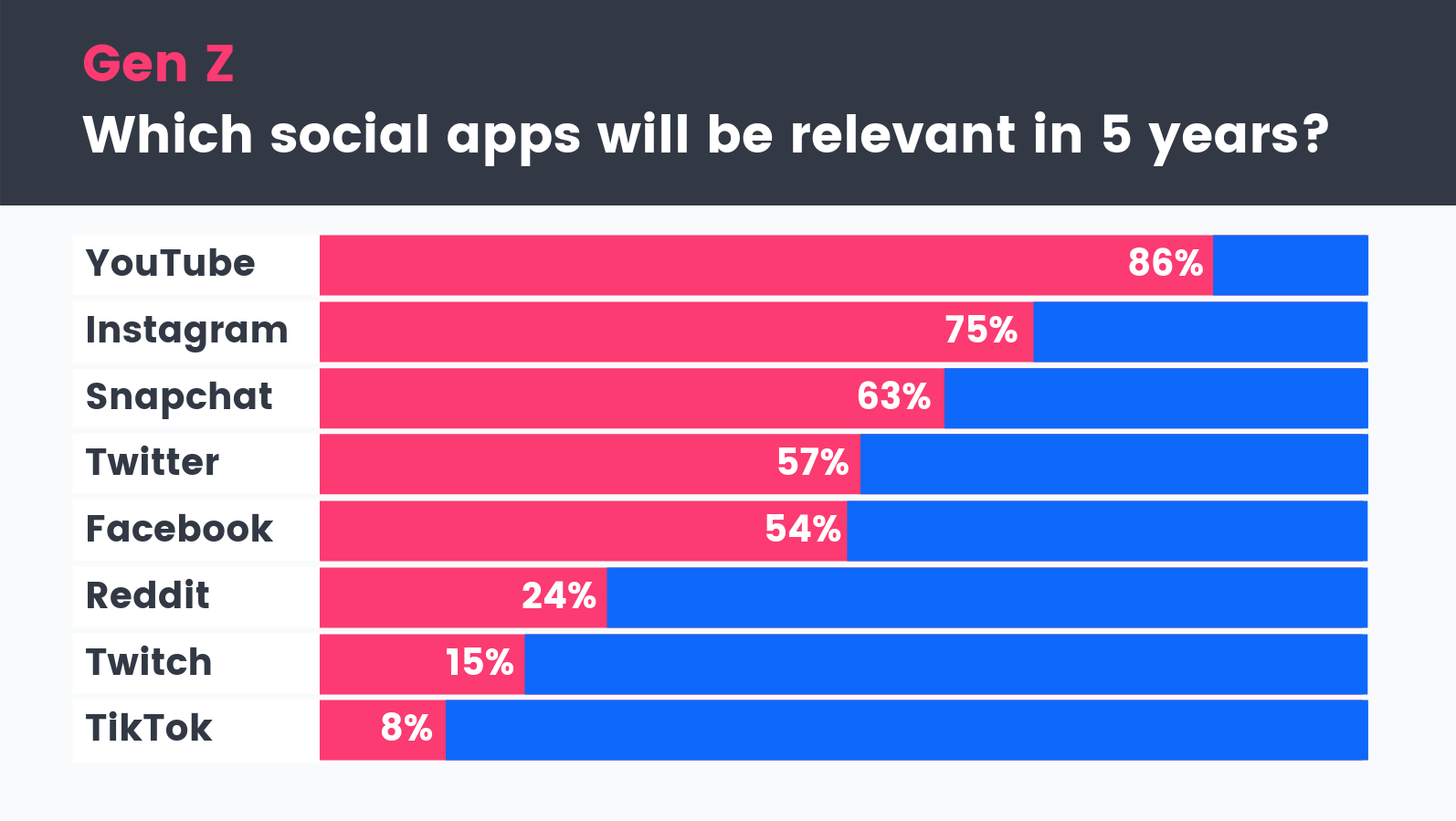 Gen Z is all too familiar with traditional marketing tactics and won't be won by brands attempting gimmicky campaigns. They're happy to follow and engage with the products and influencers they love, but creating messaging that fits their values is critical to building this credibility.
With Gen Z ever connected to their devices, we had no trouble gathering responses about their favorite social platforms and perspectives. We surveyed 700 respondents in the US between the ages of 14-24, gathering the full data set in just a few hours. If you want more Gen Z insights, check out our other posts in the Gen Z Survey Series, or launch a survey of your own using our age-specific targeting criteria to get your own original market research insights.
---
Do you want to distribute your survey? Pollfish offers you access to millions of targeted consumers to get survey responses from $1 per complete. Launch your survey today.
Get started