Why does SurveyMonkey cost so much?
Everyone is familiar with the concept of Sticker Shock. You expect to pay one thing and, lo and behold, the cost is far higher than you imagined.
Just like prices themselves, many factors may play into why you experience sticker shock when you shop for a DIY survey platform.
The best way to avoid sticker shock is to educate yourself on all available products and services that can accomplish your goals, then explore your needs and expectations and weigh the costs accordingly.
Customers shopping for DIY survey platforms often experience sticker shock for one simple reason: they expect one thing and get another.
Survey Maker vs Survey Audience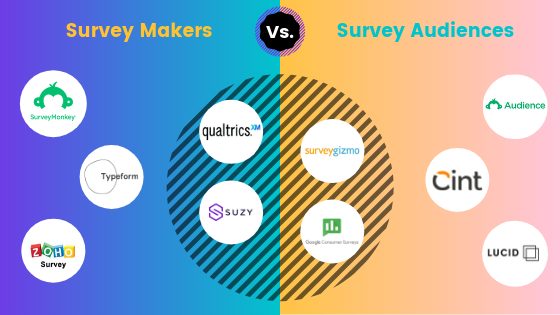 The first question you have to answer when shopping for a DIY survey provider is are you looking for a survey maker, a survey audience or both?
Most survey platforms offer a survey maker—an intuitive user interface where you can create a survey that you can send to friends and family, your customers, your personal network, your social media followers and more.
These platforms are great for deciding where the family reunion should be held this year or getting a customer experience rating from your customers after a purchase.
But what if you want to expand your business, launch a new product or test a logo redesign?
You could ask your existing customers. But it might be more powerful to get some fresh eyes.
This is where you need a survey audience provider.
Traditional survey panel providers offer large networks of people who, in exchange for monetary or other transactional incentives, have agreed to take surveys.
These providers exist all across the world, attracting participants using mobile apps, digital ads and affiliate offers promising large cash payouts, gift cards and airline miles.
In order to find respondents for any kind of survey targeting you want, researchers employ the help of panel marketplaces like Lucid and Cint. These marketplaces connect researchers with panels around the world who can deliver the discrete audiences they want to target.
Survey makers and survey audience providers exist mainly as separate services.
Most of the larger survey makers have built their own panels to provide this service. They populate these panels by emailing their existing customers, creating rewards apps and more.
The respondent pool of these panels is often not large enough or diverse enough to meet the needs of their customers.
As such, these survey makers must partner with panels that have access to additional respondents that can meet the needs of their customers.
Hybrid Services
As online surveys have become more popular, some hybrid services have emerged to offer a one-stop-shop for a survey maker and survey panel services.
These providers largely use the same methods as traditional panel providers, but offer a more turnkey structure, similar to that of a traditional market research agency.
Put simply, you give them your goals, they build you a survey or an audience, or both, all for a price.
Some of these platforms have packaged their survey builder and distribution services together, allowing researchers to build and distribute their own surveys.
Be aware that the quality of these survey builders varies widely. Make sure to do your homework and demo each one before making a selection.
Customers shopping for DIY survey platforms often experience sticker shock for one simple reason: they expect one thing and get another.
Click To Tweet
What Does This Have To Do With Survey Costs?
All of these efforts to collect, purchase and incentivize survey respondents cost money. And those costs are passed on to you.
In the case of SurveyMonkey specifically, SurveyMonkey's cost is competitive if you want to build a survey and handle distribution on your own. You can send it to your customers, your own network, your social media followers, etc.
But if you want access to their panel, SurveyMonkey Audience, be prepared to pay a separate fee for each response in addition to the survey price or subscription cost.
How Does SurveyMonkey Cost Compare To The Rest Of The Industry?
If you are looking to conduct a survey and are looking to buy respondents to go with it, you have to factor that into the cost of your survey.
Here's where the sticker shock comes in.
Starting at just $25 per month, SurveyMonkey is competitive with other survey makers. But tack on the cost of using their survey panel, and they quickly become an outlier among the competition.  
This chart shows how the costs stack up: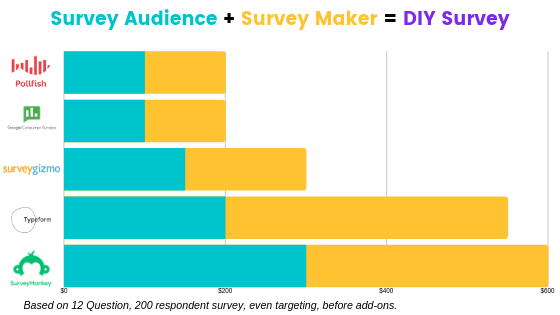 Different Package. Same Panel.
All of this amounts to different versions of the same panel-based research strategy. Each of the vendors listed above connects your survey with respondents collected from multiple locations, incentivized with cash or other transferable bonuses and brought to you.
Pollfish does things a little differently. We partner with app publishers around the world to deliver your survey to engaged app users, providing a wider audience at a fraction of the cost.
In exchange for taking your survey, we offer in-app incentives (extra lives in a game, premium content on a news app).
Surveys are optimized for mobile so they don't disrupt the user's app-based experience.
We save a bundle by not paying participants from a patchwork of panel companies around the world. And we pass those savings on to you.
So before you make a selection for your next survey, check out Pollfish. You can try our free pricing calculator to compare us to any vendor you have tried before. We think you'll like what you find.
---
Do you want to distribute your survey? Pollfish offers you access to millions of targeted consumers to get survey responses from $1 per complete. Launch your survey today.
Get started